advertisements

Full Coverage: SpaceShipOne's First Flight
Article index:
---
Pilot, horseshoe and M&M's reach space
June 21, 2004
— The world witnessed the dawn of a new space age today, as investor Paul G. Allen and Scaled Composites launched the first private manned vehicle beyond the Earth's atmosphere. The successful launch demonstrated that the final frontier is now open to private enterprise.


Click on thumbnails to enlarge
LEFT: White Knight with SpaceShipOne in tow taxis down the runway; RIGHT: White Knight (top) and SpaceShipOne cockpits;
More photographs below.
Under the command of Mike Melvill, SpaceShipOne reached a record altitude of 328,491 feet (approximately 62 miles or 100 km), making Melvill the first civilian to fly a spaceship out of the atmosphere and the first private pilot to earn commercial astronaut wings from the FAA.

The 63-year old pilot carried his wife's silver horseshoe lapel pin for luck and a bag of multi-color, candy-coated chocolates (M&Ms) to demonstrate weightlessness. He wore patches for the Society of Experimental Test Pilots and for Scaled Composites SpaceShipOne test program.

"This flight begins an exciting new era in space travel," said Allen, sole sponsor of the SpaceShipOne program. "Burt Rutan and his team at Scaled Composites are part of a new generation of explorers who are sparking the imagination of a huge number of people worldwide and ushering in the birth of a new industry of privately funded manned space flight."

The historic flight also marks the first time an aerospace program has successfully completed a manned mission without government sponsorship. "Today's flight marks a critical turning point in the history of aerospace," said Rutan. "We have redefined space travel as we know it."

"Our success proves without question that manned space flight does not require mammoth government expenditures," Rutan declared. "It can be done by a small company operating with limited resources and a few dozen dedicated employees."

A large crowd watched the momentous flight live from the grounds of the Mojave Airport, joining millions of others around the world who tuned in by television, radio, and the internet. Dignitaries attending the event included U.S. Representative Dana Rohrabacher, the Commanding Officer of Edwards Air Force Base, General Pearson and the China Lake Naval Air Warfare Center, Admiral Venlet; former astronaut Buzz Aldrin, and Konrad Dannenberg, one of Werner Von Braun's lead scientists on this country's original space development effort. Hundreds of media representatives were also on hand to record history in the making.

Further details of SpaceShipOne's history-making flight are expected to be posted to Scaled Composites website later this week.


Click on thumbnails to enlarge
LEFT: White Knight and SpaceShipOne lift off from Mojave Airport; RIGHT: White Knight and SpaceShipOne soar for higher altitudes;

LEFT: White Knight/SpaceShipOne chased by Starship; RIGHT: White Knight releases smoke to help spectators spot it in flight;

LEFT: SpaceShipOne fires its engine for its climb to over 100 km; RIGHT: SpaceShipOne (with chase plane) descends from space;

LEFT: SpaceShipOne touches down where it launched; RIGHT: Pilot Mike Melvill exits SpaceShipOne as a civilian astronaut;

LEFT: Mike Melvill celebrates joined by Paul Allen (left) and Burt Rutan (left); RIGHT: Close-up of SpaceShipOne's nose and cockpit;

LEFT: SpaceShipOne's rear fairing was damaged; RIGHT: Mike Melvill rides SpaceShipOne during a victory lap down the runway;

LEFT: Mike Melvill's newly awarded commercial astronaut wings; RIGHT: Mike Melvill signs autographs after the press conference;
---
Lines form to view launch, buy souvenirs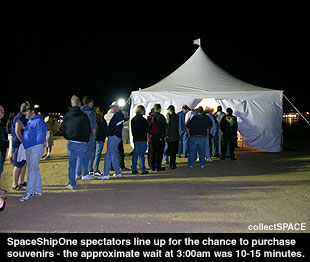 June 21, 2004
— The gates to the SpaceShipOne public viewing area opened at 3:00am and no less than a half hour later, the wait to enter the souvenir sales tent was at 15 minutes and growing. Staffed by volunteers, the caps, t-shirts and coffee mugs — ranging from $5 to $20 each — were in demand, many buying multiples of each.

The sale was organized by The Rocket Boosters, a coalition of non-profit organizations in and around Mojave, in cooperation with Mojave Aerospace Ventures, Paul G. Allen's holding company for SpaceShipOne.

For those not in line this morning, sales will continue on the Boosters' website at rocketboosters.org.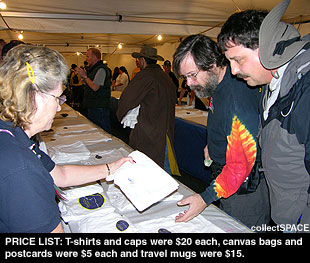 ---
Pilot named for private spaceflight attempt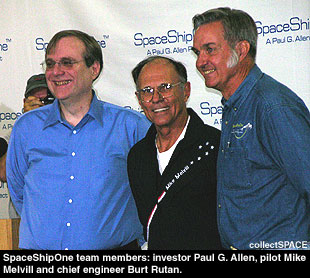 June 20, 2004
— At 6:30am PDT, June 21, weather permitting, Mike Melvill will become will become the first person to earn astronaut wings in a non-government sponsored vehicle, and the first private civilian to fly a spaceship out of the atmosphere, announced Scaled Composites LLC President and CEO Burt Rutan at a press conference today at Mojave Airport in California.

Melvill, who is vice president/general manager at Scaled, is already an accomplished, history-making test pilot. In October 2000, he set three national and three world altitude records in the Proteus, flying above 63,000 feet. Four years later, he set a national and world speed record over a 2000 kilometer closed course with the Catbird.

Melvill, 63, has tested crop duster prototypes and the first ground and air cannon firings on a prototype jet fighter as well as ground support jet fighters and racing planes. He is the only pilot other than Dick Rutan and Jeanna Yeager to fly the world-flight Voyager aircraft.

He has logged more than 6460 hours flight time in 111 fixed wing and 7 helicopters. Melvill personally built and flight tested two aircraft, one of which he flew around the world in 1997. In September 1999, he received the Iven C. Kincheloe Award for his work in testing and developing the high altitude capability of the Model 281 Proteus.

Melvill and his wife, Sally, moved to the United States in the 1970s from England. Originally from Durban, South Africa, he is now a U.S. citizen living in Southern Calif. His wife, son, daughter-in-law, and four grandchildren will be watching his historic journey into space from Mojave.


---
Private spacecraft to launch June 21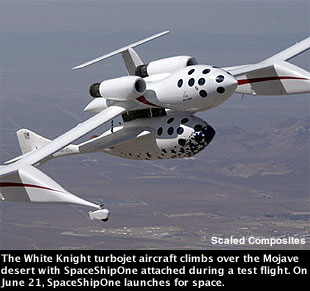 June 2, 2004
— A privately-developed rocket plane will attempt to launch into history on June 21 on a mission to become the world's first commercial manned space vehicle. Microsoft-cofounder, investor and philanthropist Paul G. Allen and aviation legend Burt Rutan have teamed to create the program, which will attempt the first non-governmental flight to leave the earth's atmosphere.

SpaceShipOne will rocket later this month to 62 miles (100 kilometers) into sub-orbital space above the Mojave Civilian Aerospace Test Center, a commercial airport in the California desert.

Allen, founder and chairman of Vulcan Inc., is financing the project. Along with Allen, Vulcan's technology research and development team — which develops "high impact science and technology projects" for Allen — has been active in the project's management.

"This flight is one of the most exciting and challenging activities taking place in the fields of aviation and aerospace today," said Allen. "Every time SpaceShipOne flies we demonstrate that relatively modest amounts of private funding can significantly increase the boundaries of commercial space technology. Burt Rutan and his team at Scaled Composites have accomplished amazing things by conducting the first mission of this kind without any government backing."

Today's announcement came after a May 13, test flight during which pilot Mike Melvill reached an altitude of 40 miles, the highest ever reached by a non-government aerospace program.

Sub-orbital space flight refers to a mission that flies out of the atmosphere but does not reach the speeds needed to sustain continuous orbiting of the Earth. The view from a sub-orbital flight is similar to being in orbit, but the cost and risks are far less.

The pilot (to be announced) of the upcoming June sub-orbital space flight will become the first person to earn astronaut wings in a non-government sponsored vehicle, and the first private civilian to fly a spaceship out of the atmosphere.

"Since Yuri Gagarin and Al Shepard's epic flights in 1961, all space missions have been flown only under large, expensive government efforts. By contrast, our program involves a few, dedicated individuals who are focused entirely on making spaceflight affordable," said Rutan.

"Without the entrepreneur approach, space access would continue to be out of reach for ordinary citizens. The SpaceShipOne flights will change all that and encourage others to usher in a new, low-cost era in space travel."

SpaceShipOne was designed by Rutan and his research team at the California-based aerospace company, Scaled Composites. Rutan made aviation news in 1986 by developing the Voyager, the only aircraft to fly non-stop around the world without refueling.

To reach space, a carrier aircraft, the White Knight, will lift SpaceShipOne from the runway. An hour later, after climbing to approximately 50,000 feet, the White Knight will release the spaceship into a glide. The pilot will then fire his rocket motor for about 80 seconds, reaching Mach 3 in a vertical climb. During the pull-up and climb, the pilot is expected to encounter G-forces three to four times the gravity of the earth.

SpaceShipOne will then coasts up to its goal of 62 miles before falling back to earth. The pilot will experience a weightless environment for more than three minutes and, like orbital space travelers, sees the black sky and the thin blue atmospheric line on the horizon.

The pilot — now a bonafide astronaut — will then configure the craft's wing and tail into a high-drag configuration, providing a "care-free" atmospheric entry by slowing the spaceship in the upper atmosphere and automatically aligning it along the flight path. Upon re-entry, the pilot reconfigures the ship back to a normal glider, and then spends 15 to 20 minutes gliding back to earth, touching down on the same runway from which he took off.

The June flight will be flown solo, but SpaceShipOne is equipped with three seats and is designed for missions that include a pilot and two passengers.

Unlike any previous SpaceShipOne flight — which the company traditionally kept secret until it was completed — the upcoming mission will allow the public to view, up close, the takeoff and landing as well as the overhead rocket boost to space. Information for the general public on attending the event is available at www.scaled.com.

Based on the success of the June space flight attempt, SpaceShipOne will later compete for the Ansari X Prize, an international competition to create a reusable aircraft that can launch three passengers into sub-orbital space, return them safely home, then repeat the launch within two weeks with the same vehicle.

The Discovery Channel and Vulcan Productions are producing Rutan's Race For Space, a television special that documents the the historic effort to create the first privately-funded spacecraft. From design to flight testing to the launch and return, the special will take viewers behind-the-scenes for the inside story of this aerospace milestone.

Rutan's Race For Space will be broadcast later this year.

© 2022 collectSPACE.com All rights reserved.