June 1, 2017
— The scientific successor to the acclaimed Hubble Space Telescope has arrived in Houston for a pre-launch test using the historic, unparalleled facility that was built for the Apollo moon-bound spacecraft.

NASA's James Webb Space Telescope (JWST), which will study distant galaxies and look for habitable exoplanets, is now being prepared for a three-month trial inside Chamber A at Johnson Space Center in Texas. The facility, now the largest cryo-vacuum chamber in the world, was modified to support the optical instrument section of the overall tennis-court-sized observatory.

"While everyone else is sweating in Houston this summer, the Webb will be experiencing close to absolute zero," said Jonathan Homan, JWST project manager at the Johnson Space Center, during a press briefing on Wednesday (May 31). "This test that we are about to accomplish is a major milestone for the James Webb program."

Named after the late NASA chief who headed the agency during the Apollo program, the Webb telescope is set to be launched on an Ariane rocket from Kourou, French Guiana in October 2018. Unlike the Hubble, which orbits Earth, the Webb will orbit the Sun at a point out in deep space where it will get cold enough to detect the faint infrared signatures from the most ancient galaxies and other distant targets.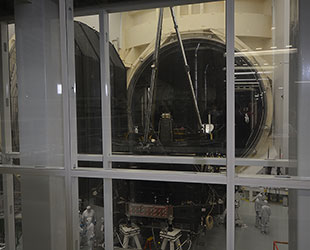 The James Webb Space Telescope's optical instrument section is seen through a window looking into the clean room that surrounds Chamber A at Johnson Space Center in Houston.
(collectSPACE)
To make sure that it works, the Webb's optical instruments, known as OTIS (Optical Telescope Element and Integrated Science), will be sealed inside Chamber A, wherein the air pressure will be dropped to a near perfect vacuum and the temperature will be cooled to a space-like extreme of -423 degrees Fahrenheit (-253 degrees Celsius or 20 Kelvin).

"When the James Webb Space Telescope has completed these tests and leaves Johnson, we will have proven that the it can operate successfully in the harsh environment of space," said Mark Voyton, OTIS manager at the Goddard Space Flight Center in Greenbelt, Maryland.

Pump down, cool down

The OTIS arrived in Houston on May 7 after it underwent rigorous environmental tests to simulate the stresses of its rocket launch and a curvature test of its 21-foot (6.5 meter) primary mirror — made up of 18 hexagonal segments — at Goddard.

"While we normally focus on human spaceflight here at the Johnson Space Center, we also collaborate across NASA to share our expertise and capabilities," said Ellen Ochoa, center director and a veteran space shuttle astronaut. "It is really a privilege for us to be a key part of this program."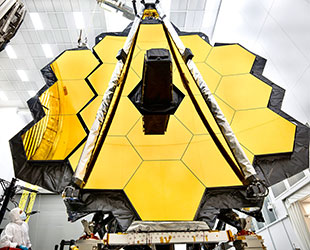 The James Webb Space Telescope towering primary mirror stands inside a cleanroom at NASA's Johnson Space Center in Houston, where it will undergo a cryogenic vacuum test.
(NASA/Chris Gunn)
A team of 150 people from Johnson and Goddard, as well as the companies responsible for the OTIS instruments will work in round-the-clock shifts during the upcoming 93-day cryogenic vacuum test inside Chamber A.

"We'll cool for roughly a third of [the test], we'll stay cool for roughly a third of it and then we will return to the ambient temperature and pressure for roughly a third of it," Voyton described. "During that time, we will be performing tests to convince ourselves that the telescope will perform and be operated as expected [in space]."

The end-to-end optical vacuum test is scheduled to begin in July and be completed in early October.

"Success here means that the telescope instruments can be used to detect the universe and watch it light up for the first time some 13.5 billion years ago," Eric Smith, James Webb program director at NASA Headquarters, said.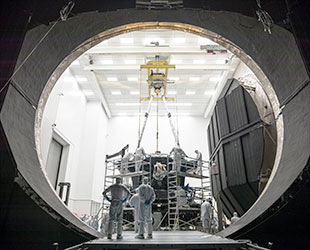 The James Webb Space Telescope is seen from inside Chamber A being lifted onto its test stand.
(NASA/Chris Gunn)
Because of where it be deployed in space, at a Lagrange point 1 million miles (1.5 million km) away from Earth, the Webb is not designed to be serviceable by astronauts. As such, any issues with the telescope need to be found and fixed while it is still on Earth.

"These tests will be challenging and we expect that we will find things in them that we did not expect in the first place," said Smith.

"This is where we test that the whole scientific package works — that a photon hits the mirror, gets to the camera and is detected at the strength that we expected. This is that test," Smith told collectSPACE. "Because they've done practice tests here, I have a lot of confidence that this test is going to work."

After the Chamber A test is done, the OTIS will be shipped to Northrop Grumman in California to be integrated with its other components and undergo a final deploy test.

Significant setting

Registered as a National Historic Landmark, Chamber A was built in 1965 to conduct thermal-vacuum testing on the Apollo command and service modules, with and without a crew. The chamber stands 120 feet (37 meters) from top to bottom and has a 40-foot (12-m) diameter door.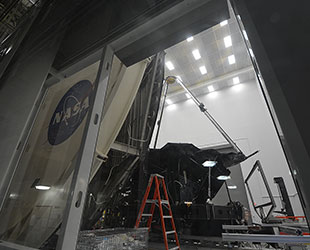 The James Webb Space Telescope's optical instrument section is seen through a window looking into the clean room that surrounds Chamber A at Johnson Space Center in Houston.
(collectSPACE)
"The significance of Chamber A can't be overstated," said Voyton. "Its contribution to the Apollo program in the '60s and '70s was paramount."

After being used to test the Apollo spacecraft, Chamber A hosted similar trials for the Skylab space station telescope mount and supported the development of the shuttle. As a man-rated facility, it was also used to test the Apollo and shuttle-era spacesuits.

Most recently, the chamber was used to test the landing system for the UK's Beagle 2 Mars lander, which survived a touchdown on the Red Planet in 2003.

"It was here that the aspirations of mankind's ability to do the impossible were tested, retested and validated," stated Voyton. "Several generations later, here we are again for another historic test in Chamber A."