June 1, 2015
— Hundreds of people came out to NASA's Kennedy Space Center Visitor Complex on Saturday (May 30) to watch four space shuttle veterans be inducted into the U.S. Astronaut Hall of Fame — and help celebrate the 34th wedding anniversary of the first astronaut couple.

"Well, this has never happened before," remarked Robert "Hoot" Gibson, a former shuttle commander, 2003 Hall of Fame inductee and, since 1981, the husband of astronaut Rhea Seddon. "This is the first time a spouse has had the wonderful opportunity that I have today to present my wife for induction into the Astronaut Hall of Fame."

"All my friends in the astronaut corps kept telling me, 'You know, this could be kind of risky,'" joked Gibson, before launching into tales about Seddon's trailblazing career as one of NASA's first female astronauts. "But this is really a thrill for me."

Seddon, who logged 30 days in space over the course of her three shuttle missions, embraced her husband after he choked up while saying their life together was "beyond my wildest dreams."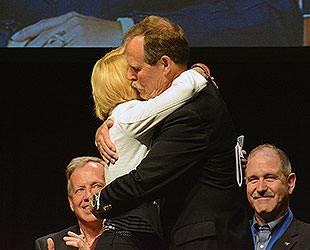 Astronaut Rhea Seddon embraces her husband, astronaut Robert "Hoot" Gibson, on their 34th anniversary – and her induction into the U.S. Astronaut Hall of Fame.
(collectSPACE)
"You know, there are moments in everyone's life when he or she looks around and says, 'What the heck am I doing here?'" Seddon told the audience seated under the display of the retired space shuttle Atlantis. "For those of us who have flown in space that moment often comes when we first look out the window at the Earth from orbit. But I am having one of those moments right now."

"Having watched my friends and husband being inducted into this auspicious group, I never expected to be standing here," she said.

Seddon was joined on stage by her fellow 2015 inductees, spacewalker John Grunsfeld and Steven Lindsey and Kent Rominger, both space shuttle commanders. In addition to Gibson, 25 Hall of Fame astronauts were at the ceremony, including Apollo crew members Walter Cunningham and Al Worden, and Bob Crippen, who piloted the first mission of the space shuttle.

"I keep thinking I don't belong here," said Lindsey, who as commander led the final flight of space shuttle Discovery. "Because I look out in the audience of the astronauts who are here and I see so many who mentored me. Several of you taught me how to fly the shuttle, taught me how to command a crew, taught me so much, and just being with you is a humbling experience for me."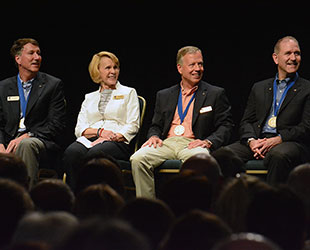 Combined, Rominger, Seddon, Lindsey and Grunsfeld flew on 18 space shuttle missions between 1985 and 2011.
(collectSPACE)
This was at least the second time that Lindsey has been counted among the pioneering astronauts. In 1998, he was Discovery's pilot for the flight that returned John Glenn to space.

"Just think," said Mike Coats, Discovery's first pilot and a member of the Hall of Fame since 2007, "someday, Steve will proudly tell his grandchildren that he flew with the first American to go into orbit. And they'll look at him and think their grandfather must be really, really old."

Like Lindsey, Rominger was humbled by the experience. Both men previously served as chief of NASA's astronaut office, for which 2008 Hall of Fame astronaut Bob Cabana said Rominger was particularly well-suited.

"There was no question, Kent Rominger was the absolute best choice," Cabana reflected. "A skilled pilot, technically excellent in every aspect of the shuttle, knowledgeable of the space station and its operations and most importantly, he genuinely cared for the people who worked for him and put their needs above his own."

Grunsfeld, who serves as NASA's associate administrator for science, was the last man to touch the Hubble Space Telescope at the conclusion of its final servicing mission in 2009. Fellow "Hubble Hugger" Steve Hawley, who joined the Hall in 2007, credited Grunsfeld for contributing to the orbiting observatory's legacy.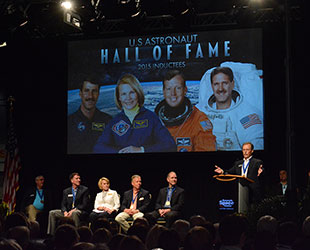 The four astronauts, who are the 14th class of shuttle veterans to be added to the Hall of Fame, bring the total members to 91.
(cS)
"John's skill helped to make the Hubble Space Telescope what it is today," Hawley said.

All four new inductees were heroes, noted Charlie Bolden, NASA's administrator and a 2006 honoree.

"You have our deepest respect for all that you achieved in space, the example that you have set for others and most importantly, for the inspiration that you have given future generations to take us on a journey to Mars," he said.

"Truly, these four are heroes and legends, as we're calling the new [U.S. Astronaut Hall of Fame] exhibit on which we broke ground yesterday," Bolden said. "They stand on the shoulders of those who came before and others will stand on theirs as we continue to reach higher."