May 30, 2016
— For more than 15 years, Donald Boggs has been the go-to guy for books about space.

His online shop, Boggs SpaceBooks, has offered new and used books about rockets, missiles, high-altitude research, X-planes and the history of space exploration since 1999.

On Monday (May 30), Boggs is announcing he is closing his store and that its remaining inventory, together with his personal library, is headed to auction on June 9.

"It has been a tremendous ride these last 17 years, but I'm not getting any younger and I am downsizing," Boggs said in an interview with collectSPACE. "The book shop and my collection have brought me a great deal of joy, and I have been able to serve many customers and researchers over the years, but it's time to simplify my life a bit."

"I am looking forward to reading books and spending less time shipping them!" he declared.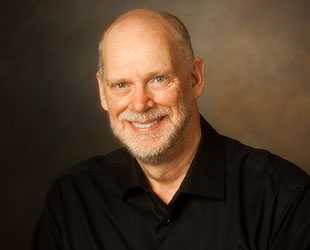 Donald Boggs, founder of Boggs SpaceBooks
(Boggs SpaceBooks)
And ship them he has. Over the run of his website, Boggs has served more than 2,500 customers and handled some 20,000 books. His clientele has included space collectors, astronauts, authors' families and NASA representatives.

"We have shipped to 50 countries on six continents (none to Antarctica)," he recalled. "We've carried books formerly owned by several NASA Administrators. Several younger shuttle astronauts turned to us for copies of books penned by Mercury, Gemini and Apollo astronauts."

Over the years, Boggs SpaceBooks has offered astronaut-autographed autobiographies and other popular new titles, as well as rarely-found books that ranked on a customer- and collector-defined list of "holy grails."

Boggs' rarest find was a first edition copy of the "History of Rocketry and Space Travel" signed by its author, Wernher von Braun, and inscribed to an associate on the venerable German rocket team.

"It was also a joy to work with our customers and others to compile the holy grails lists," he said.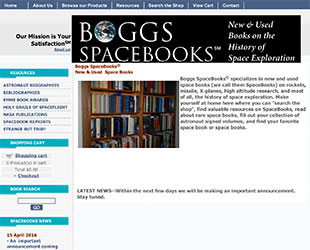 Boggs SpaceBooks website, founded in 1999.
(Boggs SpaceBooks)
Boggs' favorite books are "too many to mention," although out of the thousands of titles he has seen and sold, there were a couple penned by space explorers that have stood out.

"Mike Collins' 'Carrying the Fire,' in my opinion, set the bar high for astronaut autobiographies," he said. "And I have a special spot in my heart for Bill Pogue's 'But for the Grace of God,' as I worked with Bill on [it]."

"I believe [Pogue is] one of the many unsung heroes of the space program. Relatively few are aware of his work with the Apollo 11 crew, the U.S. Air Force's Thunderbirds and his great interest in educating young people," Boggs said of the Skylab astronaut, who died in 2014.

Nine copies of "But for the Grace of God," each signed by Pogue using a pen that was flown in space, are included in the June 9 auction organized by Quinn's Galleries in Falls Church, Virginia.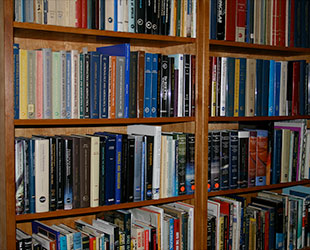 Boggs SpaceBooks' inventory included astronaut autobiographies and NASA publications.
(Boggs SpaceBooks)
The sale includes 70 lots of books, pamphlets, press kits and objects related to spaceflight and rocketry. Boggs has consigned about 4,000 items to be offered in this and later auctions.

"The upcoming auction contains several hundred signed space books along with flown material, [postal] covers and ephemera, which should be of great interest," said Boggs. "Some are unique; for example, a copy of 'Always Another Dawn,' signed by Scott Crossfield and inscribed to fellow test pilot Jack Reeder, where Crossfield thanks Reeder for getting him involved with the NACA [the National Advisory Committee for Aeronautics]. There is also a great Apollo-Soyuz crew photograph inscribed to [Pad Leader] Guenter Wendt, a Saturn V's third stage fuel valve, and a variety of intriguing pieces."

Even though he is leaving the market, Boggs thinks there will always be those with a fondness for space literature.

"The internet and digital books has decreased the interest in books that are literally weighty!" said Boggs. "But there continues to be strong interest in this area and particular in signed volumes."