May 29, 2012
— A multi-million dollar private race to land robotic rovers on the moon will abide by recommendations released by NASA to protect the historic landing sites on the lunar surface, space agency and contest officials have said.

NASA and the X PRIZE Foundation of Playa Vista, Calif., announced recently that the Google Lunar X PRIZE will recognize the guidelines established by NASA to protect historic sites and preserve ongoing and future science on the moon. The foundation will take the recommendations into account as it judges the plans submitted by 26 teams vying to be the first privately-funded organization to visit the moon.

The Google Lunar X PRIZE plans to award a total of $30 million in prizes, with first place — $20 million — going to the team that builds a rover that successfully lands on the moon, explores it by moving at least one third of a mile (500 meters) and returns high-definition video and imagery to Earth. Additional bonus "Heritage" prizes are offered for photographing Apollo, Surveyor or other landing sites.

NASA's aim with the guidelines is to preserve the signs of humanity's first steps on a celestial body other than Earth, which were made by a dozen U.S. astronauts between the years of 1969 and 1972 and safeguard ongoing and future science efforts from a potential swarm of robotic landers and rovers.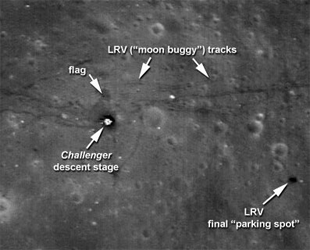 Sharper look at the last landing: Apollo 17 as viewed by Lunar Reconnaissance Orbiter from 31 and 13 miles altitude.
(NASA)
Realizing that many nations and commercial entities are on the verge of sending their own spacecraft to the moon, NASA engaged the X PRIZE Foundation and the Google Lunar X PRIZE teams to help develop the guidelines.

The recommendations, which are not mandatory and don't represent U.S. or international requirements, are based on data collected from earlier lunar studies and the analysis of equipment samples returned from the robotic Surveyor 3 lander by the Apollo 12 astronauts in 1969.

NASA also sought the input from experts in the historic, scientific and flight-planning communities to contribute to the technical suggestions. The lunar protection guidelines were detailed in a 2011 report "NASA's Recommendations to Space-Faring Entities: How to Protect and Preserve the Historic and Scientific Value of U.S. Government Lunar Artifacts."

The Google Lunar X PRIZE currently has teams registered from more than a dozen countries. The competition ends whenever all the prizes have been claimed or at the end of 2015.