Buzz Lightyear becomes real space ranger
Toy's trip to the space station launches educational effort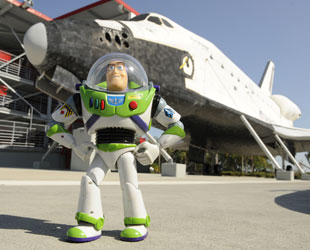 Buzz Lightyear stands poised to launch to space -- this time for real -- on NASA's shuttle Discovery. Click to enlarge. (Disney)

May 29, 2008 — If you listen closely on Saturday, when NASA launches the space shuttle Discovery on a 14-day mission to the International Space Station, you may just hear the voice of the crew of STS-124's eighth astronaut.

He'll be the one exclaiming, "To infinity... and beyond!"

Standing 12-inches tall, Buzz Lightyear, the action figure who thought he was a real space ranger in the 1995 film "Toy Story", will achieve his dream of flying in space as part of a new educational partnership between NASA and the Walt Disney Company.






Click above to play (Quicktime, 1.1mb) (Video courtesy Disney)

With the help of Discovery's crew, who will deliver a new Japanese science laboratory to the orbiting outpost, Buzz Lightyear will fly into the space station, where he will 'live' for six months as part of NASA's "Toys in Space" effort. Once on-board, the character will introduce 'fun elements' from space into science and math classrooms across the country.

"The Space Ranger Education Series will give teachers an opportunity to incorporate a fun and engaging moment into the classroom with a character that children really love," said Jay Rasulo, chairman of Disney's Parks and Resorts.

Jointly developed by Disney's Youth Educational Series and NASA, the online Space Ranger Education program includes educational games for students and materials for educators to download and integrate into their classroom curriculum.

The games, which will debut for play starting on Saturday through NASA's website, feature Buzz Lightyear and are themed around the events to take place during STS-124. Children can choose trying to dock the Japanese science lab to the station, match international partners with their contributions to space exploration, or try loading cargo in Discovery's payload bay.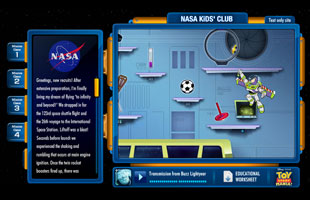 Buzz Lightyear explores 'Toys in Space' in one of the games to debut Saturday on NASA's website. Click to enlarge. (Disney)

Another of the five games invites kids to navigate Buzz Lightyear to different popular toys to see a movie on how they behave in space. The videos, shot on-board earlier shuttle and station missions, feature U.S. astronauts and Russian cosmonauts playing with yo-yos, basketball and soccer balls, and a gyroscope, among other examples.

Since 1985, NASA's Toys in Space program has used toys to help children learn science and math by predicting and then observing how common toys will work in zero-g.

During his time in space, Buzz Lightyear will participate in a similar experiment and appear in a video downlink from the ISS along with U.S. flight engineer Gregory Chamitoff.

Buzz will also contribute a journal about his adventures in space, which will be posted to the NASA website.






Click above to play (Quicktime, 1.5mb) (Video courtesy Disney)

A sixth game will debut in the fall, to coincide with Buzz's return from space and students' return to school.

According to Duncan Wardle, Disney's vice president for global integration and public relations, in an interview with collectSPACE, Walt Disney World plans to throw a ticker tape parade for Buzz Lightyear on his return to Earth prior to putting him on public display. Though the location for the exhibit is not yet known, one candidate, said Wardle, is near Toy Story Mania!, their new attraction opening on May 31 at Disney's Hollywood Studios in Florida and on June 17 at Disneyland's California Adventure in California.

Guests to both resorts will be able to take home their own replica of the space-flown Buzz Lightyear. Thinkway Toys is reintroducing the original 12-inch action figure they sold in 1995 exclusively through Disney Parks' gift shops.

"He is finally more than 'just a toy'," said John Barton, Sr. Vice President of Thinkway Toys.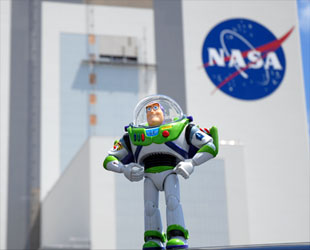 The 12-inch Buzz Lightyear is backdropped by 525-foot Vehicle Assembly Building at the Kennedy Space Center. (Credit NASA)
For updates on Buzz's adventure on-board Discovery and the ISS, see:
http://www.collectspace.com/buzzlightyear

© 2021 collectSPACE.com All rights reserved.
Questions? E-mail contact@collectspace.com