May 28, 2011 — The four astronauts for the last space shuttle mission, STS-135, took part this past week in a training session inside Crew Compartment Trainer II, one of three shuttle replicas in the Space Vehicle Mockup Facility at the Johnson Space Center in Houston, Texas.

"This is the one vertical strap-in exercise we get before going out to TCDT, which is the terminal countdown test," explained STS-135 commander Chris Ferguson, referring to the "dress rehearsal" they will conduct in mid-June with space shuttle Atlantis on the launch pad.

"Our strap-in tech and our crew chiefs will help us get in to the vertical. That is not usually how we get into the shuttle [to train]. We tend to work in the horizontal because it is more comfortable that way," said Ferguson.

The Crew Compartment Trainer II "one-G" shuttle mockup functions on a tilt and rotate system, which can put the trainer into five different positions for normal and contingency ingress and egress training.

After the STS-135 mission, CCT II is being given to the Smithsonian National Air and Space Museum in Washington, DC.

STS-135 is targeted to launch on Friday, July 8 at about 11:40 a.m. EDT.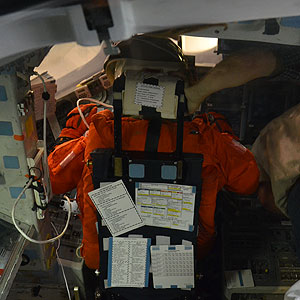 Photos: collectSPACE.com / Robert Z. Pearlman