Florida license plate to honor Columbia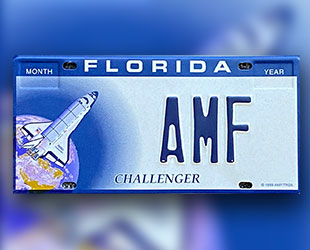 May 22, 2003 — A Florida specialty license plate issued to honor the fallen crew of the space shuttle Challenger will now also bear the name of space shuttle Columbia.

Florida Governor Jeb Bush signed the bill affecting the slight redesign into law yesterday, calling it a "good piece of legislation... in honor of the men and women who are true heroes of our country."

The idea to amend the plate, rather than create a new one was first suggested by Sen. Bill Posey (R-FL) and Rep. Ralph Poppell (R-Titusville) in February. "I think if we did a separate tag, then people are torn," said Posey to the Associated Press on February 28. "The symbolism is the same."

Sale of the plate, which costs $25 per year in addition to taxes and fees, funds in part The Astronauts Memorial Foundation, a not-for-profit organization that built and maintains the Space Mirror Memorial and The Center for Space Education at the NASA's Kennedy Space Center.

Some of the funds are also directed to the Technological Research and Development Authority in Titusville to fund space-related research grants and scholarships.

First introduced in 1987, the original Challenger plate has raised more than $28 million for the Foundation.

The new Challenger and Columbia plate is expected to be available for purchase later this year.
back to News



© 2023 collectSPACE.com All rights reserved.
Questions? E-mail contact@collectspace.com