advertisements

Space shuttle external tank completes road trip to CA Science Center
May 21, 2016

— The space shuttle Endeavour now has its external tank.

The massive orange-brown fuel tank, NASA's last remaining example of its type, built for flight but never used, arrived at the California Science Center on Saturday evening (May 21), completing a nearly one-day road trip through the streets of Los Angeles.

The external tank, together with the orbiter Endeavour — which was delivered to the Science Center in a similar, but longer parade in October 2012 — and a pair of solid rocket boosters still to come, will form the world's only vertical display of a fully-authentic space shuttle launch vehicle. The exhibit is targeted to open in the Science Center's future Samuel Oschin Air and Space Center in 2019.

The external tank's journey began as scheduled just after midnight (PDT; 0700 GMT) early Saturday morning as a custom-built Mack truck towed it atop a set of wheeled dollies out of the parking lot at Fisherman's Village in Marina del Rey. The tank arrived at the pier Wednesday (May 18) after a five-week, 5,000-mile (8,000-kilometer) ocean voyage that sailed it by barge from NASA's Michoud Assembly Facility in New Orleans, across the Panama Canal and on to Los Angeles.

Borrowing a tradition from the tank's Louisiana heritage, Science Center officials joined a dozen veteran shuttle astronauts and the guests of the center's annual Discovery Ball fundraiser to form a "second line" procession — complete with a New Orleans-style jazz band and costumed dancers — following the tank as it left the marina.

Public spectators lined the street to get a look at the tank as it rolled horizontally at what Jeff Rudolph, the California Science Center's president, described as a "brisk walking pace."

"Officially, there is a maximum speed of five miles per hour, by permits we are not going beyond that," Rudolph said. "We're going to have people walking with it the entire way."

That includes the astronauts, who after an overnight rest, rejoined the parade for much of the day Saturday.

The external tank's route took it through Inglewood and Los Angeles, saw it cross Interstate 405 and pass by local landmarks, including The Forum, once one of the best-known sports arenas in the U.S., and Los Angeles Memorial Coliseum, the current home of the Los Angeles Rams football team.

During the 16-mile (26 km) move, the 154-foot-long by 32-foot-wide (47 by 10 m) external tank needed to pause as technicians worked to raise power lines and clear its route of obstacles, restoring the utilities after it moved beyond the area.

"The most challenging parts are the turns, because it is really long," Rudolph said in a pre-parade interview. "Part of the complication is that the equipment doesn't back up. They get one shot at it. The brakes don't work in reverse."

Arriving at Exposition Park at about 6:15 p.m. PDT (0100 GMT May 22), the tank crossed a paper chain finish line made by the elementary school students at the on-site Alexander Science Center School. By 7 p.m. (PDT), it was parked next to the Samuel Oschin Space Shuttle Endeavour Display Pavilion, where the tank will be publicly visible as it is prepared for the 2019 vertical exhibit.

In addition to being a public spectacle, the parade also served as a fundraiser for Endeavor's future display. Signs mounted on the external tank's dolly encouraged spectators to text "ET94" to 41444 to donate to the space shuttle's exhibit.

Referred to by its assembly number, ET-94, the lightweight external tank was built to be launched but went unused. Instead, it became a test article to validate the modifications made to the tanks to enable the shuttle fleet to safely return to flight after the loss of space shuttle Columbia in 2003.



Photographs credit: collectSPACE.com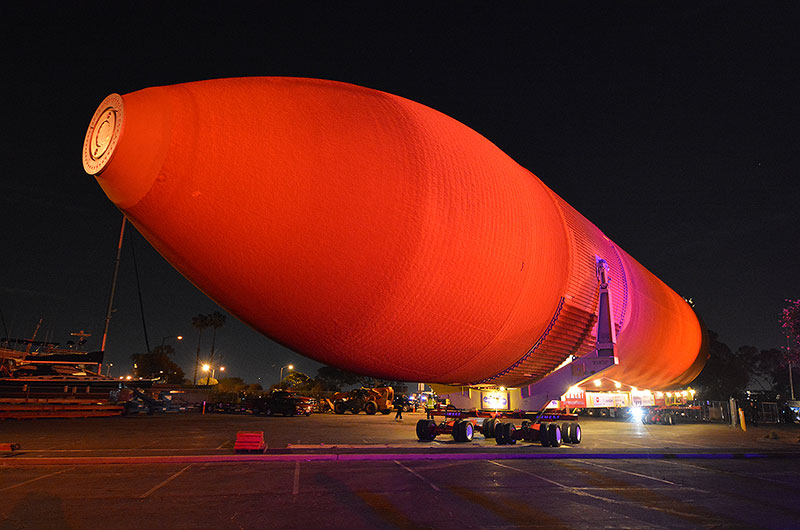 NASA's last remaining flight-qualified space shuttle external tank glows in the spotlights at Marina del Rey prior to leaving on a 16-mile road trip for the California Science Center, May 20, 2016.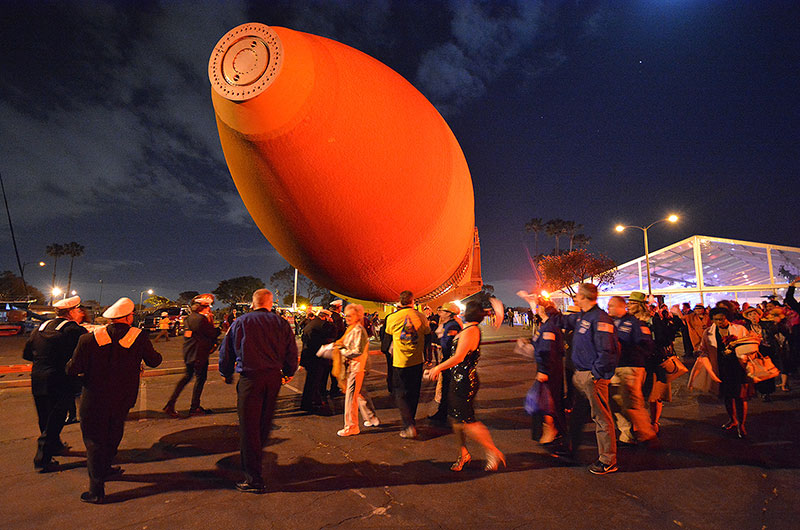 Borrowing from the external tank's Louisiana heritage — the assembly facility that built it is located in New Orleans — California Science Center officials joined space shuttle astronauts and guests in a "second line" procession following ET-94 on the first leg of its journey.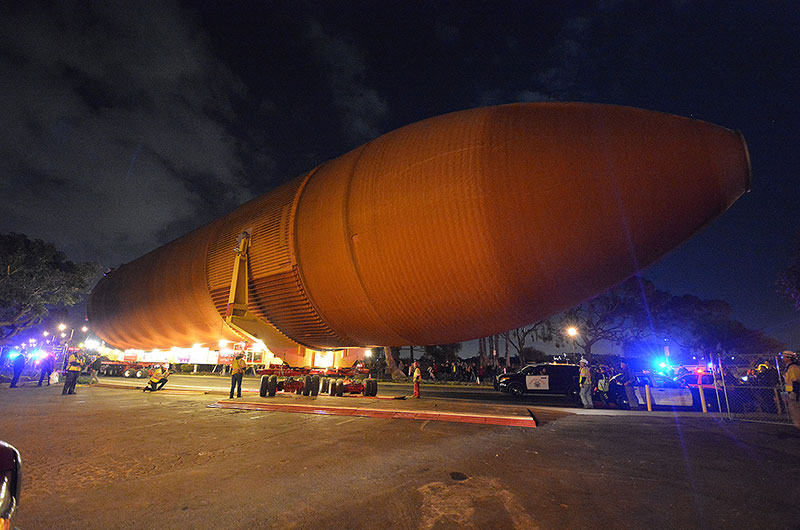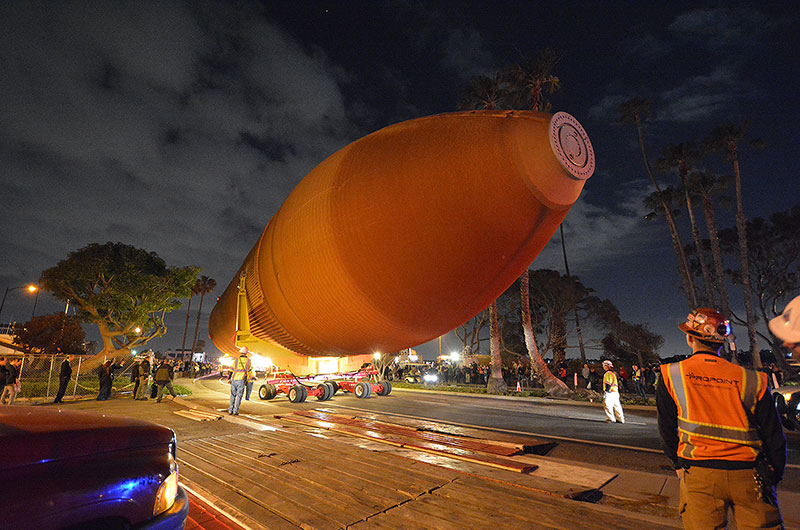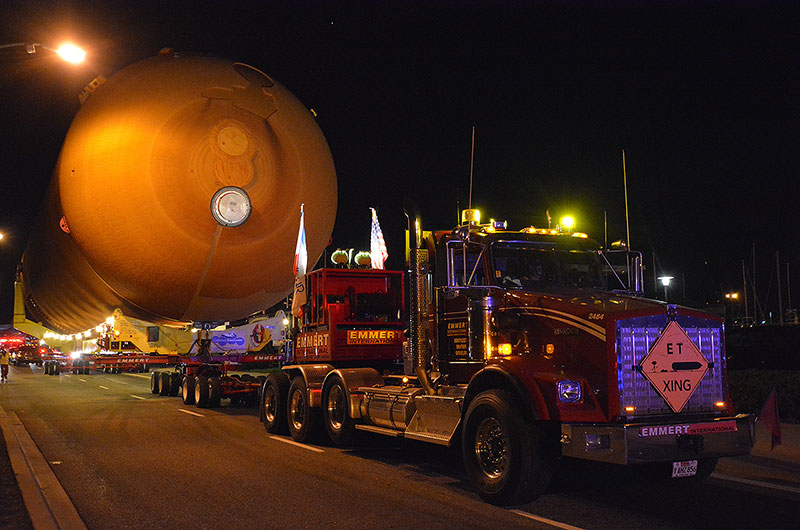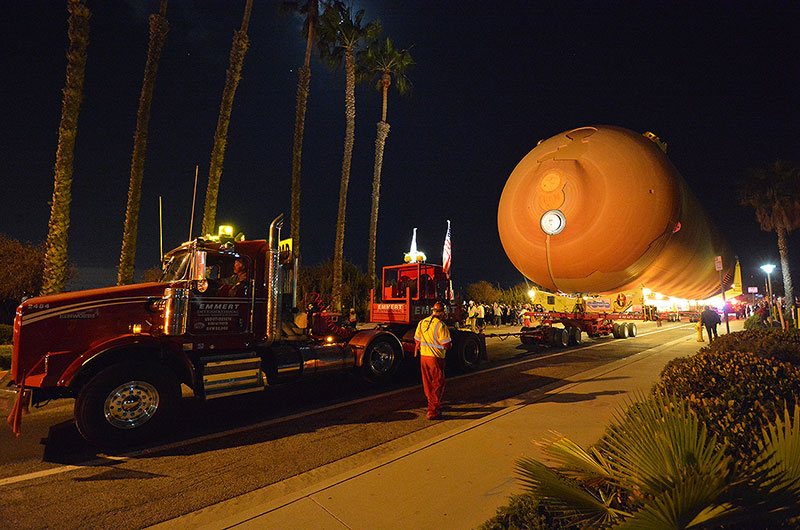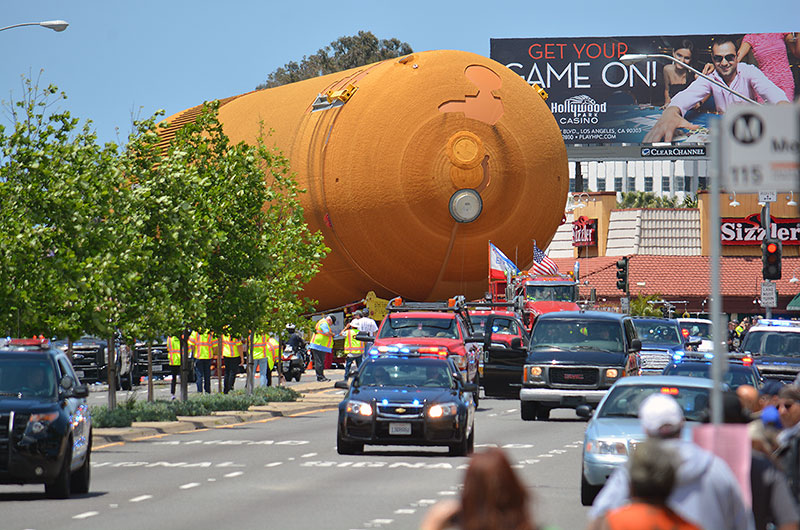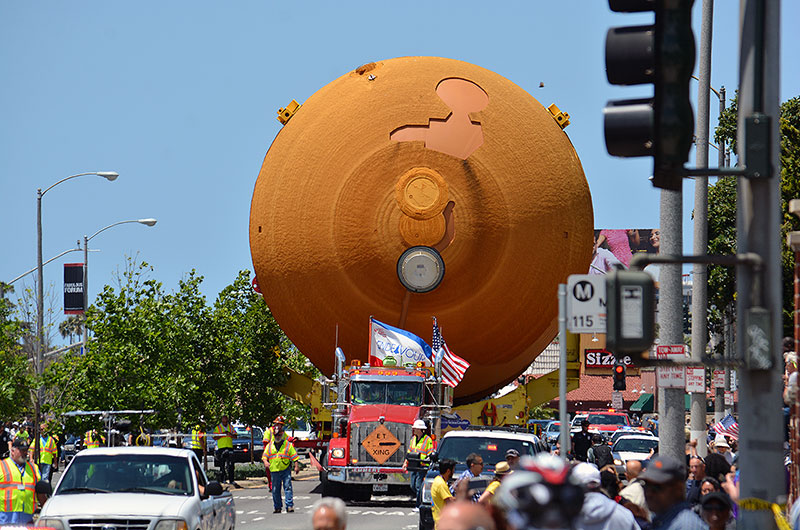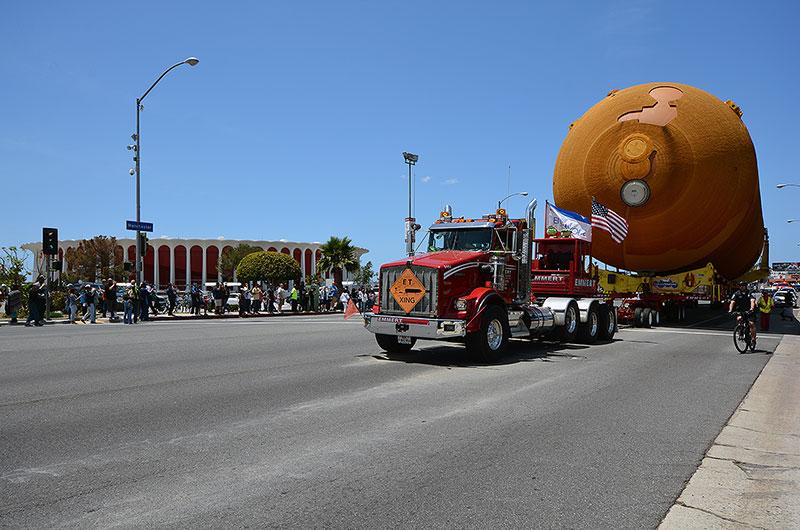 The external tank's parade reaches The Forum in Inglewood, once one of the best-known indoor sports arenas in the United States. Space shuttle Endeavour passed by this same spot on its delivery to the Science Center in October 2012.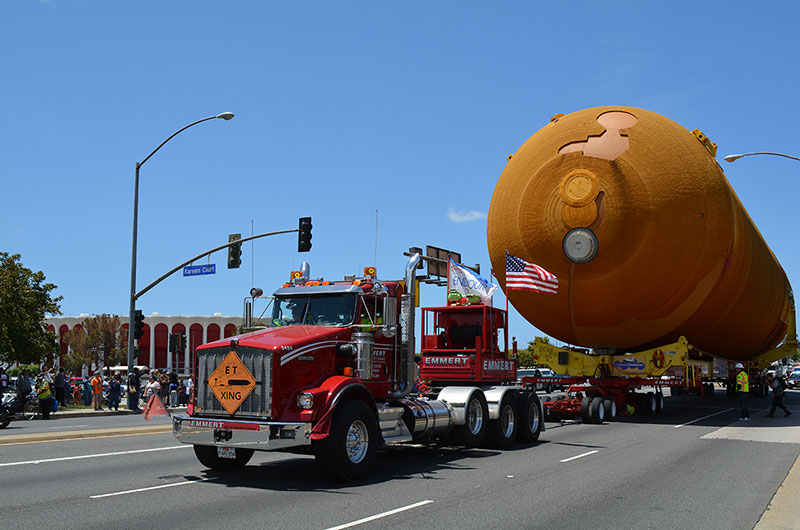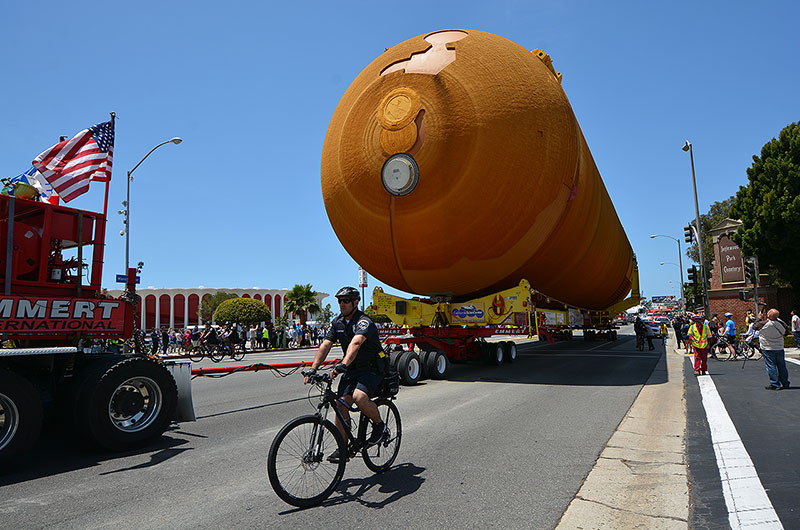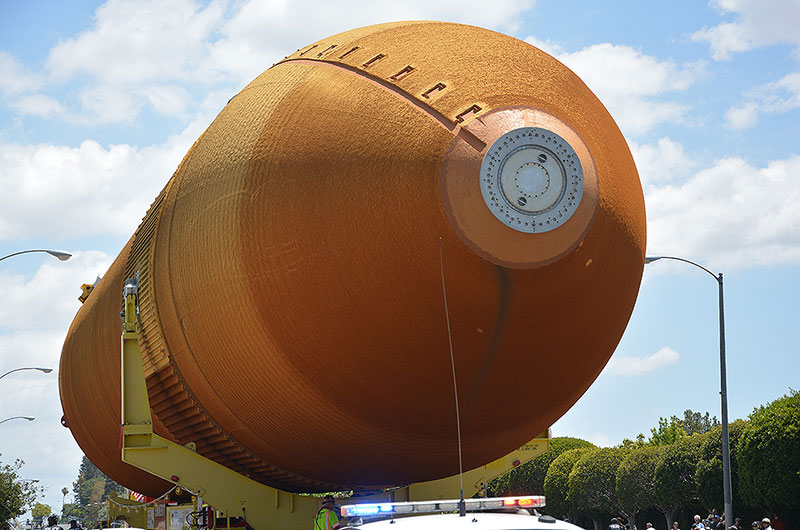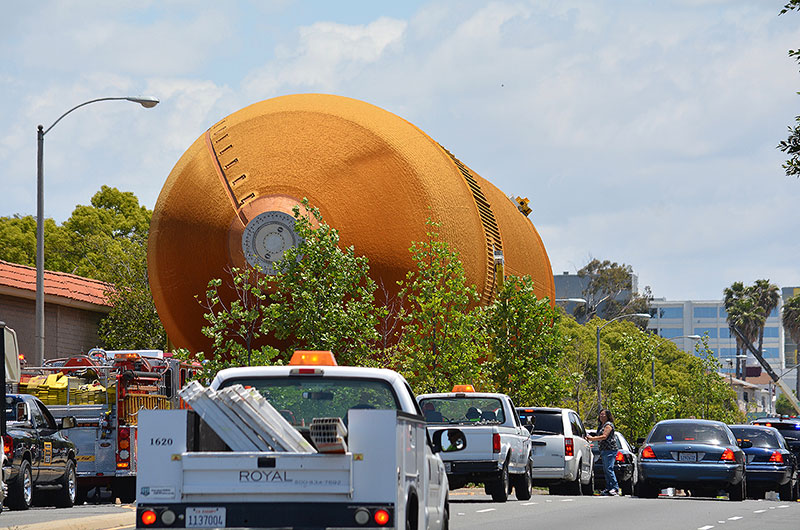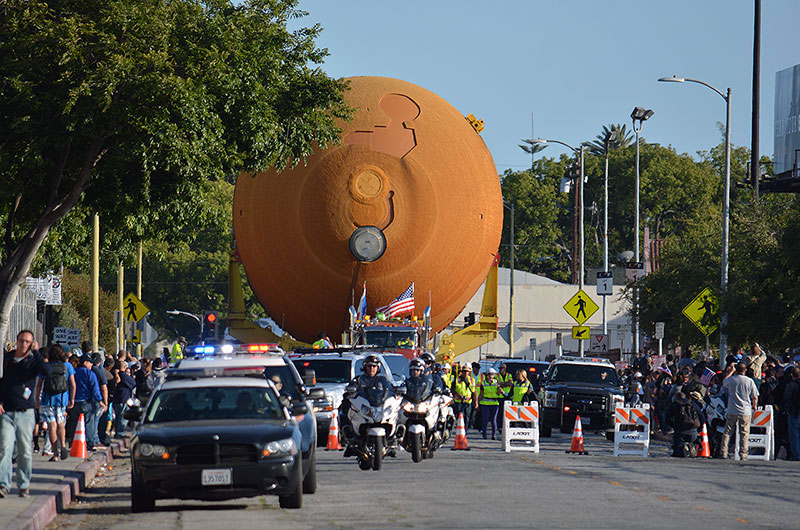 The external tank arrived at Exposition Park, home to the California Science Center, at about 6:15 p.m. PDT on Saturday, May 21, 2016.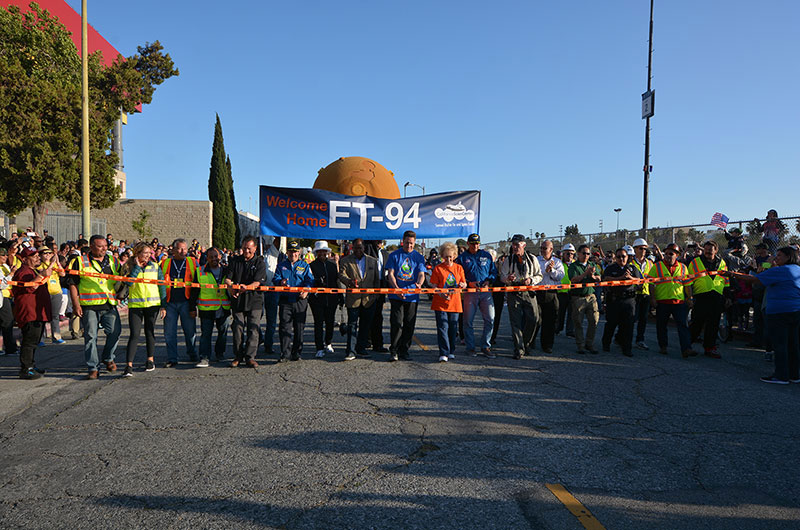 The students at Alexander Science Center School, located on site at Exposition Park, created the external tank's paper chain "finish line."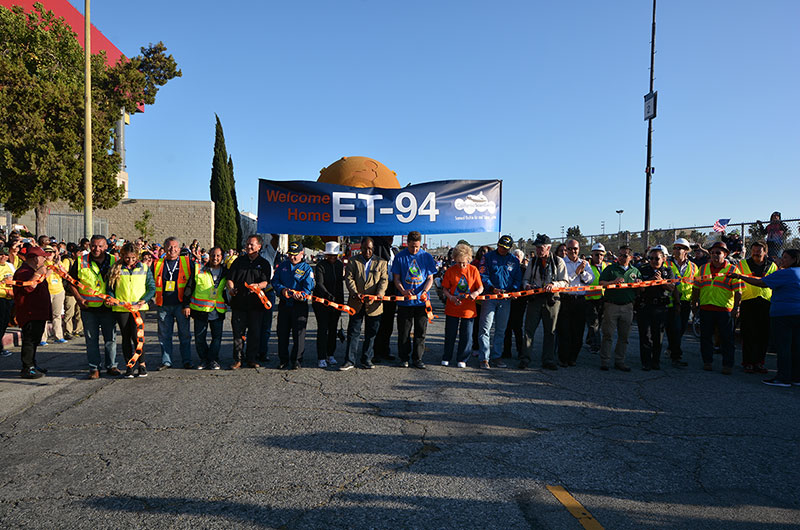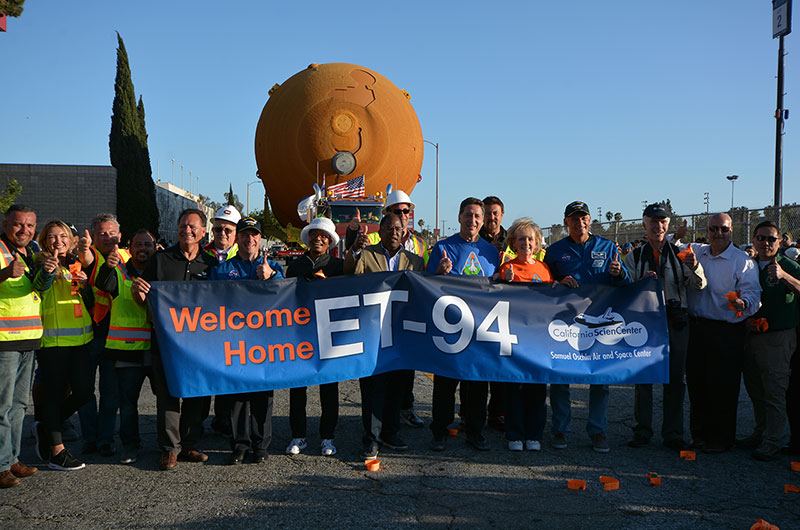 Helping to "Welcome Home ET-94" to the California Science Center were center president Jeffrey Rudolph (in blue, at center right); Lynda Oschin (in orange, at right of Rudolph), the wife of the late philanthropist Samuel Oschin, benefactor and namesake of the center's current Endeavour display pavilion and future Air and Space Center; astronauts Danny Olivas (right of Oschin) and Garrett Reisman (at left); and Gil Garcetti, former L.A. district attorney and father of Los Angeles Mayor Eric Garcetti.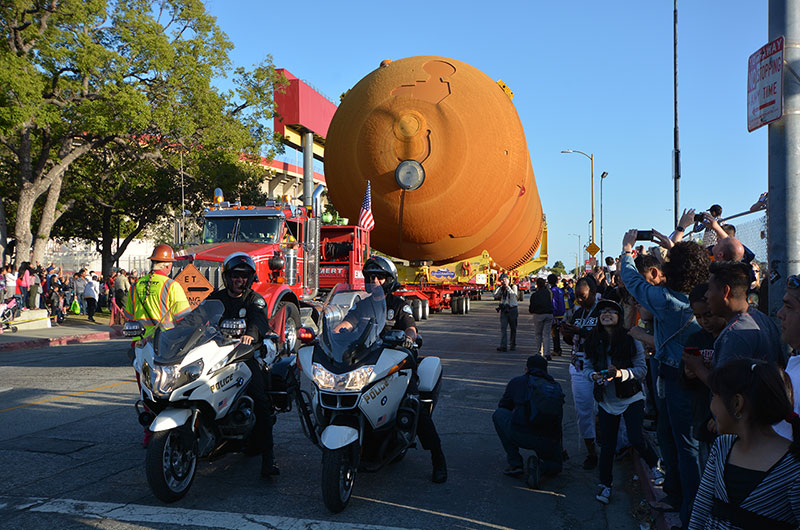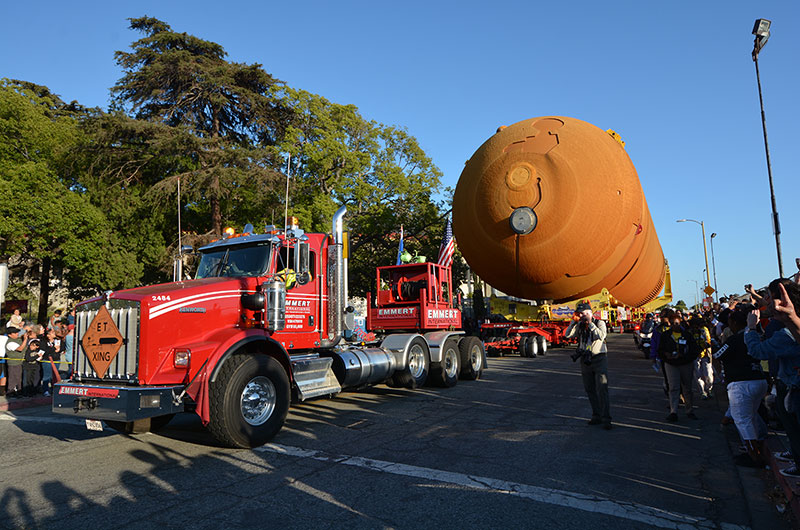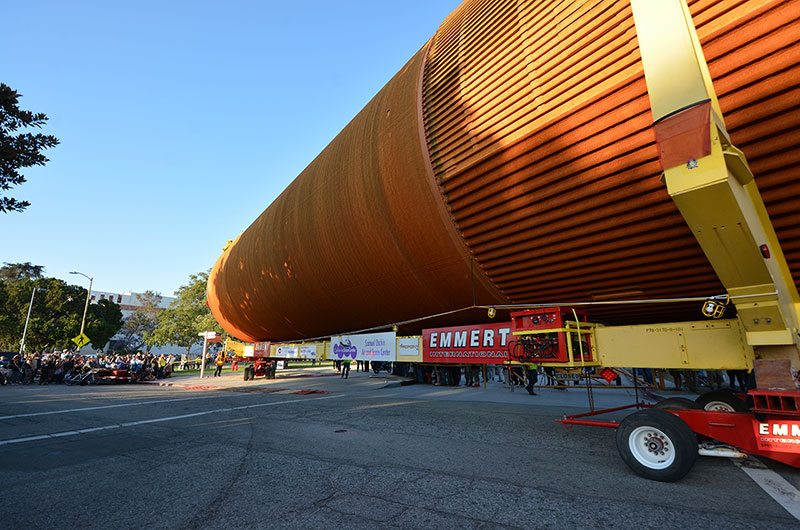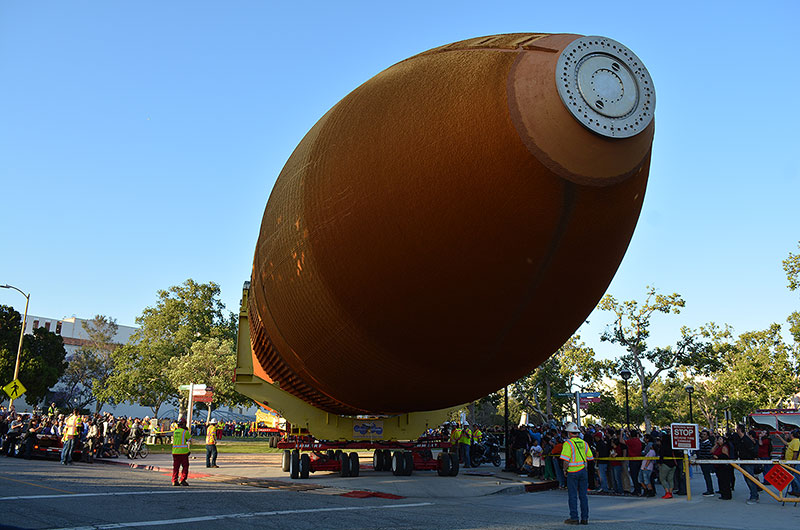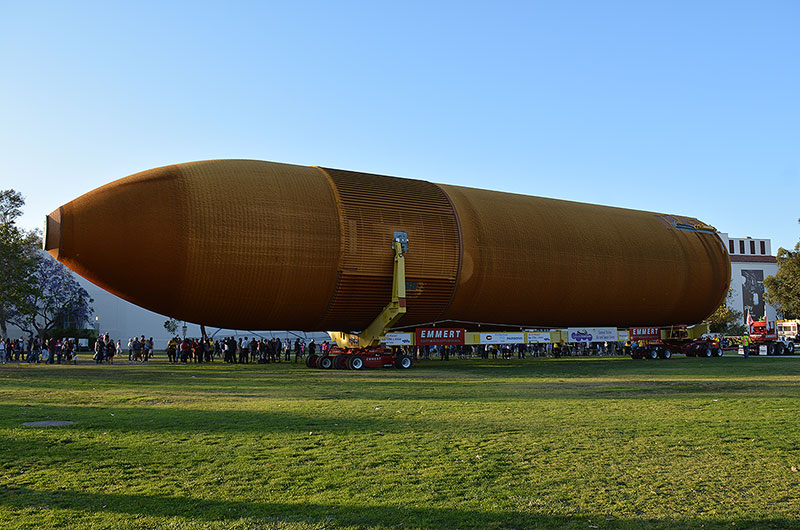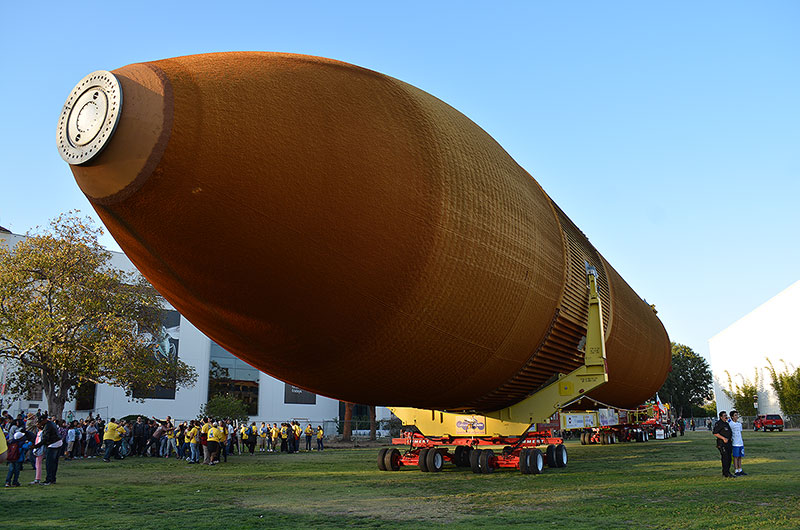 © 2021 collectSPACE.com All rights reserved.