advertisements

In search of secrets, Soviet Soyuz capsule X-rayed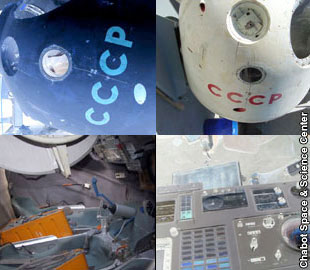 A Soviet spacecraft at the Chabot Space and Science Center will be X-rayed to try to learn more about its history.
(Chabot)
May 18, 2004
— A first generation Soviet spacecraft, built in secrecy during the Cold War, has arrived in California for a museum display. Yet beyond its general model and from where it came, the capsule's new owners know little of its history.

To uncover any secrets the Soyuz 7K-OK spacecraft may hold — including perhaps whether it ever flew in space — the Chabot Space and Science Center in Oakland has arranged for the capsule to be x-rayed. Using the portable high energy x-ray equipment previously used to inspect Space Shuttle components (as well as bridges and power plants) teams assembled from Alameda-based HESCO and Q.C. Services in Hayward will attempt to expose the capsule's original structure today.

According to Chabot's website dedicated to the project, SoyuzSecret.com, the capsule previously sat outside for at least a quarter of a century on exhibit in Europe. Damage accrued due to years of accumulated corrosion and any modifications made for its display (including layers of paint and graffiti) are planned to be repaired and restored by Chabot as is possible, beginning with what is learned from the x-ray films.

Eventually, the x-rays will also be used to compare with three-dimensional laser scans of the Soyuz's exterior and interior surfaces conducted by students attending the University of California, Berkeley. The resulting "complete picture" of the spacecraft will be shared with visitors to Chabot through their planetarium and a planned exhibit.

Chabot will also share the results of their investigation and restoration work through their SoyuzSecret website. An image gallery and a soon-to-be installed live webcam, along with archived videos and documents will allow the project to be monitored online.

Chabot's staff believes this is the first time a Soyuz has been inspected by x-ray. Even if the capsule never flew in space, it is thought to be the oldest and most complete Soyuz descent capsule outside the former Soviet Union. It was common during the Cold War for spent capsules to be stripped and destroyed to prevent the technology from being stolen or captured.

The 7K-OK Soyuz was designed in 1963 by the USSR to carry three cosmonauts to Earth orbit. The model flew 13 successful manned and unmanned missions but also lead to the death of Vladimir Komarov on its fourth flight. A later revised configuration with a space station docking tunnel killed three cosmonauts upon reentry in 1971. As a result, the 7K-OK Soyuz was retired.

© 2022 collectSPACE.com All rights reserved.