advertisements

Museum is giant leap for Missouri man
by Tresea Ressel, The Daily Journal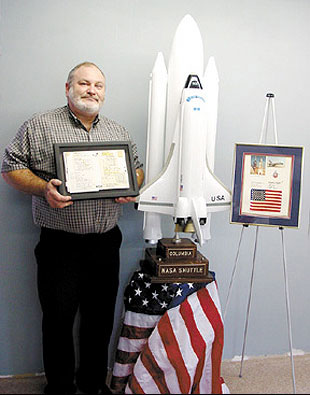 Earl Mullins has a large collection of space memorabilia. Among the items are a model that was used by John Chancellor when he reported the first Columbia launch, a flag that flew aboard Columbia on its first flight and an abort check list that flew aboard the fifth mission. These are just some of the items that will be featured in a space museum Mullins plans to open this summer.
(The Daily Journal)
May 13, 2003
— A Bonne Terre, Missouri man plans to open up a space museum this summer.

Earl Mullins will be opening up a space museum next door to Heritage Hall in Bonne Terre. He hopes to open the museum July 19 -- the day before the 34th anniversary of the lunar landing. But with so many repairs to make, it may be closer to the end of summer.

The museum will feature quite a mixture of space memorabilia such as collectibles, commemoratives, toys, engineering models, Soviet space equipment and a flag that has been to the moon. He said the public will see things they wouldn't be able to see unless they went to Florida or Texas.

Mullins, however, said he won't have the big stuff because he can't afford it. But he hopes people will be wowed by what they do see.

Mullins wants to arrange the displays historically so that people visiting the museum will know how the space program came about and who was involved.

"I want to have interactive audio and visual displays that give a history of the program," Mullins said. He plans to change the displays every few months.

He calls the space museum "a dream come true" and hopes to expand in the future. He hopes one day when people think of space museums they will think of Bonne Terre.

Mullins said he invites others to lend their artifacts to the museum. Those who are willing to lend items will continue to have ownership and will be given the proper credit, he said. Mullins may be contacted at the museum on weekends at 573-358-1200.

"My main purpose is to encourage people to support the program," he said. He added he also wants to give something back to the community and educate young people. He said he isn't out to make a profit -- just cover his expenses.

Mullins doesn't consider himself to be a historian. He likes to preserve historic things.

"I have finally developed such a collection that I have no room to display everything (at home)," he said. "I started to feel a little selfish -- sitting on all this."

Mullins became smitten with space exploration at a very young age during the 1960s.

"(My family) spent many nights laying on our backs and watching the skies," he said. Questions went through Mullins mind like how could they get up there and how fast were they moving.

"I've always wanted to be a pilot," he said. "I'm still not. Life has a lot of twists and turns but I have continued my love of collecting. It's as much the hunt as the having."

The more Mullins collected the more he read, and the more he became convinced that astronauts are heroes.

"What more noble purpose than to explore and see what is over the next hill?" he asked.

Mullins said space exploration has led to advances in the fields of technology, communication, weather forecasting and medicine. Nearly every state has benefited from the space program. The space program, whether it is the actual program or companies that manufacture products for NASA, provide jobs for many Americans.

Mullins said today's space program doesn't have a real clear goal. He believes they need to be pushing toward Mars.

"Why?" Mullins asked. "Because we can do it. Resources on the planet are dwindling and there is less and less room. Beyond that, we need to do it for the sheer excitement and joy in it."

Mullins believes the space program is well worth the expense.

"What is pride worth?" he asked. "There's an American flag flying on the moon -- not a Soviet flag."

When the space program first began during the time of the race riots and the controversial Vietnam War, it was a bright spot that gave people hope, Mullins said.

Mullins said he was really crushed when the seven astronauts aboard the Space Shuttle Columbia died Feb. 1. But he said the space program has had a pretty good track record, losing only about 20 men and women.

"That is a good track record considering the risky business they are in," he said.

The preceding article first appeared in The Daily Journal. It is reprinted with permission.

© 2023 collectSPACE.com All rights reserved.