May 8, 2023
— The historic steel platform from which the first astronauts departed Earth to fly around and land on the moon now, itself, only has a limited time left on the planet.

Mobile Launch Platform-3 (MLP-3), or Mobile Launcher-1 (ML-1) as it was known when NASA used it for the Apollo 8 and Apollo 11 lunar missions more than 50 years ago, is set to be demolished, having recently been moved out of the Vehicle Assembly Building (VAB) to a nearby yard at Kennedy Space Center in Florida.

"MLP-3 has been moved out to the midfield park site and is awaiting demolition by a salvage contractor," John Giles, engineering operations manager for the crawler-transporters and other large equipment in NASA's Exploration Ground Systems program at Kennedy, said in an interview with collectSPACE. "[The work] should be beginning within two weeks."

"Right now, they're going through the process of sampling everything and making sure there are no hazardous chemicals left on board before they start the salvage process," Giles said.

NASA did not announce its decision to discard of MLP-3. The platform sitting at its park site hinted at its fate, given the same location was used to demolish MLP-2 (ML-2) in 2021. At that time, NASA's plan was to store MLP-3 in High Bay 2 of the VAB, where it was for about a year.

"It became a simple process of we ran out of room," said Giles. "So last year, probably about halfway through the year, NASA and KSC [management] decided we weren't using all of the VAB, so we were going to lease out certain areas.

"Various companies applied for that lease and it was determined by NASA that it would be given to Boeing," he said.

As the lead contractor for NASA's Space Launch System (SLS) rocket, Boeing is planning to use High Bay 2 to build up future SLS core stages. Currently that work is done at the Michoud Assembly Facility outside New Orleans, but by shipping components to Kennedy, it can streamline and expedite production of the towering boosters needed for NASA's Artemis moon program.

"As soon as Boeing came down and looked [the high bay] over, the first thing they said is that the MLP had to go, it was in the way," said Giles.

Given the sheer size and mass of the mobile launch platforms — each weigh 8.23 million pounds (3,730 tonnes) and stand 160 feet long by 135 feet wide by 25 feet high (49 by 41 by 7.6 meters) — NASA can only move them using one of their two Apollo-era crawler transporters and they can only be parked at the VAB, at the pad or the midfield site.

Assuming another site could be identified, NASA looked at whether MLP-3 could be used by the Kennedy Space Center Visitor Complex to give the public access to it as a tourist attraction, but it was not practical.

"It was deemed to be unsafe, too many places for people to get hurt," Giles said.

NASA is aware of the history it is destroying. Beyond being used to launch Apollo 8 in 1968 and Apollo 11 in 1969, MLP-3 was also used to support the first flight of a Saturn V rocket in 1967, the three crewed launches to the Skylab workshop in 1973 and the U.S. launch that was part of the Apollo-Soyuz Test Project (ASTP) flown jointly with the Soviet Union in 1975.

The platform was then modified for use with the space shuttle and supported 33 more launches, including the first docking of a U.S. orbiter to Russia's space station Mir in 1995, the first mission to the International Space Station in 1998 and the final space shuttle launch in 2011.

With MLP-2 already scrapped and MLP-3 soon to follow, that leaves only MLP-1 (ML-3), which remains in use for servicing the crawlerway between SLS launches.

"There was an analysis done when they [the three Apollo and shuttle-used MLPs] were all considered eligible for the National Register of Historic Places and then in 2010, we followed the federal regulations required by the National Historic Preservation Act to consider the MLPs' demolition," Katherine Zeringue, cultural resources manager at Kennedy, told collectSPACE.

NASA compiled a Historic American Engineering Record, or HAER, detailing the platforms' construction, engineering and use. That document is now held by the Library of Congress. There are no preservation laws, though, that require NASA to hold onto its historic hardware, said Zeringue.

"NASA has a great record of adaptive reuse," she said, "which is a preservation strategy."

MLP-3 was briefly handed over to Northrop Grumman, which in 2019 planned to use the platform to support launches of its proposed OmegA launch vehicle. The company had begun modifications to the hardware when funding for the rocket fell through and the MLP was returned to NASA.

With no other users or uses, the space agency has turned over ownership of MLP-3 to Advon, the same construction company that oversaw the demolition of MLP-2. Advon has hired Frank-Lin Services to carry out the work, which is scheduled to be complete by the end of the year, if not earlier.

NASA did inspect the MLP and removed components — including light fixtures, doors and the crawler-transporter lift points — for their reuse with the Artemis mobile launchers or elsewhere at the center. It will be up to Advon, as the new owners of the platform, if additional parts are set aside for historic preservation or as memorabilia.

"I can tell you from having been on the crawler taking that MLP out to the park site, it was heartbreaking," said GIles. "It's absolutely [a situation of] you do not want to have to do this. It's just necessary for the future of the space center. We need the space."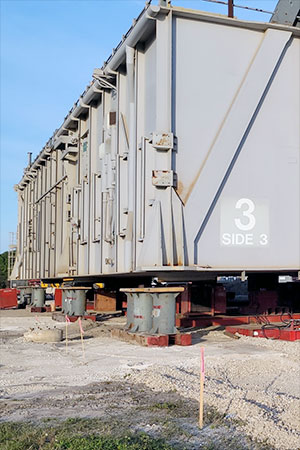 NASA's Mobile Launch Platform-3 (MLP-3), which was used for the Apollo 11 moon landing mission among other historic flights, is seen lowered to the ground for its demolition. (Advon Construction)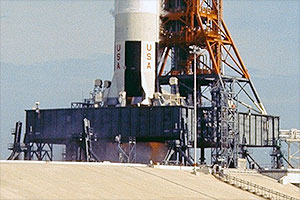 Mobile Launcher-1 (ML-1), which was later redesignated as Mobile Launch Platform-3 (MLP-3), is seen at the moment of ignition of the Saturn V rocket carrying the Apollo 11 crew to the moon. (NASA)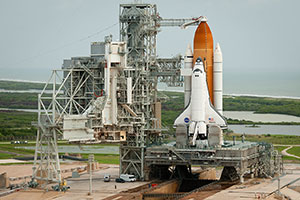 NASA's space shuttle Atlantis stands atop Mobile Launch Platform-3 just hours before the liftoff of STS-135, the final mission of the 30-year space shuttle program in July 2011. (NASA/Bill Ingalls)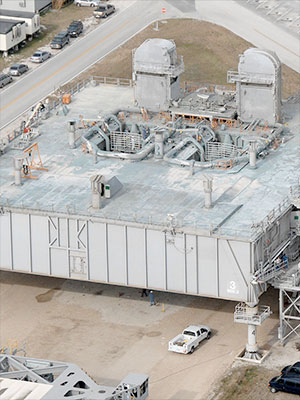 A 2009 aerial view of Mobile Launch Platform-3 (MLP-3) as seen parked at Kennedy Space Center in Florida. (NASA/Kim Shiflett)