May 8, 2009
— If all goes to schedule, Scott Parazynski will reach the top of the world between 7:00 and 8:00 p.m. EDT on Sunday, May 10.


---
Update: After a weather delay, Scott Parazynski summited Mount Everest on May 19 at 5:15 p.m. CDT . For more updates, see cS: Messages.
---
Parazynski won't be the first person to reach the top of Mount Everest, the highest mountain on Earth; Edmund Hillary and Tenzing Norgay have held that record since 1953. He won't even be in the first 1,000; more than 1,400 have summited over the past 56 years.

But should Parazynski reach the top, he will be the first person to do so having first had the opportunity to see Everest from as much as 40 times higher than its 29,000 foot peak.

Going where no astronaut has gone before

Separating Parazynski from the climbers that preceded him is his former profession: astronaut. A veteran of five space shuttle missions, Parazynski left NASA in March, just before departing to Everest.

"The timing of this expedition, it is a very nice transition event," Parazynski told collectSPACE prior to leaving for the mountain, adding that the decision to retire from the space agency was "mostly separate" from the excursion.

That said, Parazynski sees parallels between the climb and the seven spacewalks he made during his career in orbit.

"The workload of carrying your body out along the summit ridge of Everest or any major mountain is enormous, so the metabolic workload is much tougher mountaineering, but I think there are a lot of similarities in terms of the actual technique. You're working with fixed lines, you're wearing big heavy mitts similar to EVA gloves, you've got oxygen on, you've got a very limited field of view, you've got a down suit on and a hood on with goggles, so it is similar in many regards to the [spacesuit helmet's] visor," he explained. "And your focus and intensity going out and doing that is very similar."

During his last spacewalk in November 2007, Parazynski was tasked with repairing a torn solar array, riding at the end of a long boom attached to a robot arm. Soaring over the International Space Station, his view of the Earth and outpost below was unique to past EVAs, which tended to stay closer to the station's structure.

"The summit of Everest will have a hard time competing with the view from the boom!" radioed Mission Control in Houston. They were not however, referring to this current climb; rather, they were foreshadowing Parazynski's then upcoming first attempt at Everest.

Parazynski almost became the first astronaut to summit Everest one year ago this month when he ruptured a disc in his back.

"I was within a day of topping out. I could see the route," he described. "Up to that point, I had been climbing so well, very strong, one of the fastest Westerners climbing on the hill."

So close to the peak, Parazynski made the tough choice not to push through the pain and descended. "By the time I arrived at base camp, I already knew that I had to come back."

The only other astronaut to attempt Everest was not as fortunate to have a second chance. On October 5, 1993, Karl Henize died of respiratory and heart failure while attempting to summit the north face of the mount. Buried at 22,000 feet, Henize had flown one shuttle mission and earlier served on the support crew for the fourth manned lunar landing. He was 67.

Surgery having mended his back, Parazynski hopes that taking additional care will allow him to not only reach the summit for himself, but also deliver a replica of the patch that Henize wore in space, as well as Tibetan prayer flags for the astronauts and cosmonauts who were lost during the pursuit of space exploration.

To seek out new life

Parazynski's primary payload seeks to extend the work of his fellow space explorers: seeking out signs of life.

"If we can find colored rocks — oranges, yellows, black and green — that would be indicative of bacteria or lichen or algae, we'll try to retrieve those," he shared. "I actually have a prototype lunar hammer... and of course I'll be in a full down suit and mitts, so for all intents and purposes I'll be on a lunar EVA in a very harsh environment to try to find some limestone and fossils, if we can."

He'll also be deploying small temperature sensors along the climb.

"The gist of this is, if snow at those high altitudes ever becomes water — a lot of times at very high altitude the snow will just sublimate — if it ever gets above zero, the water will melt and if you have local water, even for a few hours every day, it's likely that life could live there. And that would be a real interesting find for astrobiology."

"We will also deploy DNA disseminators — little tubes of plasma DNA — and look at the ultraviolet radiation at different altitudes along the climb. You can actually track rather accurately the type of damage and exposure with these particular samples," he added.

The data he returns may someday correlate to astronauts exploring Mars, but some of the equipment he is carrying could have a more immediate application.

"We'll be testing some specially-designed gear, some of which I designed outside of NASA and some of which I designed with NASA's help," Parazynski said.

One such device, the High-Altitude Hydration System or HAHS, uses body heat to thermally regulate a reservoir of water.

"It is really a wonderful little tool that allows climbers and skiers and snowmobilers and hunters and military in cold environments to keep their hydration liquid as opposed to, often times in a Camelbak it will freeze."

At the time of this writing, Parazynski had reached Camp 2. Equipped with a satellite transponder that automatically tweets his status based on his position and altitude, he is also carrying a satellite phone with the hope of making a special call when he summits: to space.

"I may take a satellite phone to the summit so I can then call Mission Control and they can patch me up," he said.

Learn more about Scott Parazynski's summit attempt at OnOrbit.com and follow him at @SPOTScott on Twitter.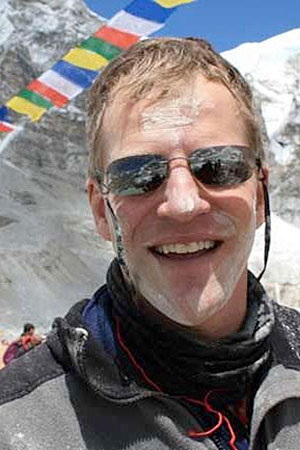 Scott Parazynski, after arriving at Mount Everest. (OnOrbit.com)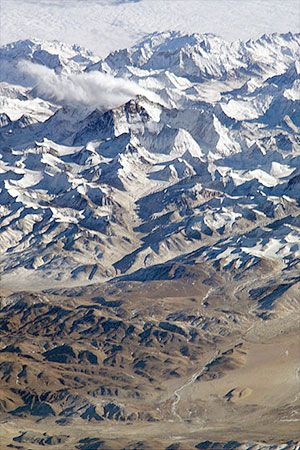 Mount Everest, as photographed from the space station. (NASA)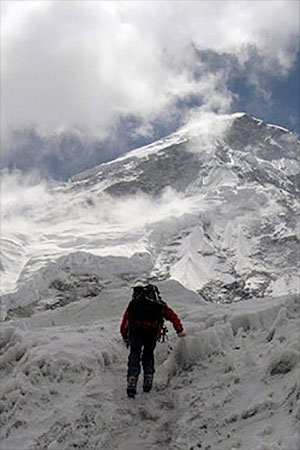 Scott Parazynski climbing Mount Everest in 2008. (OnOrbit.com)