NASA announces new astronauts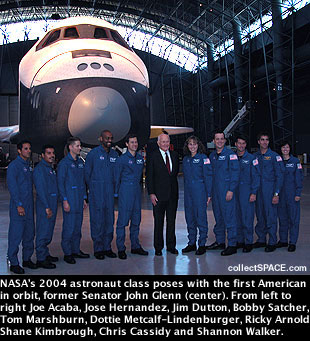 May 6, 2004 -- Standing this morning before an audience that included the first American to orbit the Earth, NASA Adminstrator Sean O'Keefe and Kent Rominger, Chief of the Astronaut Office, announced the members of the 19th group of astronaut candidates to be selected since John Glenn and his six fellow Mercury "originals" were named in 1958. The ceremony, hosted at the National Air and Space Museum Udvar-Hazy Center in Chantilly, Virginia, took place during the opening assembly for Space Day.

"These are the astronauts who will lead us through the next steps in the new exploration vision," said Sean O'Keefe. "The class is made up of pilots and engineers who will help us develop the next generation vehicle, scientists who will do research to help humans live and travel in space and three new educator astronauts to help ensure a new generation is ready for the challenges of exploration.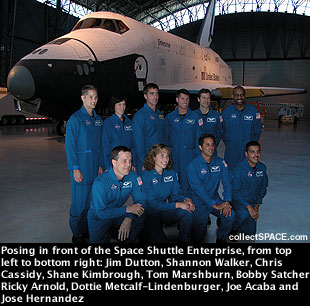 The new astronaut candidates are:

Mission Specialist-Educator Joseph Acaba, 36, of Dunnellon, Fla.; math and science teacher at Dunnellon Middle School; born in Inglewood, Ca. Acaba has degrees from the University of California at Santa Barbara and the University of Arizona. He is a former Peace Corps volunteer in the Dominican Republic and also managed a research station in the Bahamas.

"I've always been intrigued by space travel," Acaba says. "My parents started me at a young age with 8mm films of the first man on the moon."

Mission Specialist-Educator Richard Arnold, 40, of Berlin, Md.; currently lives in Bucharest, Romania; math and science teacher at the American International School of Bucharest; born in Cheverly, Md. and raised in Bowie, Md. Arnold has degrees from Frostburg State University, Md., and the University of Maryland. Arnold has also taught in Morocco, Indonesia, and Saudi Arabia.

"When NASA started looking for people with my skills, I thought: 'Here's my opportunity,'" says Arnold. "I hope to make a real connection with schools, to get them excited about what's going on in human space flight."

Pilot Randolph Bresnik, Major, U.S. Marine Corps, 36, an F/A- 18 pilot and experimental test pilot based in San Diego, Calif.; born in Fort Knox, Ky. Bresnik has degrees from The Citadel, S.C., and the University of Tennessee at Knoxville. He is getting married this month in a Scottish castle.

(Bresnik was absent from today's ceremony due to his getting married in a castle in Scotland to a civilian lawyer he met while she was working at the Pentagon.)

Mission Specialist Christopher Cassidy, Lt. Cmdr., U.S. Navy, 34; Navy SEAL based in Norfolk, Va.; born in Salem, Mass.; raised in York, Maine. He has degrees from the U.S. Naval Academy and the Massachusetts Institute of Technology, Mass. Cassidy completed two tours of duty in Afghanistan and earned a Bronze Star.

"I hope to be the next guy on the moon," Cassidy says.

Pilot James Dutton, Major, U.S. Air Force, 35; an F/A-22 test pilot stationed in Edwards, Calif.; born and raised in Eugene, Ore. Dutton has degrees from the U.S. Air Force Academy and the University of Washington. During the 1990s, Dutton flew combat air patrols over northern Iraq.

"I hope to be in on the ground work," Dutton says. "As a test pilot, I would love to be in on the development of the Crew Exploration Vehicle."

Mission Specialist Jose Hernandez, 41, of Houston; engineer and branch chief at NASA's Johnson Space Center (JSC); born in French Camp, Calif.; grew up as a migrant farm worker before settling in Stockton, Calif. Hernandez has degrees from the University of the Pacific and the University of California at Santa Barbara. His work at Lawrence Livermore National Laboratory in the 1990s contributed to a new tool for early breast cancer detection.

"I was hoeing a row of sugar beets in a field near Stockton, Calif., and I heard on my transistor radio that Franklin Chang-Diaz had been selected for the Astronaut Corps," says Hernandez, who was a senior in high school at the time. "I was already interested in science and engineering but that was the moment I said, 'I want to fly in space.'"

Mission Specialist R. Shane Kimbrough, 36, Major, U.S. Army, of Houston; flight simulation engineer at JSC; born in Killeen, Tex.; considers Atlanta his hometown. Kimbrough has degrees from the U.S. Military Academy (USMA) and the Georgia Institute of Technology. Kimbrough was captain of the baseball team at USMA. He served as a platoon leader in an Apache attack helicopter company during Desert Storm.

"Service to this nation has always been important to me," Kimbrough says. "The benefits to society as a result of NASA's discoveries are phenomenal."

Mission Specialist Thomas Marshburn, M.D., 43, of Houston; flight surgeon at JSC; born in Statesville, N.C.; raised in Atlanta. He has degrees from Davidson College, N.C.; the University of Virginia; Wake Forest University, N.C.; and the University of Texas Medical Branch. Marshburn is an avid mountain climber and has a private pilot's license.

"My wife is very excited, being a fan of the space program herself, and my older brothers and sisters are thrilled that their 'little brother' made it," Marshburn says.

Mission Specialist-Educator Dorothy Metcalf-Lindenburger, 28, of Vancouver, Wash.; science teacher at Hudson's Bay High School; born in Colorado Springs, Co. and raised in Fort Collins, Co. Metcalf-Lindenburger graduated from Whitman College, Wash. She is a cross-country coach and marathon runner. She was a champion runner in college.

"My husband and I built a telescope last year and took it on our summer vacation, and wherever we stopped, we showed people things like Jupiter or the moon," Metcalf-Lindenburger says. "So many of the adults had never even looked through a telescope."

Mission Specialist Robert Satcher, M.D., Ph.D., 38, of Oak Park, Ill.; orthopedic surgeon at Northwestern Memorial Hospital, Chicago; raised in Hampton, Va. Satcher has degrees from the Massachusetts Institute of Technology and from Harvard University. He performs research in muscular-skeletal oncology and has done charity medical work overseas.

"There's some scientist in me. There's some explorer in me," says Satcher. "There's a humanitarian in me also. Space is the one venue that has the highest potential for benefiting people if we continue to be serious about exploring it."

Mission Specialist Shannon Walker, Ph.D., 38, of Houston; a manager at JSC overseeing the technical health of the International Space Station; born and raised in Houston. Walker has three degrees from Rice University. She has lived in worked in Russia, supporting the Space Station program. She is an avid private pilot.

"I also want to encourage young people to think about what the future can be like if we work together to accomplish difficult goals, such as the exploration of space," Walker says.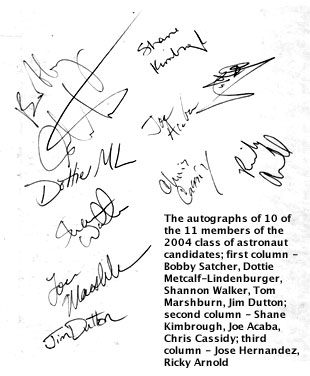 "With the new exploration vision, human space flight is really moving into its next era," said NASA Associate Administrator for Space Flight William Readdy. "Members of this class have terrific experience behind them already, and we're thrilled to have their smarts and skills to help us move forward," he said.

"We are especially excited to welcome our three new educator astronauts," said NASA Associate Administrator for Education, Dr. Adena Loston. "They will help inspire a new generation of explorers."

The candidates will report to NASA's Johnson Space Center this summer. Once settled in Houston, they will begin intensive training. Initially, they will undergo land survival training, T-38 jet ground and flight training, orbiter systems training, station systems training, science and engineering briefings, and orientation tours at all NASA centers, including Kennedy Space Center and Marshall Space Flight Center.

© 2022 collectSPACE.com All rights reserved.
Questions? E-mail contact@collectspace.com