May 4, 2014
— The U.S. Astronaut of Hall of Fame added two new members to its ranks Saturday (May 3), during an induction ceremony that was the first to be held under the elevated display of NASA's retired space shuttle Atlantis.

It was only a coincidence that the inductees had both set records while flying aboard that particular orbiter.

Shannon Lucid and Jerry Ross were received into the U.S. Astronaut Hall of Fame by a group of more than 20 of their fellow honorees, including veterans of NASA's Apollo and shuttle programs. The ceremony was held at the Kennedy Space Center Visitor Complex in Florida, inside the Space Shuttle Atlantis exhibit that opened last June.

Lucid and Ross flew eight of their combined twelve shuttle flights aboard Atlantis.

It was Atlantis that brought Lucid to and from the Russian space station Mir in 1996. Her 188 days living onboard the outpost set records for the longest duration in space by an American and by a woman at the time.

"The last time I saw Atlantis was here at Kennedy Space Center when we landed and I came home from Mir," Lucid said. "So this is sort of like a homecoming."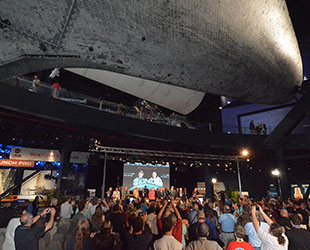 Space shuttle Atlantis appears to soar overhead during the 2014 U.S. Astronaut Hall of Fame induction ceremony.
(collectSPACE)
Ross was aboard Atlantis in 2002 when he launched for a seventh time, setting the record for the most spaceflights.

"Having flown into space seven times — and five of those having been on the space shuttle Atlantis — it's obviously my favorite space shuttle," Ross told collectSPACE. "So to be inducted with the space shuttle Atlantis right next to me is like having your cake, and ice cream, and cherries, and everything else."

Lucid and Ross joined NASA's astronaut corps in January 1978 and May 1980, respectively. Both launched into orbit for the first time in 1985 and retired from NASA in 2012.

In addition to her record-setting stay on Mir, Lucid made history as being chosen among the first six women NASA selected to be astronauts. A veteran of five missions, she logged more than 223 days in space.

Lucid's shuttle flights deployed communication satellites, launched the Galileo planetary probe to Jupiter and carried out medical experiments. In addition to Atlantis, she flew on Columbia and Discovery. As only the second American to live on the Soviet-era Mir, Lucid's long-duration mission helped paved the way for the International Space Station.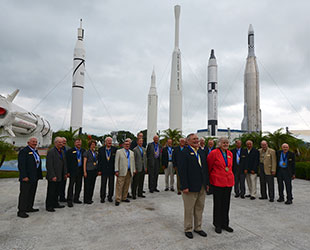 The 2014 class of Astronaut Hall of Fame inductees, Jerry Ross and Shannon Lucid, are flanked by their fellow astronauts in the Rocket Garden at Kennedy Space Center Visitor Complex.
(cS)
"My favorite was the long-duration flight, because frankly, before I flew on Mir, I thought that I really knew a lot about living and working in space," Lucid said. "But when I lived on Mir for six months ... I learned so much more."

Ross logged nearly 1400 hours in orbit, including 58 hours during nine spacewalks. His seven spaceflights still stand as a record, tied by only one other astronaut (2012 Hall of Fame inductee Franklin Chang Diaz), and his spacewalks rank as the second most among U.S. astronauts and third longest among spacewalkers worldwide.

Flying on Columbia, Endeavour and Atlantis, Ross helped deploy communication satellites and the Compton Gamma Ray Observatory, flew onboard a classified mission for the Department of Defense, installed a docking module on Mir and helped build the International Space Station, including serving on its first assembly mission.

Lucid and Ross were selected for the U.S. Astronaut Hall of Fame by a committee composed of astronauts, former NASA officials, flight directors, historians, and journalists. The process was overseen by the Astronaut Scholarship Foundation, the nonprofit organization that established the hall in 1990.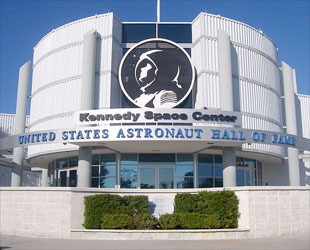 The US Astronaut Hall of Fame is part of NASA's Kennedy Space Center Visitor Complex near Cape Canaveral, Florida.
(KSCVC)
To be eligible for induction in 2014, astronauts must have made their first spaceflight in 1996 or earlier, been a U.S. citizen and served as a NASA-trained commander, pilot or mission specialist who orbited the earth at least once.

Although the first to be inducted under Atlantis, Lucid and Ross are the 13th group of space shuttle astronauts to be named to the Astronaut Hall of Fame. In total, 87 Mercury, Gemini, Apollo, Skylab and shuttle veterans are enshrined in the hall.

"I grew up during the space race, and knowing it was the original Mercury astronauts that founded this organization and I've been enshrined into the same hall as they are, is something beyond my wildest dreams," Ross said.