May 3, 2007
— One of the first seven "original" American astronauts and the only one to fly on Mercury, Gemini and Apollo missions, Walter "Wally" Schirra died on Thursday (May 3) after being hospitalized for a heart attack. He was earlier diagnosed with cancer.

"It's a terrible loss of a dear friend, cherished comrade and a brother," said fellow Mercury astronaut Scott Carpenter. "Despite our good natured competition for flights to space, Wally strove to bring a smile to everyone he met and it is with a smile that I will forever fondly remember him."

Schirra's first spaceflight came on Oct. 3, 1962, as pilot of Mercury-Atlas 8. His spacecraft, which he named Sigma 7, orbited Earth six times in 9 hours and 13 minutes, proving that a pilot could carefully manage the limited quantities of electricity and maneuvering fuel that longer, more complex flights would require.

Schirra chose "Sigma" because it symbolized engineering precision, and a precisely-engineered flight was the result, ending with a splashdown just 5 miles (8 kilometers) from the aircraft carrier Kearsage deployed to recover him from the Pacific Ocean. True to his Navy background, Schirra elected to remain on board the spacecraft until it was lifted to the deck of the carrier.

Schirra's second mission, as command pilot on Gemini 6, was intended to perform the first rendezvous and docking between different spacecraft, a requirement for missions to the moon. But the Agena target vehicle for Gemini 6 failed to reach orbit. Gemini 6 was removed from the launch pad and replaced by Gemini 7, which lifted off on Dec. 4, 1965, on a planned 14-day flight.

Eight days later, Schirra and Thomas Stafford were in their Gemini atop a Titan II rocket when its engines ignited and then unexpectedly shut off after only two seconds. Schirra had the option of triggering an abort, ejecting Stafford and himself, but chose to stay in the capsule while technicians confirmed that the booster was not going to explode.

As a result, Schirra and Stafford finally got off the ground three days later and less than six hours into the flight were "station keeping" within eyesight of Frank Borman and Jim Lovell on Gemini 7, above the Mariana Islands.

Having made history by conducting the first rendezvous in space, Schirra and Stafford returned to Earth.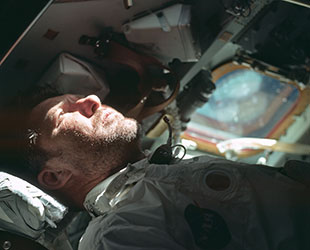 Schirra looks out the rendezvous window from the commander's station on the ninth day of the Apollo 7 mission in 1968.
(NASA)
Schirra's final flight to space teamed him with crew mates Donn Eisele and Walter Cunningham for the first crewed mission of the Apollo spacecraft. Their 11-days on Apollo 7 qualified the redesigned command module for flights to the moon after the tragic fire that took the lives of the Apollo 1 crew in January 1967.

In total, Schirra logged more than 12 days in space on his three flights.

Walter Marty Schirra, Jr. was born on March 12, 1923, in Hackensack, New Jersey and attended the Dwight Morrow High School in Englewood. His father was a World War I ace who flew in air circuses. His mother did wing-walking stunts. Despite his being around airplanes, Schirra did not solo until naval pilot training.

After high school, he spent a year at the Newark College of Engineering, then attended the U.S. Naval Academy at Annapolis, earning his bachelor of science degree in 1945. He later received honorary Ph.Ds from Lafayette College in Pennsylvania, Newark College of Engineering, and from the University of Southern California.

Schirra served in the surface Navy for a year prior to pilot training at Pensacola, Florida, earning his wings in 1948. He was a carrier pilot for three years, then flew 90 combat missions in Korea as an exchange pilot with the Air Force, shooting down two MiGs. Returning to the United States, he helped develop the Sidewinder missile while stationed at the Naval Ordnance Training Station at China Lake in California.

After a three year tour with the 124th Fighter Squadron on board the aircraft carrier USS Lexington, Schirra attended the Naval Test Pilot School at Patuxent River in Maryland. He was flying as a test pilot at Pax River when chosen by NASA.

Schirra admitted later in life that he was reluctant to give up his Navy career for the space program. Nevertheless, Schirra was one of the first seven U.S. astronauts selected in 1959. A precise pilot and engineer, Schirra also became notorious for his practical jokes.

"It was impossible to know Wally — even to meet him — without realizing at once that he was a man who relished the lighter side of life, the puns and jokes and pranks that can enliven a gathering," said NASA Administrator Michael Griffin in an email to the space agency's employees. "But this was a distraction from the true nature of the man. His record as a pioneering space pilot shows the real stuff of which he was made."

"We who have inherited today's space program will always be in his debt," he wrote of Schirra.

In addition to his three spaceflights, Schirra served as the backup to Scott Carpenter's Mercury flight in 1962 and as backup command pilot for Gemini 3, the first crewed flight of the Gemini program. Schirra and his Apollo 7 crew were originally assigned to fly the second crewed Apollo flight, but were named the backups to the Apollo 1 astronauts in November 1966.

Schirra retired from the Navy with the rank of Captain and resigned from NASA on July 1, 1969, to become president of Regency Investors, a Denver, Colorado-based financial company. He served as an officer and director of several companies, eventually founding Schirra Enterprises as his own consultancy firm.

As a result of developing a head cold during the Apollo 7 mission, Schirra later appeared in television commercials for Actifed, a cold remedy. He was also hired as an analyst for CBS News, appearing with anchor Walter Cronkite on broadcasts of NASA missions.

Schirra was active in a number of organizations and was a founding director of the Mercury Seven Foundation, later the Astronaut Scholarship Foundation. Schirra served as a director of the San Diego Air & Space Museum, a trustee of the Scripps Aquarium and a member of the International Council of the Salk Institute.

He was awarded the Navy Distinguished Service Medal, three Distinguished Flying Crosses, three Air Medals, two NASA Distinguished Service Medals, a NASA Exceptional Service Medal and the Philippines Legion of Honor.

In 1990, he was inducted into the U.S. Astronaut Hall of Fame. Ten years later, Schirra was similarly honored with induction into the Naval Aviation Hall of Honor in 2000. In 2005, he was named a NASA Ambassador of Exploration and presented with a moon rock in his name.

In 1988, Quinlan Press published Schirra's memoirs, titled "Schirra's Space." In 2005, he collaborated the book "The Real Space Cowboys" with author Ed Buckbee.

Schirra is survived by his wife Jo, daughter Suzanne and son Walter Schirra III.

Biographical information used in this article was adapted and excerpted with permission from Who's Who in Space: The First 25 Years by Michael Cassutt.