April 29, 2014
— NASA's original shuttle-carrying jumbo jet is on the move.

Two years after completing its final orbiter ferry flights, the space agency's Shuttle Carrier Aircraft (SCA), a modified Boeing 747, departed an air field in Houston to be placed on public display. The partially-dismantled, white and blue jetliner completed the first leg of its 8-mile (13-kilometer), two-night road trip to Space Center Houston overnight on Monday (April 28).

"Even in a state as big as Texas, a move of this size is unprecedented," Houston Mayor Annise Parker said in a statement. "This massive exhibit will celebrate American ingenuity and create an international icon highlighting [the city's] leadership role as Space City, USA."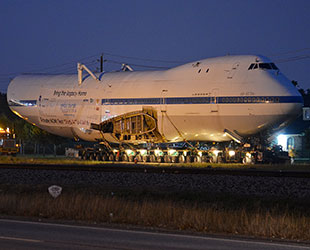 The Shuttle Carrier Aircraft arrives at the waypoint of the first leg of its two night road trip to Space Center Houston.
(collectSPACE)
Once in place and reassembled outside the visitor center for NASA's adjacent Johnson Space Center, the SCA will be topped with space shuttle Independence, a high-fidelity walkthrough mockup of the winged orbiters, to become the centerpiece of a $12 million, eight-story-tall attraction that is set to open to the public in March 2015.

"I think it is amazing to honor all the people that had the original idea of using a 747 as part of the shuttle program," Ellen Ochoa, director of the Johnson Space Center and a four-time space shuttle astronaut, said. "So being able to tell the shuttle's story and having this particular aircraft is special for us."

Rolling out of Ellington Field at about 8:45 p.m. CDT (0145 GMT) on a 1,000-foot (305-meter) convoy of self-propelled trailers and tractor trailers, the SCA's fuselage, its wings, vertical and horizontal stabilizers, and tail-cone sections travelled the 6 miles (10 kilometers) down Texas Highway 3 (Old Galveston Rd.) to the route's first waypoint near the intersection with NASA Parkway (NASA Road 1).

Crawling along at 3 mph (4.8 kph), about the speed that a person walks, the convoy pulled onto the parallel-running E. Commerce Street 10 hours after having left the airport. Along the way, the procession paused as traffic lights and utility lines were moved out of the way and then reinstalled once the convoy passed.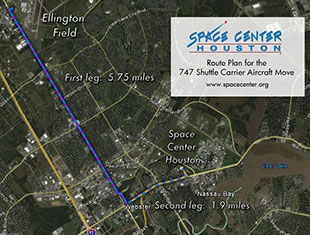 Route plan for the Shuttle Carrier Aircraft convoy from Ellington Field to Space Center Houston, April 28-30, 2014.
(SCH)
The SCA, known by its tail number N905NA or NASA 905 for short, will spend all day on Tuesday parked on the side street, awaiting nightfall to complete its journey to Space Center Houston. It's expected to arrive in its future display home's parking lot by 5 a.m. EDT (1000 GMT) Wednesday (April 30).

Despite the late hour, the road closures and there being no dedicated viewing locations, the sight of the 747 as it was hauled down the highway attracted small crowds of area residents, including a number of astronauts, who gathered at the corners of the intersecting roads along the way.

"It's similar to when we watched the shuttles retire," Mike Foreman, a NASA astronaut who flew onboard two shuttle missions, told collectSPACE as he watched the SCA near the exit to Ellington Field. "This is just an extension of the shuttle retirement."

"I think it will inspire another generation," Foreman added. It's going to look pretty cool here in Houston."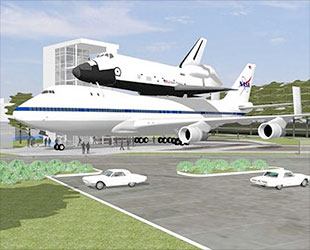 Artist rendering of "The Shuttle and 747 Carrier" public attraction to open at Space Center Houston in 2015.
(Space Center Houston)
NASA 905, which began its flight history as an American Airlines passenger jetliner in 1970, was acquired by NASA in 1974, and, after two years of modifications, became the first of two Shuttle Carrier Aircraft. The airplane supported the space shuttle's initial approach and landing tests with the prototype Enterprise before spending decades ferrying the flown shuttles coast to coast between missions.

NASA 905's final shuttle ferries were to deliver Discovery, Enterprise and Endeavour to their respective museums in Virginia, New York and California. The SCA made its last flight, a short proficiency hop, in December 2012, capping its total of 3,774 takeoffs and landings. It was the 86th out of 1,500 Boeing 747 jets to be built to date.