advertisements

Mercury spacecraft 'Liberty Bell 7' launched on nationwide tour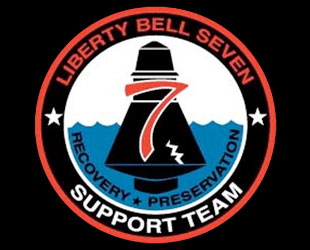 April 27, 2000
— Liberty Bell 7, Virgil "Gus" Grissom's Mercury capsule, begins a nationwide tour June 17 when it arrives at the Kennedy Space Center Visitor's Complex in Florida for a three month stay. The recently rescued and fully restored spacecraft is the centerpiece of a new interactive 6,000-square-foot traveling exhibit financed by the Discovery Channel.

The Lost Spacecraft: Liberty Bell-7 Recovered will take museum visitors on a virtual ride with Grissom 118 miles into space and then 3 miles below the ocean's surface where the capsule sat untouched. The exhibit engages visitors in astronaut training, spacecraft technology and launch sequences circa 1961. It then fast-forwards to 1999 to follow the events surrounding the rescue of the capsule by Curt Newport and the expedition team he led.

The project to preserve the spacecraft is a collaborative effort between Discovery Channel and the Smithsonian affiliated Kansas Cosmosphere and Space Center, which will serve as its permanent home after its three-year tour.

"[We are] proud to be a part of this next step with the Liberty Bell 7 space capsule and to present this historical exhibit to families across the country," said Discovery's executive vice president and general manager, Mike Quattrone. "Those who lived during the period when the world stood still to watch a Mercury launch will marvel at the memories the exhibit evokes, while people of all ages will be fascinated with this engaging piece of history."

The second U.S. manned space mission, Liberty Bell 7 was flown by Capt. Grissom on a mission that lasted 15 minutes and 37 seconds before sinking to the floor of the Atlantic Ocean, where it laid for nearly four decades.

"The Lost Spacecraft" will travel to science museums in 12 cities throughout the United States (dates and venues are subject to change; updated June 8, 2002):


June 17, 2000-
September 17, 2000

Kennedy Space Center Visitor's Complex, Cape Canaveral, Florida

October 7, 2000-
January 7, 2001

The Children's Museum, Indianapolis, Indiana

January 27, 2001-
May 13, 2001

Liberty Science Center, Jersey City, New Jersey

June 9, 2001-
September 9, 2001

St. Louis Science Center, St. Louis, Missouri

September 29, 2001-
January 6, 2002

The Tech Museum, San Jose, California

January 26, 2002-
March 24, 2002

Boston Museum of Science, Boston, Massachusetts

April 13, 2002-
June 9, 2002

Kirkpatrick Science & Air Museum, Oklahoma City, Oklahoma

June 29, 2002-
September 15, 2002

Chabot Space & Science Center, Oakland, California

October 5, 2002-
January 26, 2003

Denver Museum of Natural History, Denver, Colorado

February 15, 2003-
May 26, 2003

June 14, 2003-
September 7, 2003

Museum of Science & History, Ft. Worth, Texas

September 26, 2003-
January 4, 2004

ScienceCity, Kansas City, Missouri

© 2023 collectSPACE.com All rights reserved.