April 24, 2023
— The first feature-length narrative movie to have scenes shot in space by a professional filmmaker rocketed to the top of Russia's box office over the weekend, six months after the director and lead actress launched on 12-day visit to the International Space Station.

"Vyzov" ("Вызов"), or "The Challenge," brought in 445 million rubles (about $5.5 million U.S.) from 1.4 million viewers since opening Friday (April 20) in Russia and the post-Soviet states — including at the mission's actual launch site, the Baikonur Cosmdrome, in Kazakhstan.

Russian actress Yulia Peresild, who in the film plays a thoracic surgeon who is launched on an emergency mission to save the life of an ailing cosmonaut, and director Klim Shipenko, who wrote the screenplay and also helped film in orbit, joined other members of the cast and a crew for a special screening of "The Challenge" at the State Kremlin Palace in Moscow on Cosmonautic's Day (April 12), the 62nd anniversary of Soviet cosmonaut Yuri Gagarin becoming the first human to fly into space.

Also in attendance were Roscosmos professional cosmonauts Anton Shkaplerov and Oleg Novitsky, who, respectively, launched and landed with Peresild and Shipenko in October 2021, as well as cosmonaut Pyotr Dubrov, who was aboard the station when the filming occurred. All three have parts in "The Challenge," with Novitsky playing "Oleg Bogdanov," the fictional cosmonaut in need of Evgenia "Zhenya" Belyaeva's (Peresild) medical attention.


A joint project between Russia's federal space corporation Roscosmos, the state-controlled television network Channel One and production company Yellow, Black and White, "The Challenge" was aimed at marketing the Russian space program to a new generation.

"This is a unique opportunity to fly to space for the 200-ruble [about $2.50 U.S.] cost of a movie ticket," said producer Konstantin Ernst at a press conference promoting the film. "Spaceflight costs a pretty penny, but now you can buy a ticket and find yourself in space."

The total cost of making "The Challenge," including marketing it to theatergoers, has not been released, but it was reported to be at least 905 million rubles by Russian media. The movie's theatrical release is set to expand to the Middle East on April 27. Further distribution to China and other countries around the world is still being decided.

For its part, Roscosmos promoted the film as a means to demonstrate the rapid training of a crew, as well as attract interest by women to join the country's cosmonaut corps. Peresild was chosen for the role and the (real) Soyuz MS-19 crew from an initial applicant pool of 3,000 women.

"We don't have many videos where you can watch [Russian] women in space, but there are a lot of American and European astronauts," said Peresild, who became the fifth Russian woman to fly into space. "I've been following them and noticed one thing: when women have a little curly hair, it flies beautifully in zero gravity. So I had 20 elastic bands for my hair and every night after washing my hair, I curled my hair on these electric bands. That's why the hair flew so magically. Otherwise, it would just stand up like a ball."

To promote the film's release, Roscomos arranged for the Soyuz MS-18 descent module to be temporarily displayed in central Moscow. The spacecraft brought Novitsky, Peresild and Shipenko back to Earth and a safe landing in Kazakhstan.

The Russian Post also released a new postage stamp, part of the country's "Modern Russian Cinematography" series, depicting the movie's poster art. The 30 ruble stamp was issued on Friday to coincide with the film's theatrical release and was accompanied by special postal cancellations at stations in Moscow, Star City (Zvezdny Gorodok) and Korolev of the Moscow Region, Baikonur, Perm and Chelyabinsk.

"The Challenge" beat the reported plans by actor Tom Cruise to film a movie on the International Space Station, but is not the first film with scenes shot off Earth. The 1984 Russian film "Return from Orbit" also featured scenes set in space but without the benefit of a professional filmmaker. The cosmonauts on Russia's Salyut 7 space station and Soyuz T-9 spacecraft doubled as both the cast and crew. Similarly, IMAX, TIME Studios and Felix & Paul Studios have worked with astronauts to film large format, 3D and 360-degree documentaries on board the International Space Station.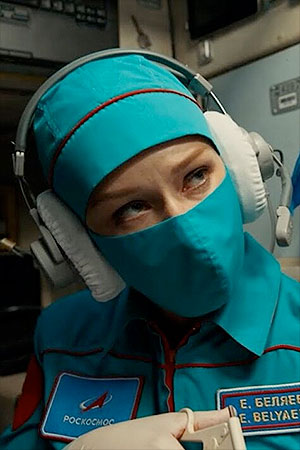 Russian actress Yulia Peresild plays surgeon Zhenya Belyaeva in the new feature film, "Vyzov" ("The Challenge"), now in theaters in the Russian Federation. Scenes like the above were shot aboard the International Space Station. (Central Partnership)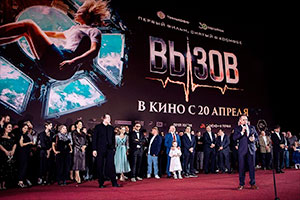 Roscosmos cosmonaut Anton Shkaplerov (at front) joins his fellow cast and film crew members at an April 12, 2023 screening of "Vyzov" ("The Challenge") at the State Kremlin Palace in Moscow. (Anton Shkaplerov via Instagram)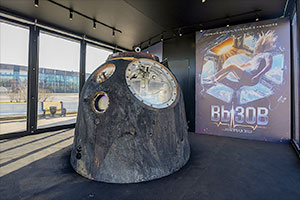 The Soyuz MS-18 descent capsule that landed in October 2021 from the International Space Station with Roscosmos cosmonaut Oleg Novitsky, Russian actress Yulia Peresild and director Klim Shipenko was exhibited in Moscow to help promote the release of the movie "Vyzov" ("The Challenge"), April 8-9, 2023. (VDNH)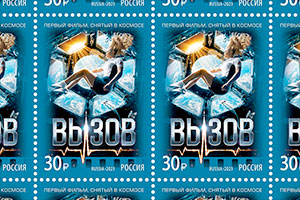 A new Russian postage stamp released on April 20, 2023 features the poster art for the movie "Vyzov" ("The Challenge"). (АО Марка)