April 24, 2015
— "Get to know the first ladies of space..."

Just days after releasing the launch date for its spacemen spouses TV series, ABC has revealed its first preview for "The Astronaut Wives Club."

The docudrama, which will premiere on the Disney-owned television network Thursday, June 18, is based on author Lily Koppel's 2013 bestselling book about the real wives of America's Mercury, Gemini and Apollo astronauts.

The limited series' first 30-second spot aired during ABC's Thursday night (April 23) line-up.


"Get your first taste of 'Astronaut Wives Club' with promos aired during [the shows] 'Scandal,' 'Grey's Anatomy,' and American Crime," actress Erin Cummings, astronaut Deke Slayton's wife Marge in the series, wrote on Twitter.

The teaser provided a peek at Cummings, along with co-stars Joanna Garcia Swisher, Yvonne Strahovski, Odette Annable, Dominique McElligott, Azure Parsons, and Zoe Boyle, as the young spouses of NASA's Mercury pilots. In addition to Marge Slayton, the real wives included Betty Grissom, Rene Carpenter, Trudy Cooper, Louise Shepard, Annie Glenn and Jo Schirra.

"Behind these heroes are the housewives," the narrator says, just after a quick scene shows the show's recreation of the 1959 press conference where America's first men to fly in space were announced to the world. The astronauts are played by Desmond Harrington, Bret Harrison, Wilson Bethel, Kenneth Mitchell, Joel Johnstone, Sam Reid and Aaron McCusker (as Alan Shepard, Gordon Cooper, Scott Carpenter, Deke Slayton, Gus Grissom, John Glenn, and Wally Schirra).

Other scenes in the commercial show the wives meeting the media and appearing in the pages — and on the cover — of LIFE magazine, as well as a celebratory ticker tape parade and what may be the show's source of some of the drama in this "based on a true story" docu-series.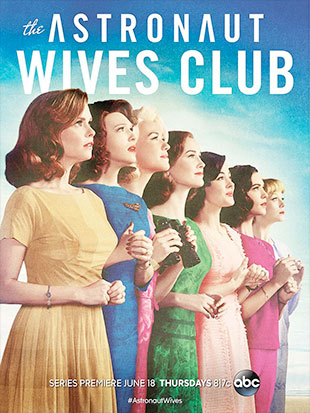 First key art for "The Astronaut Wives Club" airing on ABC.
(ABC)
"He is a cheater," says one of the wives to another, just before the scene changes to show one of the astronauts sitting at a pool's edge with a bikini-clad woman — not one of the wives — straddled over his lap.

"That's why they call them 'ass-tronauts,'" Cummings tells Annable in the next clip.

Playing as this unfolds on screen is Meghan Trainor's doo-wop-inspired song "Lips Are Movin," about a man cheating on and lying to his girlfriend.

The commercial ends by promoting the premiere date but not before also introducing the tagline, "The race for space was fought in high heels."