April 23, 2014
— The fourth man to walk on the moon is selling a small treasure trove of artifacts he brought back from his lunar voyage.

Apollo 12 lunar module pilot Alan Bean, who with the late Charles "Pete" Conrad achieved the United States' second manned lunar landing in November 1969, has consigned a collection of his moon memorabilia to Heritage Auctions of Dallas, Texas for their May 14 sale.

"When it comes to collecting this [type of] material, pieces that have been on the lunar surface, with an astronaut, are by far the most highly sought after," Howard Weinberger, space memorabilia consultant for Heritage, said. "At every level of this material there is something spectacular and notable in terms of America's lunar program."

Although Bean has previously sold other memorabilia from his collection, the items he has entrusted to Heritage have not appeared at public auction before. All of it has resided with the astronaut and his family since the mission nearly 45 years ago.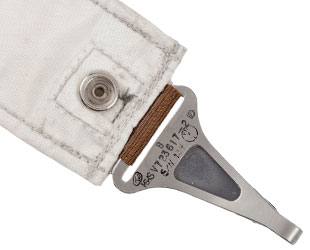 Gray spots and streaks on Alan Bean's PLSS backpack strap are embedded moon dust. Heritage Auctions has estimated the strap will sell for between $60,000 and $75,000.
(Heritage)
That includes one of the sale's highlighted lots, a 17 inch (43 centimeter) cloth strap that Bean wore on the surface of the moon for almost eight hours during the course of his two moonwalks.

The strap, which helped hold in place Bean's life support backpack (known as the Portable Life Support System, or PLSS) displays gray spots and streaks that are "actually embedded moon dust," according to Heritage. Bean wrote on the white cloth strap that it was his "left PLSS shoulder strap," though he has since come to the conclusion it was his waist strap instead and, as Heritage's description has noted, is "modifying his certification on the item to match that information."

Both Bean and Conrad returned to Earth with straps from their PLSS backpacks, among other items, as mementos. The backpacks themselves were jettisoned before the two astronauts left the lunar surface as the spent units added weight to the lander needed for the return of moon rocks.

Heritage estimates Bean's backpack strap to sell between $60,000 and $75,000.

Bean is also offering a pair of scissors and a pen that he carried in his spacesuit pocket as he walked on the moon. Both the stainless steel cutting tool and writing instrument traveled with Bean aboard the Apollo 12 command module "Yankee Clipper," and descended to the moon's "Ocean of Storms" onboard the lunar module "Intrepid."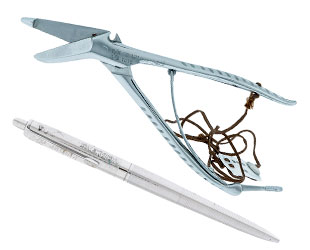 Alan Bean carried these scissors and pen inside the pockets of his Apollo 12 spacesuit while walking on the moon.
(Heritage)
Heritage appraised the Apollo 12 flown scissors to sell for $35,000 to $50,000, and valued the space pen at $10,000 to $15,000.

"Beyond the trio of lunar-surface [artifacts] that tops this auction, there are several other key artifacts being offered that were either in the lunar module on the moon's surface or that flew in the command module from the Earth to the moon," Weinberger said.

Bean's other lots include the umbilical cable that was used connect the command module's power supply to the lunar module on the journey to the moon ($15,000 to $30,000); stainless steel interval timer used in Yankee Clipper when Bean "stirred the cryogenic tanks, performed urine dumps, and other procedures where accurate time intervals were needed ($20,000 t0 $30,000); and the stowage bag Bean used to hold his checklists, food items, and, to quote the astronaut, "other articles I used in our lunar module during landing, our stay on the lunar surface, and our ascent from the moon" ($20,000 to $30,000).

Bean also consigned his custom-fitted and molded orange communications earpiece used in the command module, and a mirror with a swivel mount carried inside the lunar module. Other lots include items that were launched from Earth as mission mementos, including flown flags, a silver medallion, a tie-clasp and cufflinks.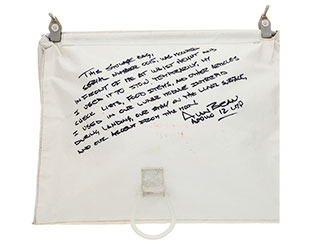 This temporary stowage bag, sometimes referred to as a McDivitt purse, was used to hold checklists and food items.
(Heritage)
A law passed in 2012 confirmed Bean's and the Apollo-era astronauts' title to the spacecraft artifacts they retained as souvenirs.

In total, Heritage's "Space Signature" auction features 344 lots, of which about 20 are from Bean's personal Apollo 12 collection.

The sale also includes an example of what Bean has been doing since he returned from the moon and spent 59 days on the United States' first space station, Skylab, in 1973.

"John F. Kennedy's Vision," an original painting created by the astronaut, captures in acrylic the scene of Apollo 11 moonwalkers Neil Armstrong and Buzz Aldrin planting the American flag. The 2004 piece, which prior to the auction was acquired from Bean by a private collector and loaned to Rice University in Texas, features the astronaut-turned-artist's trademark of using a pair of moon boots and other lunar tools to create impressions in the canvas.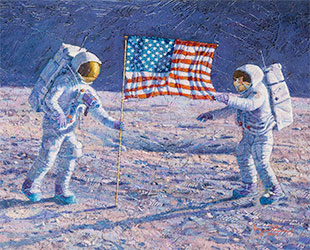 Alan Bean's original painting, "John F. Kennedy's Vision" depicts Neil Armstrong and Buzz Aldrin planting the U.S. flag.
(Heritage)
Bean also mixes bits of his Apollo spacesuit patches into the paint, adding moon dust to his creations. Heritage has estimated the painting to sell for $100,000 to $120,000.

For more about the auction of Alan Bean's mementos or to bid, see Heritage Auctions' website.