April 22, 2019
— A new limited edition, collectible pen is embedded with a piece of the history it helped write.

Fisher Space Pen has revealed its new Apollo 11 50th Anniversary Astronaut Pen and Coin Set, featuring material that flew on the first moon landing mission. Each pen includes a piece of pressure-sensitive polyimide tape that had been mounted on the exterior of the Apollo 11 command module, "Columbia."

"The space flown material is 'Kapton' foil, and it served as a protective thermal insulation for the command module 'Columbia.' This rare artifact floats in a water-clear acrylic dome sealed into the pen's cap," describes Fisher Space Pen on its website.

Developed privately and selected by NASA for use by its astronauts beginning with the Apollo 7 mission in 1968, Fisher space pens flew on board Columbia and the "Eagle" lunar module as Apollo 11 astronauts Neil Armstrong, Buzz Aldrin and Michael Collins carried out the first lunar landing mission in July 1969.

"We are extremely proud to be celebrating 50 years in space," said Cary Fisher, president of Fisher Space Pen, in a statement.

The Apollo 11 50th Anniversary Astronaut Pen and Coin Set is a limited edition of 500 pieces, which retail for $700 each.

The Apollo 11 50th anniversary AG-7 space pen is inspired by the pressurized ink writing instruments that Armstrong, Aldrin and Collins used on their journey. The new collectible pen is distinguished though, with a black titanium nitride finish with engravings plated in 24 karat gold.

The diamond-cut inscriptions includes the image of a bald eagle landing on the moon, the dates of the historic mission, "Apollo 11 50th Anniversary" text and the serial number for each of the 500 pens.

Each pen is packaged with a medallion minted for Fisher Space Pen. The medallion features a design complementary to the engravings on the pen's body. The front of the medallion depicts an eagle landing on the moon, reminiscent of the Apollo 11 mission patch. The reverse is inscribed with the astronauts' names and the image of an astronaut descending the ladder of the lunar module to the moon's surface.

The pen and medallion come in a black molded polystyrene case with a printed moon landing graphic outer sleeve.

The flown Kapton foil encased in each pen was sourced from O.W. Nasse, a member of North American Rockwell's Apollo 11 post-landing and safety recovery team. The Kapton is certified by Ken Havekotte, a space memorabilia dealer and proprietor of the Space Coast Cover Service in Merritt Island, Florida.

"Now, 500 people have the rare opportunity to own both the pen that went to the moon and an actual artifact from the most historic of all space events," states Fisher Space Pen on its website.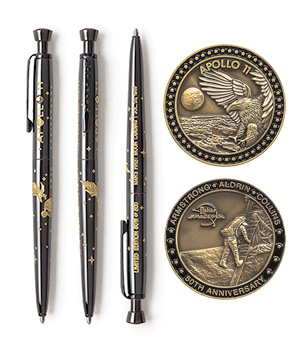 Fisher Space Pen's Apollo 11 50th Anniversary Astronaut Pen & Coin Set celebrates the first moon landing. (Fisher Space Pen)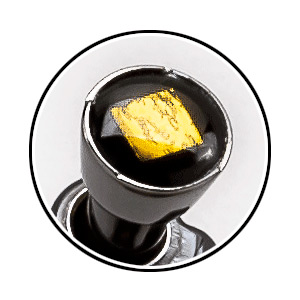 Each of Fisher Space Pen's Apollo 11 50th Anniversary Astronaut Pens includes a piece of moon-flown Kapton. (Fisher Space Pen)