April 20, 2015
— Two fabric straps that held in place the life support backpacks worn by astronauts as they walked on the moon are heading for auction, along with hundreds of other artifacts at a pair of space history-themed sales.

The two straps, one from the collection of Alan Bean, the fourth man to walk on the moon, and the other from Edgar Mitchell, the sixth moonwalker, are being offered for sale by Bonhams in New York City on Tuesday (April 21) and RR Auction of Boston on Thursday (April 23). The straps, which were flown on Apollo 12 and Apollo 14, were used on the lunar surface during two moonwalks each in 1969 and 1971, respectively.

"This was a critical component because it held the PLSS [portable life support system] snug against my space suit so there would be no unnecessary strain on the hoses or suit hose connectors during my moonwalks," Bean wrote in a letter accompanying his strap at Bonhams.

To save weight and accommodate for the return of moon rocks, the PLSS backpacks were left behind on the moon. Before jettisoning the bulky packs, Bean and Mitchell, like a few of their fellow moonwalkers, removed the Beta cloth, nylon and metal straps to bring back to Earth as souvenirs of their missions.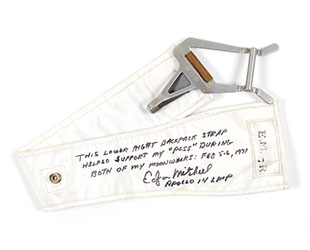 Lot 236 in the RR Auction April 23, 2015 Space Exploration sale is Edgar Mitchell's Apollo 14 PLSS backpack strap.
(RR Auction)
A 2012 law reaffirmed that Bean and Mitchell, among all of the Apollo-era astronauts, retained title to their mementos.

Bonhams has estimated Bean's backpack strap to sell for $60,000 to $90,000 when it opens for bidding on Tuesday. RR Auction began online bidding for Mitchell's PLSS strap on April 16, attracting 19 bids for a total $5,576 as of this article going to print. RR's sale ends on Thursday.

"Considering Edgar Mitchell would have worn this strap during the entire time [he was] on the surface of the moon makes it an absolutely amazing and historically important piece," Bobby Livingston, RR's executive vice president, said in a statement.

Bonham's auction, which is its seventh annual space sale, includes 232 lots that span the past half-century of space exploration, as well as includes a selection of meteorites. The auction features a 13-page checklist flown on Gemini 4, which details the mission procedures, including the first American spacewalk by Ed White 50 years ago this June.

"We're also very proud to be offering a collection of items from Apollo 12 astronaut Alan Bean," Cassandra Hatton, Bonhams' science and technology history director, said in a statement. "We are very proud to have been chosen to offer items from Bean's personal collection. It is an honor to be able to handle such exciting and important items."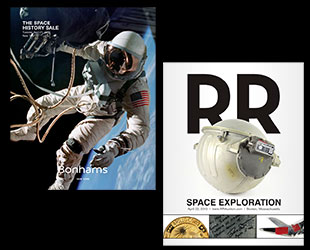 Bonhams' Space History Sale and RR Auction Space Exploration April 2015 catalog covers.
(Bonhams/RR Auction)
In addition to Bean's PLSS backpack strap, Bonhams is also selling the biomedical harness that he wore during the Apollo 12 mission, the water dispenser used to rehydrate his food while on the moon, and a package of his favorite such space food, spaghetti with meat sauce.

RR Auction's catalog includes 332 lots, also spanning the early space race through the present era of international cooperation in space. In addition to Mitchell's strap, RR's sale features the heel restraints Mitchell used to lock his boots in place while launching atop the Saturn V rocket, astronaut Jim McDivitt's biomedical harness that he wore during Apollo 9, and a 27-page checklist that was used by Gene Cernan while flying onboard Apollo 17.

Additional space memorabilia sales are scheduled for May and June by Heritage Auctions in Dallas and by Regency-Superior of St. Louis. RR has also announced it will hold another auction in June, dedicated to the estate of the late prominent space collector Leon Ford.

For more information, including the auction catalogs, or to bid, see the Bonhams and RR Auction websites.