advertisements

First female shuttle commander offers pink polo shirt for student scholarships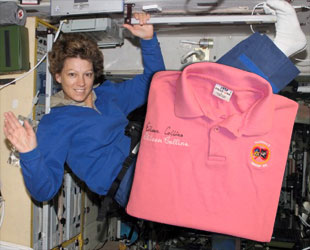 Eileen Collins, pictured onboard the International Space Station in 2005, has offered her pink training polo to raise scholarships.
April 18, 2008
— The bidding for a pink polo shirt began at just $10. A week later and more than a day before its auction was set to close, collectors had pushed its price up to $300.

How high it might go is still to be seen, but for its original owner, the sky is not the limit.

"I can say it was not easy for me to donate such an important part of my past," former NASA astronaut Eileen Collins told collectSPACE.com in an e-mail interview.

Collins, who left the space agency in 2006, had worn the shirt while training for her four space shuttle missions. In 1995, she became the first female U.S. astronaut to pilot a spacecraft. Four years later, she was the first woman to command a space shuttle mission.

Most recently, Collins led the shuttle fleet's 2005 return to flight after the loss of Columbia and its crew in Feb. 2003.

Despite her record-setting career, Collins has only a few mementos from her time in space.

"Astronauts can keep very little. Only the personal items, such as my wedding ring, old toothbrushes, and some shirts!" she shared. "I never expected to keep anything!"

Collins is parting with the shirt, which has her name and her astronaut class' nickname, "The Hairballs," stitched on its front, as part of a semi-annual auction organized by the Astronaut Scholarship Foundation (ASF). Founded by the Mercury astronauts in 1984, the ASF supports college students who are excelling in their pursuit of science and engineering degrees.

To date, the foundation has awarded nearly $2.5 million in scholarships to 226 deserving students.

"The ASF does an outstanding job, and I really trust the people who run the organization," said Collins. "I am also a big advocate of increasing the number of engineering graduates in our country. So this is a unique way I can help our future!"

Collins isn't the only astronaut with an item in the auction. Skylab and shuttle astronaut Paul Weitz donated patches from his collection. Apollo 13 pilot Fred Haise offered a segment of material that lined the couch restraint system that kept him and his crewmates secure in their seats on their crippled spacecraft. And Gene Cernan, the last man to walk on the Moon, donated a mission emblem flown on the "dress rehearsal" to the first manned lunar landing.

Other astronauts have given of their time by volunteering to participate in various experiences with the high bidder.

Scott Carpenter, the United States' second astronaut in orbit, will join the winner on a Caribbean cruise. Charles Duke, the tenth moonwalker, will scuba dive in the Florida Keys. Five-time shuttle veteran Robert "Hoot" Gibson will skydive with the winner over the Kennedy Space Center.

Bids for the 30 adventure and artifact lots were ranging at press time from $100 to $4,500. The auction closes, both on the ASF's website and for bidders at the Autographica show in England, at 5:00 p.m. EDT on Saturday, April 19.

The pink polo shirt is the second training shirt donated by Collins to the foundation. The first was sold last October for $1,627. Not that bidders should assume they'll see yet another shirt if they lose this time.

"I am keeping some myself, because they are pieces of history!" Collins asserted.

© 2022 collectSPACE.com All rights reserved.