April 13, 2023
— A new air filtration system featuring a first-of-its-kind, magnetic-bearing air blower has been installed on the International Space Station (ISS). The carbon dioxide scrubber not only advances the life support capabilities for the orbiting laboratory's crew, but may possibly benefit future astronauts on the moon and Mars, a well.

California-based Calnetix Technologies announced on Thursday (April 13) that its high-speed blower system was deployed with NASA's Four Bed Carbon Dioxide Scrubber (FBCO2) that has been operating continuously on the space station for the past two months.

"Having our first magnetic bearing blower deployment in space is a great milestone achievement," Vatche Artinian, CEO at Calnetix, said in a statement. "We are looking forward to building on this success and exploring future opportunities with NASA on utilization of our magnetic bearing systems in space and aerospace applications that challenge conventional bearing technologies."

By coincidence, the news came on the same day as the 53rd anniversary of the Apollo 13 in-flight explosion, which among other workarounds, required that NASA engineers come up with a solution for how to fit a square carbon dioxide (CO2) scrubber to a circular opening using spare parts, including a sock and duct tape.

Air filtration technology has come a long way since then, said Matthew Farides, director of business development for Calnetix, in an interview with collectSPACE.

"Apollo missions used carbon-dioxide absorbers. The chemical lithium hydroxide (LiOH) is used to bind CO2. Breathable air is circulated through the absorbers LiOH to reduce overall CO2, but this this is typically a single-use device," Farides said. "The International Space Station required a system which can run continuously without having to replenish sorbent canisters. This ISS solution has evolved from the initial CO2 removal assembly (CDRA) to the current FBCO2 system and the FBCO2 system has been upgraded and improved over its life."

The FBCO2 scrubber incorporates numerous engineering and technology advancements. The internal heating units for the adsorbent beds were upgraded and the beds, themselves, were redesigned to be circular rather than rectangular, improving their performance and reliability.

"We reduced the scrubber's power consumption, improved the thermal stability and lifespan of the adsorbent materials and added replaceable filters, more durable valves and protective covers for the valve motors," said project manager Donnie McCaghren at Marshall Space Flight Center. "Our primary goal was increasing efficiency and maintainability, to ensure fully functioning, longer-lasting hardware on orbit with less need for crew maintenance."

To that end, NASA partnered with Calnetix to use the company's magnetic bearing air blower aboard the space station. Previously, the FBCO2 system used a blower which incorporated air bearings (also called "gas bearings" or "airfoil bearings"), which relied on pneumatic pressure for lubrication.

"The change to magnetic bearings represent a step change in reliability and improved efficiency," Farides said. "The Powerflux active magnetic bearing system also provides more prognostics and system health monitoring than previous solutions. These improvements will pave the way for years-long missions due to the significantly increased product life with little or no maintenance."

NASA plans to test the FBCO2 system, including Calnetix's magnetic bearing air blower, for the next eight months as a technology demonstration. The new scrubber unit will then be integrated into the station's closed-loop recycling system for a minimum of three years to further demonstrate its viability for long-duration exploration missions and to contribute to station crew life support capabilities.

The FBCO2 scrubber is one of two next-generation environmental control and life support system technologies being tested on the station to provide solutions for upcoming Artemis missions to the moon and eventual human excursions to Mars. The other system, called the thermal amine scrubber, was delivered to the station in early 2021 and uses actively heated and cooled amine beds — water purification technology already used around the world — to remove carbon dioxide from the air.

"We believe this project will open the door to many future applications of magnetic bearing space mechanisms in future NASA missions," said Chris DellaCorte, senior technologist at NASA's Glenn Research Center in Cleveland.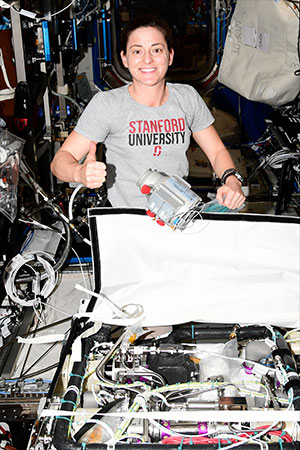 Expedition 68 flight engineer Nicole Mann works on the Four Bed Carbon Dioxide Scrubber (FBCO2), including the installation of Calnetix Technologies' Momentum In-Line Blower (seen floating at center) on the International Space Station, February 2023. (NASA)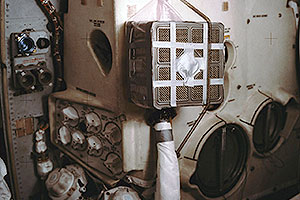 A square lithium hydroxide (LiOH) canister, modified to fit a circular opening, is seen aboard the Apollo 13 spacecraft in 1970. (NASA)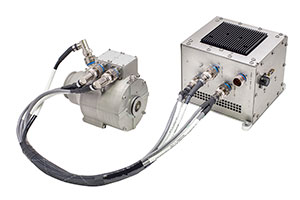 Calnetix Technologies' in-line magnetic bearing air blower and controller are being tested in space for the first time. (Calnetix)