April 10, 2015
– Forty five years ago, Apollo 13 astronaut Jim Lovell "lost the moon" after an explosion crippled his spacecraft, making his lunar landing mission a struggle for survival.

Now, on what is the anniversary of his most famous liftoff, Chicago's Adler Planetarium is launching its own "Mission Moon," a new exhibit based on Lovell's space adventures.

"The leadership, teamwork and the initiative of the Mission Control team turned an almost certain catastrophe into a successful recovery," Lovell said, describing his Apollo 13 flight in an interview with collectSPACE.

Opening on Saturday (April 11), 45 years after Lovell and his Apollo 13 crewmates Fred Haise and Jack Swigert left Earth for the moon, "Mission Moon" is a re-imagination of the Adler's nearly decade-old "Shoot for the Moon" exhibit. Hands-on activities, interactive displays and artifacts now immerse visitors in the timeline of Lovell's life, beginning with his dreams of building rockets as a 12-year-old boy to his triumphant splashdown in 1970 and beyond.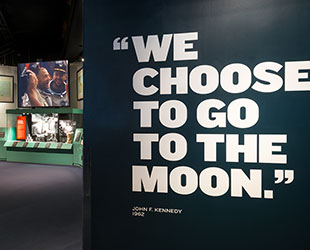 "Mission Moon" follows the path of Jim Lovell's life. In 1962, the United States chose the moon and NASA chose Lovell.
(Adler)
"When we started this process, we thought about how we could make this [exhibit] a human story that connects with our audience, because Capt. Lovell's story is so inspiring," Annie Vedder, the Adler's associate director of integrated programming, said. "There is so much that I think people can relate to that we wanted to focus in on that."

Helping to make that connection are Lovell's own mission mementos, which he gifted to the Adler in 2005.

"I gave them all the artifacts I had from my flights, all the ones they wanted, about ten years ago," Lovell said.

"Mission Moon" displays the letter NASA sent Lovell after he failed the physical to become one of the original seven Mercury astronauts in 1959, as well as a checklist without a cover that was meant to help him and his crewmates fix problems onboard Apollo 13 but ultimately became part of the solution itself.

"The important story we tell with that book is the fact that the cover is missing," Michelle Nichols, a master educator and Adler's resident NASA specialist, said. "The reason is because it was used to help construct the carbon dioxide scrubbing system that helped keep the astronauts alive in space. It helped make the square canister fit into a round hole."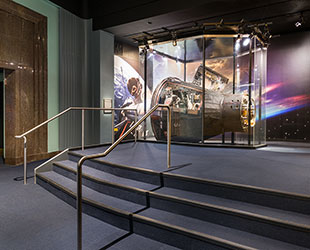 A ramp and platform were built around the Gemini 12 spacecraft to allow all visitors to look closely into the capsule.
(Adler)
The new exhibit also showcases the Gemini 12 spacecraft that Lovell flew with Buzz Aldrin for four days in November 1966.

"We really wanted to highlight the fact that we have a real spacecraft here at the Adler," Vedder said. "It is the same capsule we had in 'Shoot for the Moon,' we've just now put a ramp around it so you can go all the way around and see every inch of the capsule and have the opportunity to look inside."

"All the things that we needed to make a successful flight to the moon we first tried out on Gemini," Lovell remarked. "We did the first rendezvous with Gemini 6 and then Frank Borman and I spent two weeks proving man could live [in space for] two weeks, which was the maximum time to go to the moon and back."

"And then on Gemini 12, we worked out the way to do an extravehicular activity," he said, referring to a spacewalk. "Those flights were pretty important to the follow-on Apollo and also the shuttle missions."

By featuring the two-seater capsule, which is on loan from the Smithsonian, and interactive exhibits, such as replica Mission Control consoles based on the Gemini program's workstations, the Adler hopes to educate visitors about all of Lovell's roles at NASA, not just his command of Apollo 13.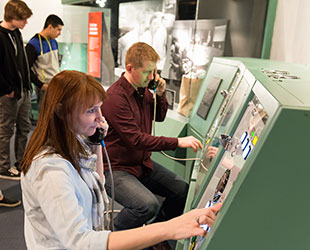 In the Adler's reimagined Mission Control, visitors 'join' the team, filling the role of a Gemini program flight controller.
(Adler)
"One thing that became apparent to us early in the design process was that Capt. Lovell was everywhere — he was involved in so much, including behind the scenes, which a lot of people probably do not realize," Nichols said. "They are already going to be amazed because they might not realize that he was involved in four missions. They may only know him from Apollo 13 and maybe Apollo 8, maybe Gemini 12, [but] probably not Gemini 7."

For Apollo 13, visitors can enter a Mission Control "crisis room" to try solving problems that plagued the spacecraft or they can get a more intimate look at how the developing emergency in space affected the people at home.

"Guests will be able to sit down where there is a squawk box that we have recreated that plays some of the Apollo 13 audio between Mission Control and the astronauts that Mrs. Lovell might have heard," Vedder described. "We use images from LIFE magazine of the family waiting at home that I think relays the tension and emotion."

"We wanted our visitors to know that Lovell was supported by a family and was loved," she said.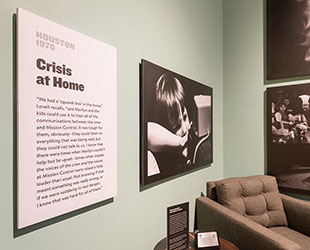 Visitors can listen to the communications between the Apollo 13 crew and Mission Control from the vantage point of Lovell's wife and children waiting at home.
(Adler)
For his part, Lovell hopes that touring "Mission Moon" will inspire families, and particularly children, to ignite or renew their interest in space exploration.

"Hopefully, it is a catalyst for young people, to give them the inspiration and desire to keep on going and become a scientist or an engineer," Lovell said. "It happened to me. When I was a scout I was interested in astronomy. Then I read about [rocket pioneer Robert] Goddard when I was a freshman in high school and that was sort of the incentive to me."

"I sincerely hope that by seeing the exhibit that it will give incentives to kids today," he said.

For more information about "Mission Moon," see the Adler Planetarium's website.