April 9, 2020
— A former U.S. Navy SEAL, a Russian fighter pilot and a Russian engineer have taken social distancing to its extreme, launching off Earth for a six-month stay aboard the International Space Station.

NASA astronaut Chris Cassidy and cosmonauts Anatoli Ivanishin and Ivan Vagner of the Russian federal space corporation Roscosmos lifted off on Russia's Soyuz MS-16 spacecraft on Thursday (April 9). Riding atop the first Soyuz 2.1a rocket to fly with a crew from Site 31 at the Baikonur Cosmodrome in Kazakhstan, the three crewmates launched at 4:05 a.m. EDT (0805 GMT or 1:05 p.m. local Kazakh time) on a six-hour journey to reach the space station.

The launch was viewed by a fewer number of spectators than normal in an effort to prevent the spread of the novel coronavirus, which causes the disease COVID-19, both on Earth and into space. The crew, who followed the usual quarantine period before the flight, forewent the practice of inviting their family members and other guests to Baikonur to watch the launch.

"We are implementing the exact same precautions as the rest of the world is, with social distancing," Cassidy said in a NASA interview before the launch. "The whole group has been very strict about no interactions beside the control team."

"We have taken extra measures to make sure the crew arrives at the space station in good health," said Ivanishin at a pre-flight press conference. "We didn't have any guests, so we didn't have any family members or friends arrive. We have been completely isolated at this final stage."

The crew's families watched the liftoff from the cosmonaut training center in Star City, outside of Moscow, instead.


Reaching space about nine minutes after they left the ground, the Soyuz crew began a four-orbit rendezvous with the space station. They are expected to dock with the orbiting lab's Poisk module at 10:16 a.m. EDT (1416 GMT). Update: Docking occurred at 10:13 a.m. EDT (1413 GMT) while the vehicles were more than 250 miles (400 km) over the north Atlantic Ocean.

For the next week, Cassidy, Ivanishin and Vagner will serve aboard the station with Expedition 62 crew members Oleg Skripochka of Roscosmos and NASA astronauts Drew Morgan and Jessica Meir. Skripochka will turn over command of the station to Cassidy on Wednesday (April 15), before departing with Morgan and Meir on Soyuz MS-15 for a landing in Kazakhstan on Friday.

Cassidy, Ivanishin and Vagner will then serve as the three-person Expedition 63 crew until their own scheduled departure in October.

"It will be an interesting period of time," said Cassidy. "We have a very short handover with our previous Soyuz crew, so that is just nine days for us to get our 'space legs' as a crew and then off we go with the plan. For me, my days will be full whether I am by myself or with other crewmates, so I don't think of this as any different than a typical mission with a different complement."

"The specialists on the ground will determine how to use the time and set priorities and we will just get it done," he said.

And they may not be alone.

SpaceX is preparing to launch the first crewed test flight of its Dragon spacecraft, possibly as soon as mid- to late-May. NASA astronauts Doug Hurley and Bob Behnken will fly as the Demo-2 crew to the space station for what is expected to be a two- to three-month stay with the Expedition 63 crew.

Cassidy, Ivanishin and Vagner are also scheduled to oversee the arrival of several uncrewed resupply spacecraft, including Japan's ninth H-II Transfer Vehicle (HTV), a Russian Progress, a Northrop Grumman Cygnus and the first cargo-configured, second-generation SpaceX Dragon capsule.

Cassidy, 50, is on his third spaceflight. He previously helped build the station as a space shuttle mission specialist in 2009, before his first stay as a member of the Expedition 35/36 crew in 2013. His command of Expedition 63 bookends the start of a continuous human residency aboard the space station almost 20 years ago.

"Bill Shepherd was the commander of Expedition 1, a Navy SEAL, and 20 years later, I will be commander of the space station, also a Navy SEAL," said Cassidy.

Ivanishin and Vagner were originally assigned to the Soyuz MS-16 backup crew, until an injury temporarily grounded cosmonaut Nikolai Tikhonov and Roscosmos decided to replace both him and his crewmate, Andrei Babkin, in February.

Ivanishin, 51, is also on his third spaceflight, having served on Expeditions 29/30 in 2012 and 48/49 in 2016. This is the first mission for Vagner, 34, after becoming a cosmonaut in 2010.

"I've dreamed of doing this for many, many years," said Vagner. "It is hard to leave those who are staying behind in this challenging time, but I want to thank everyone for helping us take off."

Soyuz MS-16 is Russia's 62nd Soyuz spacecraft to launch for the International Space Station since 2000 and 145th to fly since the first Soyuz mission in 1967.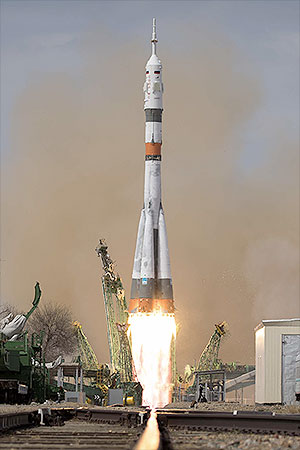 Soyuz MS-16 launches for the International Space Station from the Baikonur Cosmodrome, April 9, 2020. (Roscosmos)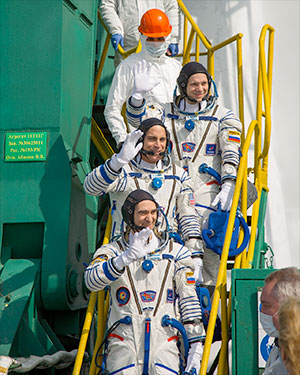 Soyuz MS-16 crew members Anatoli Ivanishin, Chris Cassidy and Ivan Vagner wave from the base of their Soyuz 2.1a rocket prior to boarding the vehicle on April 9, 2020. (Roscosmos)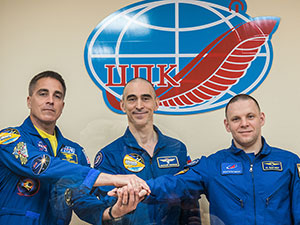 Soyuz MS-16 crewmates Chris Cassidy of NASA (at left), Anatoli Ivanishin (at center) and Ivan Vagner, both of Roscosmos. (Andrey Shelepin/Gagarin Cosmonaut Training Center)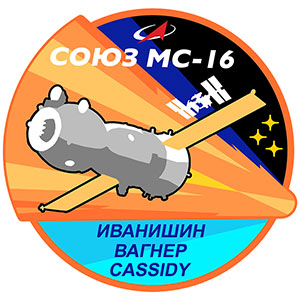 Soyuz MS-16 crew mission patch. (Roscosmos/spacepatches.nl)