April 8, 2016
— SpaceX took "another step towards the stars" Friday (April 8), successfully landing the first stage of its Falcon 9 rocket so that it can be reused. The vertical touchdown was the second such feat in SpaceX's history, and the first to be done on a ship floating in the ocean.

"I think it's a really good milestone for the future of space flight," said Elon Musk, SpaceX's CEO and chief technical officer, in a press conference at NASA's Kennedy Space Center in Florida. "In order for us to really open up access to space, we have to achieve full and rapid reusability."

The landing came during the launch of a SpaceX Dragon to the International Space Station. Lifting off from the Cape Canaveral Air Force Station at 4:43 p.m. EDT (2043 GMT), the Falcon 9 lofted the uncrewed cargo spacecraft carrying supplies, experiments and the Bigelow Expandable Activity Module (BEAM) under a contract for NASA.


About two and a half minutes into the flight, the Falcon 9's first stage cut off its nine engines and separated from the rocket's second stage and the Dragon. On other types of rockets, the first stage would then drop into the ocean to be destroyed and discarded. On the Falcon 9, the booster reignited three of its Merlin engines, starting its propulsive descent to an autonomous spaceport drone ship, the "Of Course I Still Love You," positioned about 200 miles (320 km) off the coast of Florida.

The first stage touched down eight and a half minutes after it launched.

"The thing that was different about this mission, from the rocket side, was [that] the rocket landed instead of putting a hole in the ship or tipping over. So we are really excited about that," Musk said.

This was SpaceX's fifth attempt at landing a first stage on a drone ship. Previous flights ended with the stage missing the platform or hitting too hard, falling over and exploding.

"It is still quite tricky to land on a ship," Musk said. "On the video, the ship looks quite small relative to the rocket, so it is quite a tiny target. It is really trying to land on a 'postage stamp' there, and it is moving, translating and rotating. It is sort of like a carrier landing versus a land landing."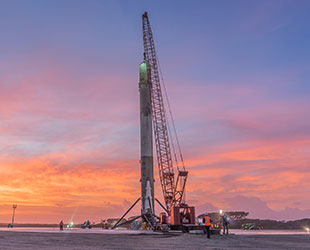 SpaceX's first recovered Falcon 9 stage standing on Landing Zone 1 at Cape Canaveral Air Force Station on Dec. 22, 2015.
(SpaceX)
The only previous success SpaceX has had recovering a first stage came the one time that it targeted a touchdown on land on a converted launch pad at the Cape. On Dec. 21, 2015, the Falcon 9 booster successfully flew back to its launch site, deployed its four legs and landed.

That recovered stage, which made history as the first-ever booster to help launch a payload into orbit and then return intact, will be soon be displayed outside SpaceX's offices in southern California.

"Our headquarters are near the Hawthorne airport, so we needed FAA permission because it would be the highest object for quite a distance around," explained Musk. "But we got that permission, so we are planning on putting the rocket that landed back at the Cape in front of the SpaceX headquarters, hopefully in the next few months."

The first stage that landed on the drone ship Friday could have touched down on land too, but SpaceX wanted the experience of a landing at sea. Musk said that he expects at least half of the company's future launches will not have the fuel margin needed to make it back to land given the higher orbits of the payloads they are flying.



"We could have brought [this stage] back to land but we wanted to do a ship landing where we had lots of margin," Musk stated. "So it would have been a low margin return to land or a high margin ship landing. This really helped us show the ship landing could work."

The recovered stage is destined to make history (again) as the first orbital expendable rocket to be reused.

"It should arrive in port on Sunday and then we are going to do a series of test fires," described Musk. "Our thought is to fire it ten times in a row on the ground and, if things look good, then at that point we feel it is qualified for reuse and launch."

"We're hoping to relaunch [it] on an orbital mission around May or June," Musk said, quickly adding it was more likely to be June.

Eventually, SpaceX expects to be able to turn around the recovered rockets within a few weeks ("Give it a wash, add the propellant and fly again," quipped Musk). Being able to reuse the stage will enable the company to greatly reduce the costs of access to space.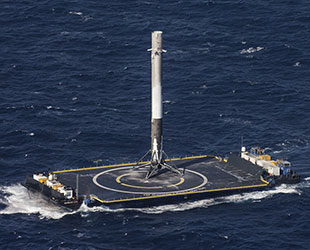 SpaceX's Falcon 9 first stage is seen after successfully landing on the autonomous spaceport drone ship in the ocean.
(SpaceX)
"The cost to refuel our rocket, it's mostly oxygen on board, is only $200,000 to $300,000, but the cost of the rocket is $60 million," Musk remarked. "Fully and rapidly reused, it's somewhere on the order of a hundred-fold cost reduction. You still have your fixed costs, but in marginal costs it's a hundred-fold reduction."

"There is still a lot of work ahead for sure, because making the landing and re-flight easy is hard," he said. "It will take us a few years to make it smooth and make it efficient but I think it is proven that it can work."