March 30, 2017
— SpaceX has made new history with the launch and recovery of a used rocket.

The company on Thursday (March 30) successfully placed a communications satellite into Earth orbit using a rocket's first stage that previously flew. The achievement advances SpaceX's plans to reduce the cost of lofting payloads into space by reusing its rocket hardware.

"We just had an incredible day today. The first reflight of an orbital class booster did its mission perfectly," said SpaceX CEO Elon Musk soon after the launch and recovery of the first stage. "It really is a great day, not just for SpaceX but for the space industry as a whole in proving that something could be done that many people said was impossible."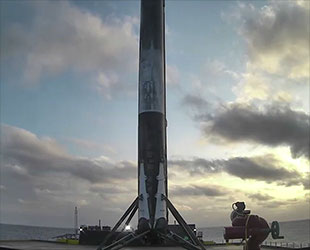 Video still of SpaceX's first re-flown Falcon 9 first stage standing, once again, on the deck of the spaceport drone ship.
(SpaceX)
Lifting off at 6:27 p.m. EDT (2227 GMT) from NASA's Pad 39A at the Kennedy Space Center in Florida, the Falcon 9 two-stage rocket released the SES-10 commercial satellite into a geostationary transfer orbit 32 minutes after leaving the ground. After providing the thrust for the first 2 minutes and 41 seconds of flight, the Falcon first stage separated from the second stage, re-lit its Merlin engines and began a descent to a landing on an ocean-based drone ship.

"It's the difference between if you had airplanes where you threw away an airplane after every flight, versus you could use them multiple times," said Musk.

The vertical touchdown on the platform, named "Of Course I Still Love You," marked the ninth successful recovery of a Falcon 9 first stage in the course of SpaceX's 13 attempts since January 2015. It was the sixth stage to land aboard a drone ship (the other three returned to a concrete pad near the launch site at Cape Canaveral) and the first landing of a "flight-proven" stage.

It has been 15 years to get to this point — it took us a long time," said Musk. "A lot of difficult steps along the way, but I'm just incredibly proud of the SpaceX team for being able to achieve this incredible milestone."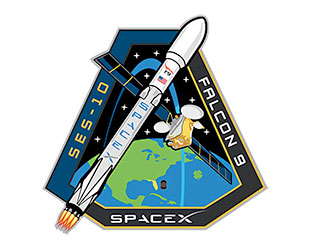 The official SpaceX SES-10 mission patch depicts the first stage in light gray to reflect it is a reflight.
(SpaceX)
The same Falcon 9 stage that launched SES-10 previously lifted off with an uncrewed Dragon cargo capsule for NASA to the International Space Station on April 8, 2016, on the same mission that achieved the first successful landing on a drone ship. The core stage has now flown on SpaceX's 23rd and 32nd flights of a Falcon 9 rocket.

"We were the first commercial mission to fly [with] SpaceX, and now we are here to be the first ever mission to fly on a pre-flown booster," said Martin Halliwell, chief technology officer for the Luxembourg-based SES, which launched its SES-8 satellite on the seventh flight of a Falcon 9 in 2013. "This is obviously hugely exciting for SES, SpaceX and the industry in general."

SpaceX did not offer details prior to Thursday's launch as to work done on the first stage to prepare it to fly again, but company president Gwynne Shotwell previously said that it took four months to refurbish. Halliwell said that the stage was still outfitted with the original nine Merlin engines that were used to launch the CRS-8 Dragon mission last year.

"I am not even sure they cleaned it up too much. It is a bit sooty," said Halliwell on Tuesday (March 28).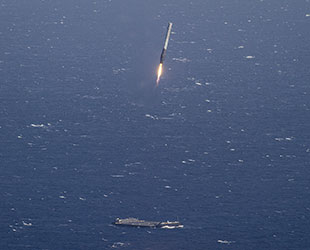 SpaceX's Falcon 9 first stage is seen approaching a landing on a drone ship in the Atlantic Ocean on April 8, 2016.
(SpaceX)
The first stage underwent a full duration firing in January at SpaceX's test site in McGregor, Texas, and a three-second static fire on the launch pad on Monday (March 27).

Musk has said previously that airline-like reusability ("give it a wash, add the propellant, and fly again") is "quite vital" to not only reducing the cost of accessing space but also accomplishing the company's goal of sending humans to Mars.

"In order for us to really open up access to space, we have to achieve full and rapid reusability," stated Musk after the 2016 flight of the stage that launched SES-10.

"This is going to be, ultimately, a huge revolution in space flight," said Musk on Thursday.