March 23, 2021
— The next crew to launch into space will fly on board a vehicle named for the first person to do so, Russia's space agency has announced.

Roscosmos cosmonauts Oleg Novitsky and Pyotr Dubrov, together with NASA astronaut Mark Vande Hei, are set to lift off to the International Space Station on Russia's Soyuz MS-18 spacecraft, which has been named the "Yu.A. Gagarin."

"According to established tradition, the space mission that is closest to [the launch] date of the world's first cosmonaut is dedicated to Yuri Alekseyevich Gagarin, whose name already adorns the thermal insulation on the exterior of the ship's orbital module," stated Roscosmos on its website.

Launched on April 12, 1961, Yuri Gagarin orbited Earth once on board his Vostok capsule. The history-making mission lasted just one hour and 48 minutes.

Novitsky, Dubrov, and Vande Hei are scheduled to lift off on the Yu.A Gagarin on April 9, just three days before the 60th anniversary of human spaceflight. Their launch will deliver them to the space station to become members of the Expedition 65 crew, continuing more than 20 years of continuous human operations on the orbiting laboratory.

"That first flight was one person, not for very long and it was an effort that one country could take a lot of pride in. Now our spaceflights are staying in orbit for close to a year and we have been doing this as an international effort," Vande Hei told collectSPACE in a press conference on March 15. "I'm very proud of that. I think it is a very good sign for humanity that we've progressed from doing things as single countries to being more and more cooperative."

In addition to naming the Soyuz MS-18 spacecraft, Roscosmos will also mark the anniversary by decorating the rocket fairing surrounding the capsule with its logo for the 60-year milestone. The blue and white art depicts Gagarin in his spacesuit along with his signature. The emblem reads, "60th Anniversary of the First Human Flight into Space, 1961-2021."

It will be the second time that a Russian rocket has been decorated for the 60th anniversary of Gagarin's mission. The Soyuz 2a.1 booster that launched with 38 commercial satellites on Monday (March 22) was painted white as a nod to the frost that formed on the outside fo the Vostok rocket that lofted Gagarin into orbit.

The previous crew to launch aboard a ship named "Gagarin" lifted off on April 5, 2011, just a week before the 50th anniversary of the Vostok 1 mission. Roscosmos cosmonauts Aleksandr Samokutyayev and Andrei Borisenko flew with NASA astronaut Ron Garan aboard Soyuz TMA-21 to the International Space Station to join the Expedition 27 crew.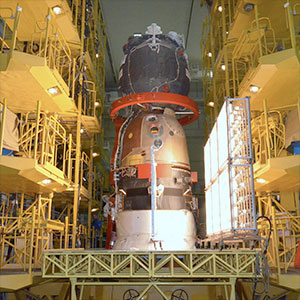 Russia's Soyuz MS-18 spacecraft, seen here undergoing pre-flight solar array tests, has been named the "Yu.A. Gagarin" after the first cosmonaut to launch 60 years ago this April. (RSC Energia)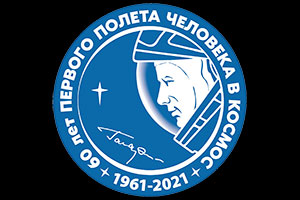 Roscosmos' logo for 60 years of human spaceflight depicts Yuri Gagarin and reproduces his signature. (Roscosmos)