Apollo 13 to launch onto IMAX

March 21, 2002 — Apollo 13, the 1995 feature film about the 1971 NASA moon mission, will be the first 35mm live action movie ever to be digitally re-mastered into IMAX's 15/70 format using proprietary IMAX Digital Re-mastering (DMR) technology.

Directed by 2002 Academy Award-nominee Ron Howard and starring two-time Oscar winner Tom Hanks, Apollo 13: The IMAX Experience will be distributed exclusively to IMAX theaters throughout the world beginning Sep. 20.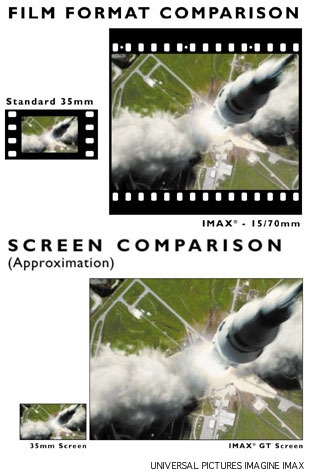 The announcement was made this morning by Richard Gelfond and Bradley Wechsler, CEOs and chairmen of IMAX; Nikki Rocco, president of distribution for Universal Pictures, Brian Grazer and Ron Howard, partners at Imagine Entertainment, and actor Tom Hanks. Hosted at the Universal City IMAX Theater in Orlando, Florida, the press conference included screening of four key scenes from Apollo 13 in both the regular 35mm and then the new IMAX format.

"Just imagine the experience of seeing the world's greatest films in super sharp IMAX on screens eight stories high and more than a hundred feet wide," said Gelfond. "When [Wechsler and I] first saw Apollo 13 transformed using this technology, we were speechless. Star fields, which were three points of light in 35mm, become full galaxies in IMAX. For more than five years one of our key goals has been to marry the best of Hollywood's live action with the world's best visual and audio experiences. Today this goal became a reality."

Added Nikki Rocco, "When we saw a test of what could be done with a few short scenes, not only were we reminded of what a fabulous film Brian and Ron made, we were absolutely blown away by the picture and sound quality of the IMAX version. We are thrilled to be embarking on this history-making venture by joining forces with Imagine and IMAX to bring Apollo back to the big screen — and I mean, the really big screen."

"When IMAX approached us about having Apollo 13 as the first live-action film to be converted for IMAX theaters, we were really excited by the opportunity to be pioneers with them," said Grazer. "As a filmmaker who is always exploring innovative ideas, I was completely captivated by this revolutionary technology. I hope our partnership with IMAX will continue and we will find other films, both old titles and new, to bring to audiences in this thrilling manner."

Howard added, "Seeing Apollo 13 presented like this, with its clarity of image and staggering dimension, it occurred to me that this is how I had always hoped the film could be seen. I just never imagined that it would become possible less than a decade after we first released it. I give my real appreciation to IMAX not only as a director, but as an audience member. IMAX has truly redefined the experience of movie-going."

Hanks, who stars as astronaut Jim Lovell in Apollo 13, said "When the test sequences were shown to me, all I could think is 'when can I see more?.' To watch a film this way completely immerses an audience and engages all the senses — it's not the same as any movie-going experience before it, and in a different universe entirely than watching a film at home. Not to mention, it's not just a little terrifying to see yourself eight stories tall."

IMAX sees Apollo 13 as the ideal film for its premiere commercial and institutional venues around this world as it bridges both entertainment and education. NASA played a very important role in the success of the original release of Apollo 13 and is partnered with IMAX on their upcoming 3D film, Space Station with Lockheed Martin.

First released June 30 1995, Apollo 13 grossed $353.5 million worldwide. It won Academy Awards for Best Film Editing and Best Sound and was nominated for seven more awards including Best Picture. In addition, Brian Grazer was named Best Motion Picture Producer by the Producers Guild of America and Ron Howard was named Best Motion Picture Director by the Directors Guild of America for Apollo 13.
back to News



© 2018 collectSPACE.com All rights reserved.
Questions? E-mail contact@collectspace.com