March 18, 2022
— A Russian Soyuz spacecraft has lifted off for the International Space Station with the first all-Russian career-cosmonaut crew to fly in more than two decades.

Oleg Artemyev, Denis Matveev and Sergey Korsakov embarked on a planned six-month stay on board the space station on Friday (March 18). The three took flight at 11:55 a.m. EDT (1555 GMT or 8:55 p.m. local time) aboard Soyuz MS-21 atop a Soyuz 2.1a booster from Site 31 at the Baikonur Cosmodrome in Kazakhstan.

"For the first time in many years — a completely Russian crew," Dmitry Rogozin, general director of Roscosmos, Russia's federal space corporation, wrote Friday (March 18) on Twitter.

The launch marked the first time three Russian career cosmonauts flew together to the International Space Station. Though the flight took place amidst heightened tensions between Russia and its space station partners, the all-Russian makeup of the Soyuz MS-21 crew was unrelated to the war in Ukraine. Rather, it was the result of longer-than-expected negotiations between NASA and Roscosmos to begin flying cosmonauts on U.S. commercial crew vehicles in exchange for flying astronauts on Soyuz.

"We still plan to work the crew swap," Joel Montalbano, NASA's manager for the International Space Station program, said during a press briefing on Monday (March 14). "So we still have scheduled training for cosmonauts to come to Houston and Hawthorne [SpaceX's facilities in California] and our team to go over to to Star City and train for the Soyuz."

Artemyev, Matveev and Korsakov were scheduled to arrive at the station after a two-orbit rendezvous at 3:05 p.m. EDT (1905 GMT). They will be the first crew to dock a Soyuz at the recently-added Prichal node on the Russian segment of the orbiting complex. Update: Docking occurred at 3:12 p.m. EDT (1912 GMT) after Artemyev took over manual control due to an alignment issue.

About two hours later, after pressure has been equalized between the Soyuz and station, the hatches separating the two vehicles will be opened and Artemyev, Matveev and Korsakov will join the Expedition 66 crew led by fellow cosmonaut Anton Shkaplerov. With the MS-21 crew aboard, the station's population will grow to 10 members, including cosmonaut Pyotr Dubrov, Matthias Maurer of the European Space Agency and NASA astronauts Raja Chari, Thomas Marshburn, Kayla Barron and Mark Vande Hei.

Shkaplerov, Debrov and Vande Hei are scheduled to depart the space station for Earth aboard Soyuz MS-19 on March 30.

Artemyev, Matveev and Korsakov's planned stay extends through September, with Artemyev becoming Expedition 67 commander when SpaceX's Crew-3 (Chari, Marshburn, Barron and Maurer) departs in April.

Additional Expedition 67 crew members will arrive with Crew-4, including NASA astronauts Kjell Lindgren, Bob Hines and Jessica Watkins, as well as ESA astronaut Samantha Cristoforetti. Artemyev, Matveev and Korsakov will also be present for the arrival of the next Soyuz crew and the first all-private mission to fly to the space station, Axiom Space's Ax-1 crew, aboard a SpaceX Dragon.

Artemyev, 51, is on his third trip to the space station, having logged 366 days in space on two prior long duration missions in 2014 and 2018. In addition to serving as Expedition 67 commander, he is also commander of the Soyuz MS-21 crew.

Matveev, 38, and Korsakov, 37, are both on their first spaceflights. Matveev was working as an engineer at the Gagarin Cosmonaut Training Center in Star City, Russia, when he was selected to become a cosmonaut in 2010. Korsakov joined the cosmonaut corps in 2012 and trained to fly on Soyuz MS-18 before being replaced by Vande Hei on that mission.

All three MS-21 rewmates are graduates of Bauman Moscow State Technical University. The design of their mission patch was modeled after the school's crest.

The last all-Russian career-cosmonaut crew to fly prior to Soyuz MS-21 flew on the final mission to Russia's former space station Mir in 2000. Sergei Zalyotin and Aleksandr Kaleri's flight on Soyuz TM-30 was privately funded to assess reactivating the station for commercial use (Mir was ultimately de-orbited in 2001).

The last three-person, all-Russian career-cosmonaut crew was Gennady Padalka, Sergei Avdeyev and Yuri Baturin on Soyuz TM-28 in 1999.

More recently, Soyuz MS-19 launched in 2021 with three Russians bound for the International Space Station, but only one, Shkaplerov, was a career cosmonaut. The other two crew members aboard were actress Yulia Peresild and her director Klim Shipenko, who flew under a commercial contract to film scenes for the still-to-be-released movie "The Challenge."

Soyuz MS-21 is Russia's 67th Soyuz to launch for the International Space Station since 2000 and 150th to fly since 1967.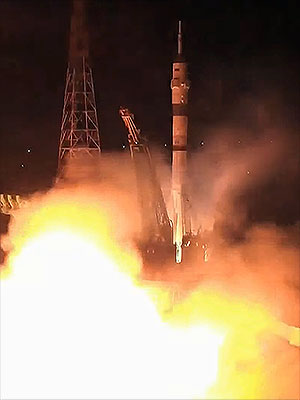 Russia's Soyuz MS-21 spacecraft with an all-Russian cosmonaut crew launches for the International Space Station from the Baikonur Cosmodrome on Friday, March 18, 2022. (Roscosmos TV)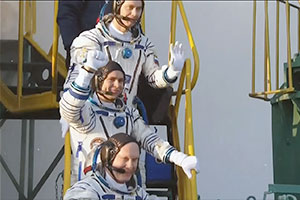 Soyuz MS-21 commander Oleg Artemyev (bottom) with crewmates Sergey Korsakov and Denis Matveev wave from the launchpad prior to boarding their spacecraft, March 18, 2022. (Roscosmos TV)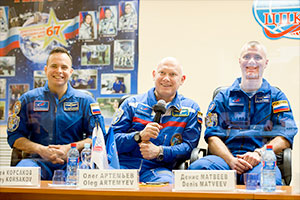 Soyuz MS-21 crew, from the left: Sergey Korsakov, Oleg Artemyev and Denis Matveev, all Roscosmos cosmonauts. (GCTC)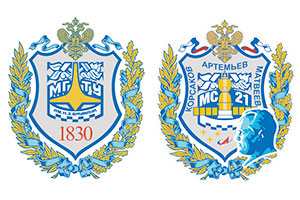 The Soyuz MS-21 mission patch (at right) is based on the crest of Bauman Moscow State Technical University (left), the all three crew members' alma mater. (Roscosmos/BMSTU)