advertisements

This article first appeared in Florida Today. It is reprinted here with permission.
NASA collector's passion goes public
by Tom Breen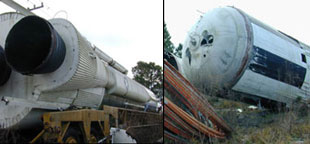 March 4, 2000
— There are collectors, and then there was Charles Bell.

He picked up anything, and everything, especially artifacts from NASA dating to the 1960s. One day, he hoped to start a space museum.

That won't happen.

The retired 57-year-old NASA electrical design engineer died Feb. 16 at his home on Merritt Island.

But this weekend, Bell's lifelong collecting passion goes public, when his amazing NASA cache and a few other things go to the auction block — at 10 a.m. today in Merritt Island and at 11 a.m. Sunday in Sharpes.

Everyone is invited to ogle, and bid on, a collection that probably cost Bell at least $2 million to assemble, perhaps more, according to those who knew him.

And to those who knew him, he was a collecting legend.

Charles actually went out to launch sites and cut the pads down," auctioneer Dave Manor of Astor, Fla. said Friday, standing amid mountains of NASA pieces collected by Bell during the last 25 years.

Bell's treasures are not catalogued, or organized.

They are just there.

There are two reassembled Atlas rockets and engines and parts from the Saturn, Apollo and Mercury during NASA's early days.

"He saved every nut and bolt that was flown in those days," Manor said.

And from later years there are shuttle parts, emblems, pictures and flight-recording equipment.

It goes on and on.

Here also are tools, not necessarily from NASA — row after row, tools of every description. As an engineer, Bell was fascinated by them.

Bell, a native of Coolidge, Ga., first started buying "tools and equipment and machines from me more than 20 years ago," Manor said. "The reason, I found out later, was that Charles wanted to use the tools to restore all of his NASA (items) and put them in a museum."

The amount of stuff gathered by Bell is mind-boggling.

At a site along State Road 3 on Merritt Island, there are 51 tractor-trailers of material packed onto 5 acres.

At a smaller 2-acre site on U.S. 1 in Sharpes, there are five trailers.

And Bell also stashed away trailers of stuff at his house on Merritt Island, Manor said.

At the SR 3 site, Manor said he and some helpers spent several days clearing a path for today's auction.

"You're very lucky today," Manor told a visitor. "At least we can get in here (a warehouse). We worked for three days to clear things away. We could barely get the gate open and unlocked. It's still hard to get into his office, but we're leaving that alone for his family."

Although their relationship initially was a business one, Manor said he became close friends with Bell and respected his tenacious approach to collecting.

"He was a very nice guy, the nicest guy you've ever seen in your life," Manor said. "And he wouldn't get rid of anything."

Bell began collecting his cache by going to NASA auctions and rounding up anything that wasn't tied down at work, Manor said. NASA later stopped the public auctions, but Bell still managed to round up material.

Manor said Bell had help, in his collecting hunt, from a family nest egg back in Georgia.

Last year, Bell started nurturing doubts about whether he ever would open that museum.

It was then that he called Manor, saying he wanted to start auctioning off things.

In November and December, there were three auctions, but most of what was sold was non-NASA stuff.

Now, Bell's family and later his estate will move ahead with the auctions.

In a way, it probably is a good thing Bell isn't around to see his beloved NASA artifacts going to auction.

"It was really hard for him to let go," Manor said.

© 2023 collectSPACE.com All rights reserved.