March 1, 2022
— For more than 50 years, Omega has helped astronauts keep track of time as they traveled through space and walked on the moon. Now, thanks to a new collaboration, the Swiss watchmaker is lending its timing skills to help track all of the items humanity has placed and left in Earth orbit, ensuring that astronauts can safely navigate through outer space for many years to come.

Omega has partnered with Privateer, which is devoted to making "much-needed enhancements to how we collect and process information about space objects." On Monday (March 1), Privateer debuted Wayfinder, an open-access and near real-time visualization of satellites and debris in Earth orbit. The web-based app features time tracking by Omega.

"We're thrilled to partner with Omega for the launch of Privateer's proprietary knowledge graph technology," Alex Fielding, chief executive officer and chairman of Privateer, said in a statement issued by Omega. "Omega has deep roots in exploration of land, sea and space, and with their support, Privateer will be able to further humankind's exploration and understanding of this ultimate frontier."

First announced in September 2021 by company president and co-founder of Apple, Steve Wozniak, Privateer has largely been working in stealth mode to create what it has called the "Google Maps of space." The launch of Wayfinder marked the first of Privateer's "many small steps" toward creating a sustainable future in space, the company teased on Twitter on Monday.

According to Privateer's website, more than 27,000 pieces of human-made objects are currently being tracked in orbit. That number, however, only reflects items larger than a softball. "The actual quantity of space debris 1mm+ is estimated to be closer to 100 million."

Adding to that are the 24,000 satellites set to be launched over the next decade.

"While this represents great progress for the space economy and human space exploration, it also brings significant risks and challenges," reads Privateer's website. "Our lives depend on what's in space. Even the tiniest of debris, orbiting at 17,000 miles per hour [27,360 k/ph], can damage satellites and disrupt space services that have become essential to our daily lives."

Like the Apollo missions on which Omega's Speedmaster became the first watch to be worn on the moon, Privateer's mission is also led by a crew of three. In addition to Fielding and Wozniak, astrodynamicist and space environmentalist Moriba Jah serves as chief scientist and has guided development of Privateer's technology.

"We must all embrace stewardship as if our lives depended upon it," said Jah. "Because they do."

The level of data collection and modeling needed for such a project like Wayfinder is a monumental undertaking, said Omega president and chief executive Raynald Aeschlimann. Both Omega and Privateer "share an understanding that the clock on space sustainability is ticking, and it's time to act."

"With this new project, we can give back to the planet from the depths of the sea to beyond the skies," said Aeschlimann. "There is also a great synergy between Omega and Privateer. We share an obsessive attention to detail. The inside of a mechanical watch is like a mini universe. Everything needs to operate without obstructions if you want it to work perfectly and endure."

The Privateer partnership comes on the heels of another space debris-focused collaboration by Omega. In January, the watchmaker announced that it is supporting ClearSpace and its efforts to perform the first-ever capture and removal of an uncontrolled space satellite from Earth orbit. In 2020, ClearSpace signed a service contract with the European Space Agency (ESA) for the first space debris removal mission, planned for 2025.

"Our partnership with Privateer is like finding the final piece in the puzzle," said Aeschlimann.

"Just as the famous Earthrise picture taken from Apollo 8 inspired the start of the green movement, this digital map of humanity's space footprint is sure to play an equally important role in raising awareness for our planet's fragility."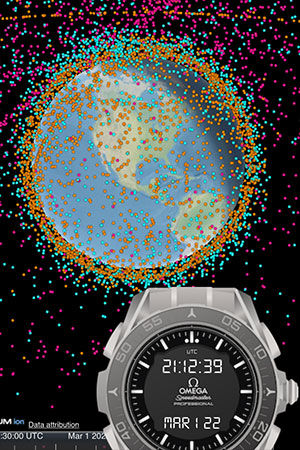 Omega, famous for making the first watch worn on the moon, is now lending its time keeping skills to Privateer's efforts to track every object and piece of debris in Earth orbit. (Omega/Privateer)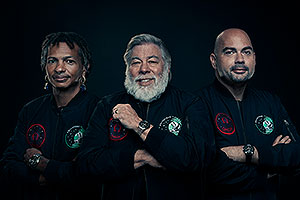 Privateer's leadership "crew" poses wearing Omega Speedmaster chronographs, from left: chief scientist Moriba Jah, president Steve Wozniak and chairman and chief executive Alex Fielding. (Omega)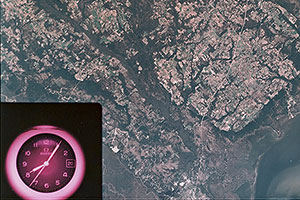 Omega watches were previously used to track activities from Earth orbit aboard the first U.S. space station, Skylab. (Omega/NASA)