February 22, 2008
— Having sailed in space for the past two weeks to install the European Space Agency's (ESA) Columbus science lab on the International Space Station, the crew of space shuttle Atlantis came home to Houston on Thursday. Despite the overcast skies, a crowd of their mission training and team members, friends and, perhaps most importantly to them, their families, gathered to greet the seven astronauts for a homecoming celebration.

"What a great scene to see all of you who came out in less than desirable weather," said STS-122 mission pilot Alan Poindexter of the rain falling just outside the hangar at Ellington Field.

"We really appreciate you coming out on maybe not the prettiest day of the winter," added commander Stephen Frick. "It just makes us feel good to know that people are watching us and thinking about us and happy that we're home, and we are happy to be home."

"Let me tell you, it's been a long time training and even though the mission goes by in a blur, it's a long and it's a busy mission. It's a great relief to have it complete and successful, and have the Columbus module up there and working on the space station and for all of us to be back home safe," said Frick.

An international success

The nearly 13-day flight highlighted the multi-nation effort that has resulted in the assembly of the space station. In addition to the European lab, which was joined with U.S. and Russian components already on orbit, the six-person crew used Canadian-built robotic arms to move Columbus from the shuttle's payload bay to its berth on the outpost.

"Pulling the hand controllers, it was so smooth. I couldn't believe how smooth it was," described mission specialist Leland Melvin, who operated the station's "big arm".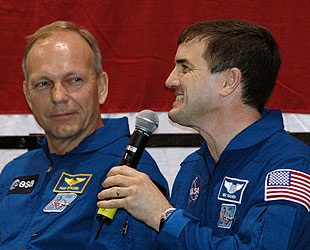 STS-122 spacewalks Hans Schlegel and Rex Walheim.
Three spacewalks were also needed to ready the lab, which was named after the 15th century Genoan explorer, to outfit it with exterior-mounted science experiments, and to replace a nitrogen tank used for cooling the ISS.

"It was very challenging and we had three challenging spacewalks but fortunately we had the best team in the business to get us ready for it and to execute it," said Rex Walheim, who performed all three of the excursions.

Walheim was joined by first-time flyer Stan Love on two of the spacewalks and ESA astronaut Hans Schlegel for the other, though that order was originally planned to be flipped. A "crew medical issue" had Love take Schlegel's place on the mission's first spacewalk.

"He was faced with having to jump into an EVA in the last minute that he had seen on the ground, but hadn't really trained on, and just did a wonderful job with Rex to get EVA 1 complete," Frick commented about Love's work.

"He took my first EVA and fulfilled it as I couldn't have done it better," said Schlegel, who recovered in time to make the flight's second spacewalk as he was scheduled to do. "Nobody has been more glad and more relieved that everything worked so flawlessly and performed so nicely."

Though the nature of Schlegel's illness wasn't disclosed, Love said that the tables could have easily been turned.

"I can only say that it could have just as easily been you that had to take my place and I am sure you would have done it better than I," he replied to Schlegel's comments.

Despite his slight setback, Schlegel was proud of his and his crewmates success on the mission.

"Of course, me as the European, as a German, and here I speak for Leopold [Eyharts] as well, who was part of our ascent team as a French-European, it was a tremendous feeling of pride," he said of launching Columbus, Europe's first long duration crewed space platform. "We installed the external payloads, we outfitted it, we activated it, we worked on the experiments and more over, we even did some maintenance repair work on station," said Schlegel.

"It is truly an effort that goes beyond country boundaries. It just spans over the whole world of which we travel around in 90 minutes. That is really something that builds up in your heart, in your stomach, wherever you're feeling is at home."

Sacrifices and support

"All [of] that would not be possible, if not you would have families standing behind us," said Schlegel. "Kids, wives, parents, which really support us."

Each of the crew members used the homecoming to not only thanks their coworkers but their family members who supported their mission's success.

"For us, the mission is a great thing. We get taken care of from the first minute we are assigned to when we get home. It's a wonderful experience," explained Frick. "For the families, they don't really get that much."

"They just get to experience us not being at home as much, being distracted, and then all the isolation when we're away on our mission and all the stress of knowing that we're not going to be safely home until we land. That's two weeks of stress and that's really tough. So I really appreciate the sacrifices that the families make to let us go fly in space."

For Daniel Tani, who lived on the space station for four months and who returned to Earth with Atlantis' crew, the importance of family was underscored by the loss of his mother while he was still on orbit.

"We rightfully so, thank every technical trainer that we have, but I do want to say that when we go and live on the station, there's a whole aspect of living that we have to think about and anticipate and in my case, I got an enormous benefit out of the psychological support team and the medical team that supports us and our families."

"This is something we are really going to have to learn to support and develop for long duration flights to Moon, [to] Mars and beyond," observed Tani. "It's not the machine, but it's keeping up the maintenance of the people who are operating it."

Life in space, and back on Earth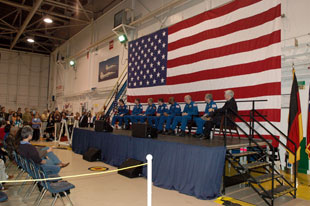 "Dex and I and Stan have been waiting ten years for this, and it is one of the most amazing experiences I've ever had," said Melvin, reflecting on the mission while referring to it being Poindexter's, his and Love's first flight.

"As a first time flyer, I would like to report to everybody that 8 kilometers per second is really, really fast. You would look out the window and say, 'Ooh, there's Hawaii, I used to live there, get the camera!' Click, click, click -- boom, gone," described Love of the experience.

The astronauts were moving a tad slower now they were back on the ground.

"It's been six years since I [last] flew and something I re- learned was, boy, gravity just wipes you out after you get back home," said Frick. "Realize please that we just got home yesterday, and even though we're not all supermen like Dan — I mean I can't believe how he looked coming off the vehicle, I didn't feel as good as he looked — gravity really does pull all the energy out of you, so we're going to have to go home and take a nap pretty soon."