February 17, 2003
— Toy manufacturers, retailers and the media gathered in New York City this past weekend for the 100th American International Toy Fair.

In between aisles of stuffed animals and board games, several exhibitors introduced new space-themed toys and product lines.

Front and center at the Javits Convention Center was K'NEX, which in 2000 debuted their NASA-approved, Missions in Space construction sets. Unfortunately, the series has been discontinued, though a possible return was not ruled out.

Sharing the booth with K'NEX was Wrebbit and their Puzz3D three-dimensional jigsaw puzzles. Following last year's release of a Saturn V rocket, Wrebbit was exhibiting their space shuttle Atlantis, an impressive, 13 inch tall, 1000-piece puzzle featuring an orbiter that could separate from the external tank and boosters.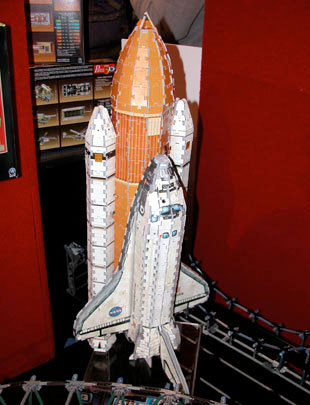 Wrebbit's Puzz3D Space Shuttle Atlantis.
(collectSPACE)
Elsewhere on the show floor, Action Products exhibited their Space Voyagers line of AstroSquad action figures and Adventure Fleet vehicles. Making a debut at the Toy Fair is the Ultimate Apollo Moon Mission, a reissue of the IPI Apollo 11 playset that reproduced the spacecraft that took men to the Moon and back. In addition to a revised package to more closely match the other products in the line, Action Products corrected the color of the command module from gold to silver.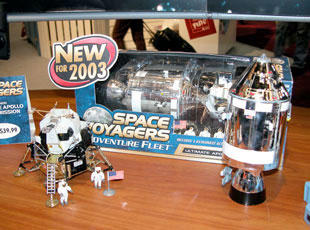 Action Products' Ultimate Apollo Moon Mission.
(collectSPACE)
Odyssey Toys, known for their wooden Scapes playsets, was showing a prototype of their African American female space shuttle mission specialist named "Val", in honor of Valentina Tereshkova.

Odyssey was also showing a three-figure Space Heroes set that included Apollo and Shuttle commanders and a mission controller. Space shuttle themed playsets were also said to be in consideration.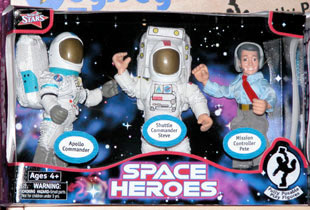 Odyssey Toys' Space Heroes.
(collectSPACE)
The biggest news for space toy enthusiasts however, may be the partnership between LEGO and Discovery Kids. Set for release in July, the LEGO Discovery series includes five space-themed sets:


Other companies with space-themed products at the Toy Fair included Dragon Toys ("Buck" and "Buzz Aldrin" action figures) and Code 3 Collectibles (National Air and Space Museum models). Buzz Aldrin was scheduled to make an appearance on Monday for University Games' "Beat the Experts," but given the onset of a blizzard it is unclear if he was able to attend.