February 11, 2020
— NASA is looking for more astronauts to launch to the space station, fly to the moon and maybe journey to Mars.

The space agency announced Tuesday (Feb. 11) that it will accept applications for its next class of astronaut candidates from March 2 through March 31. The new recruits, the 23rd group to be selected over the past 60 years, will become part of NASA's Artemis program to move humanity beyond Earth orbit and build upon two decades of astronauts living and working in space.

"We're celebrating our 20th year of continuous presence aboard the International Space Station in low Earth orbit this year, and we're on the verge of sending the first woman and next man to the moon by 2024. For the handful of highly talented women and men we will hire to join our diverse astronaut corps, it's an incredible time in human spaceflight," said NASA Administrator Jim Bridenstine.

"We're asking all eligible Americans if they have what it to takes to apply," he said.


In response to receiving a record number of applications during its last recruitment — more than 18,000 people applied for the 2017 class — NASA has increased its eligibility requirements and added a new step to the application process.

As in past years, applicants need to be U.S. citizens and either have a degree in the sciences or engineering or be qualified as a test pilot. Candidates must also be able to pass a physical for long-duration spaceflight, including vision correctable to 20/20 in each eye (eyeglasses and LASIK are allowed) and be able to fit into both NASA's spacecraft and spacesuits.

New this year is the requirement for a master's degree in a STEM field, including engineering, math or biological, physical or computer science. Alternatively, those applying can have completed a doctor of medicine or osteopathic medicine degree, or two years of towards a Ph.D. program in a related science, technology, engineering or math field.

Candidates must have at least two years of related professional experience or at least 1,000 hours of pilot-in-command time in jet aircraft.

In addition, all applicants will, for the first time, take an online assessment that will require up to two hours to complete. Details about the online assessment were not yet available, but according to NASA, it is "consistent with modern hiring practices across the government and industry."

"With the increased interest level that we experienced in our previous application period, we made the decision to move several assessments to the beginning of the process as a pilot, to help ensure that the applications that are evaluated by the Astronaut Rating Panel best reflect the requirements of the position," NASA's astronaut selection website explained.

Applications will be accepted through the USAJobs website beginning on March 2. The number of people who will be selected is still to be determined.

"We target the number of people based on the missions that are planned. So you look at the missions that you have today, look at what the normal retirement rate is and then you figure out what all the jobs are — supporting the design folks, executing the plans, training and fly outs and still flying the space station 24/7. So we base it off of that," Mark Geyer, director of NASA's Johnson Space Center in Houston, told collectSPACE on Monday.

NASA expects to select the new class in mid-2021, when they will begin at least two years of basic training before becoming eligible for flights on Boeing's Starliner and SpaceX's Dragon commercial crew spacecraft, Russia's Soyuz spacecraft or NASA's Orion spacecraft flying on the agency's new Space Launch System (SLS) heavy-lift rocket.

NASA's corps currently includes 48 active astronauts, including the 11 members of the 2017 class who graduated in January. NASA has been recruiting astronauts since 1959 with the selection of the original Mercury 7 pilots. To date, more than 350 Americans have been chosen for the corps, with 347 qualifying for spaceflight assignments.

NASA will again accept applications for new astronauts beginning March 2 through March 31, 2020. The new recruits, members of NASA's 23rd class of astronaut candidates, will train for expeditions to the space station and Artemis flights to the moon. (NASA)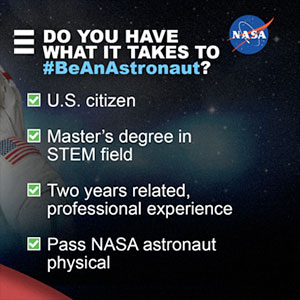 To be eligible for NASA's 2021 astronaut class, applicants need to be a U.S. citizen, have at least a master's degree in a science, technology, engineering or mathematics (STEM) field, have two years of professional experience and be able to pass the physical for long-duration spaceflight. (NASA)