February 11, 2015
— History records that 88 rockets launched to space in 1991. That count, it would seem, is off by one.

Granted, it was a really small rocket.

The world's first model rocket to soar into space did so on April 5, 1991. Standing just 7 inches tall (18 centimeters), the one-stage rocket lifted off, not by the thrust of a black powder engine, but rather on the space shuttle Atlantis.

Now, nearly a quarter of a century later, that model rocket has landed at The Museum of Flight in Seattle just in time for NARCON 2015, the National Association of Rocketry's annual convention. On Feb. 21, the man behind the rocket and the astronaut who flew it to space will be in Seattle for the meeting and to help dedicate an exhibit on the history of model rocketry.

"The convention's featured guest speaker will be astronaut Jay Apt, who carried a special Astron Scout model rocket belonging to Vern Estes into orbit on STS-37. That model and a host of other rocketry artifacts will form a permanent exhibit in the Charles Simonyi Space Gallery," wrote Pat Fitzpatrick, vice chairman of the Museum of Flight space flight committee, in an email to collectSPACE.

During the shuttle program, astronauts were able to fly a number of mementos for individuals and organizations that supported their mission. Apt, on the first of his four flights, chose the Estes Industries' Astron Scout for the role that model rocketry played in shaping his future.

"I got my first Estes [rocketry] catalog from a friend at my 13th birthday party in 1962," Apt recounted in an interview with collectSPACE. "My first kit was an Astron Mark, with the second a Scout. Estes Industries was a portal into the future."

"Whenever the red tubes containing motors or the boxes containing parts arrived, I was able to learn and practice the skills and sense of wonder that took me off this planet when I was an adult," Apt said.

In fact, Apt noted, all of his STS-37 crew mates had flown model rockets as teenagers.

"Rocketry played a critical role in stimulating our interest in engineering, science and exploration," he said.

Apt approached Vern Estes, the founder and namesake of Estes Industries, to pick out the model to fly. By then, Apt and Estes had known each other for decades, having first met when Apt organized the first model rocket convention (which grew to become the annual NARCON).

"The Astron Scout was selected because it was the first rocket offered by our young fledging company to the many youth then looking for a way to participate in America's race against the Russians into space," Estes said. "It was our first rocket, and to have the Scout flown in space was beyond my wildest dream."

Estes, his wife Gleda and other family members hand built the model rocket that Apt flew. The small black and white rocket was then put into a cylindrical container for its flight on the space shuttle.

"It is still in the flight container, displayed in the manner in which it was flown, but with a clear plastic window," Estes described.

The Astron Scout logged nearly 6 days in space, traveling 2.5 million miles (4 million km) while circling the Earth 93 times. Apt returned the rocket to Estes in August 1991 at that year's National Association of Rocketry meeting.

"I shuffled a few things around to make room for the Scout in one corner of my model rocket museum at my home in Canon City [Colorado]," Estes recalled. "Except for a few occasions when I took the Astron Scout to rocket meets for others to enjoy, it remained in my personal museum until [it was] sent to The Museum of Flight."

At its new home, the Astron Scout is exhibited opposite a full-size space shuttle mock-up that Apt and his STS-37 crew mates used to train for their mission. The rocket is displayed with a National Association of Rocketry banner that also flew into space, as well as other mementos from Estes' personal collection.

Both Apt and Estes hope the museum's exhibit inspires a new generation of explorers, as well as pique an interest in model rocketry.

"I hope they will see how model rocket building and flying in their youth can have a positive lifetime benefit, and play an important role in their future lives and careers," Estes, who sold his interest in Estes Industries in 1969, said. "I want them to be inspired, then walk away from the exhibit saying, 'Yes, I can do that,' and then build their first model rocket and begin making their dream a reality."

NARCON 2015 "Inspiring Rockets" runs from Feb. 20-22 at The Museum of Flight. Jay Apt will give a public talk on Feb. 21 beginning at 2 p.m., which is free with admission.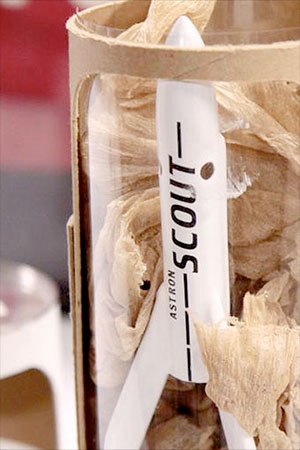 The Estes Industries Astron Scout model rocket that flew in orbit onboard the space shuttle in April 1991. (The Museum of Flight)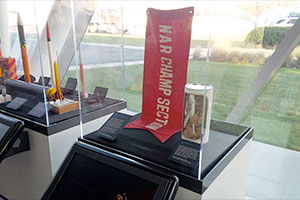 The flown in space Astron Scout model rocket is now on exhibit in The Museum of Flight's Charles Simonyi Space Gallery. (MOF)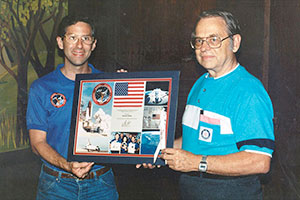 STS-37 payload specialist Jay Apt (left) presents Vern Estes with the space-flown Astron Scout model rocket in 1991. (Vern Estes)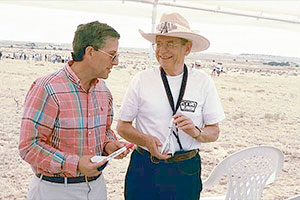 Astronaut Jay Apt (left) and Vern Estes together in 2000. Estes is holding the Astron Scout rocket that Apt flew to space. (Jay Apt)