Russian shuttle lands down under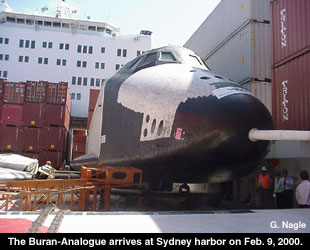 February 10, 2000 -- An experimental aircraft once used by the Soviet Union to test the landing capabilities of its own space shuttle will soon become the centerpiece of a new space science exhibition in Australia.

The orbiter-shaped vehicle arrived in Sydney on February 9, several weeks after leaving an airbase located outside of Moscow. Transported by barge, the craft made a stop at a New Brunswick, Canada pier before passing through the Panama Canal and then to its final destination "down under."

As the precursor to the USSR's Buran ("Snowstorm" in Russian), this full-scale test shuttle was built in 1984 to assist in the development of a landing system. Although it made its take off and landing as would a conventional aircraft, the analogue Buran 002 was constructed from the same materials and used the same onboard systems as the space-rated orbiter.

Similar in purpose to the United States' Enterprise, which completed approach and landing tests for NASA's shuttle program in 1977, the Buran 002 made 25 flights between 1985 and 1988. Unlike the U.S. vehicle that was lifted by a modified Boeing 747, the Buran-analogue was equipped with four turbojet engines enabling it to take off and climb to altitude under its own power. At about 16,000 ft. (5000 meters), the engines would be cut off and the craft would glide to a landing.

After its final flight, the atmospheric Buran was retired to an open hangar at Zhukovsky Air Base. Although it was rolled out for the occasional air show, the craft was more often disregarded.


---
View photographs of the Buran-Analogue 002 at Zhukovsky Air Base, Russia (taken in May 1999).
---

Then in 1998, the Buran 002 was offered for sale through the internet, such as at www.spacehardware.com. Listed for $10 million, the shuttle was also posted at least once to the popular online auction site eBay though no serious offers were received.

The analogue Buran was finally sold to The Buran Space Corporation, an Australia-based company responsible for its delivery to Sydney and the construction of its home at Darling Harbour. The company's chairman is former U.S. astronaut Paul Scully-Power, the first Australian in space.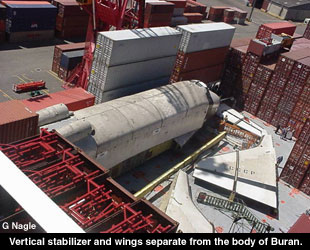 Scheduled to go on display in June, the Buran 002 first needs to be reassembled and refurbished. To ease its transport, both its wings and tail were removed. A team comprised of 25 Russian engineers will arrive in Sydney next month to assist the Buran Corporation with repairs.

When it ultimately debuts, the Buran will complement a museum of space artifacts and an interactive theater. Plans are also to allow tourists to climb into the cockpit and sit in the pilot's seat.
back to News



© 2017 collectSPACE.com All rights reserved.
Questions? E-mail contact@collectspace.com


Additional photographs of Buran-Analogue in Sydney, Australia. Click to enlarge. Courtesy: Glen Nagle of the Australian Astronaut Academy.