advertisements

Saturn V rocket restoration launched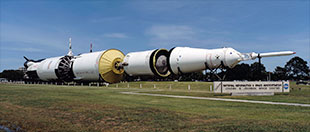 February 4, 2000
— Looking at it today, in its unmated, horizontal configuration, its paint peeling and its metal skin corroded throughout, it might be hard to appreciate the Saturn V rocket outside Johnson Space Center as one of mankind's greatest technological achievements. That may change though as the 363 foot-long Apollo-era rocket undergoes an extensive restoration later this year.

The much-needed repair will proceed if the Smithsonian National Air and Space Museum can qualify for $1.25 million from the Save America's Treasures federal grant program. To do so, the museum will need to match the funds through donations, to be raised through proposed campaigns in Texas and neighboring states.

If successful, restoration efforts may begin as early as this summer, with the work completed in August 2001.

The museum owns all three remaining Saturn V rockets. However, unlike the boosters on display in Florida and Alabama which include ground-test equipment, the one in Houston, Texas, is comprised entirely of flight hardware.

The first stage, designated S-IC-14, was intended to fly the canceled Apollo 18 mission. The S-II-15 would have launched the Skylab backup vehicle but was grounded.

The third stage, S-IV-513, was originally to be part of the vehicle selected for Skylab. Since the Skylab Saturn V configuration only required a first and second stage (the upper stage was replaced by the space station), NASA was able to designate the third stage for Apollo 18, which as mentioned, never flew.

In December 1996, a restoration was completed for the Saturn V located in Florida. The Kennedy Space Center landmark, which had been on display near the Vehicle Assembly Building since 1976, was relocated to be the centerpiece of a 100,000 sq. foot Apollo-themed exhibit.

© 2023 collectSPACE.com All rights reserved.