Feb. 3, 2015
– It was "3, 2, 1... build-off!" at LEGO stores nationwide on Tuesday night (Feb. 3), as the toy company gave away thousands of space shuttle construction kits.

The latest of LEGO's free Monthly Mini Model Builds, the shuttle was especially a hit in Houston, home to NASA's former space shuttle program for 30 years. Children ages six to 14, accompanied by their parents, lined up in droves outside the Baybrook Mall LEGO store, located just a few miles away from the Johnson Space Center.

"We usually have a good size crowd for these monthly models," a Baybrook store employee told collectSPACE. "But with this being a space shuttle, and we being here at NASA, it is particularly popular."

Indeed, the shop ran out of its space shuttle supply soon after the giveaway began at 5 p.m. CST. (The store was already at a disadvantage, having to share its shipment of kits with another store that didn't receive theirs in time.)

The mini space shuttle's 39 pieces came packaged in a plastic bag with a 13-step-by-step instruction sheet. Kids could choose to build the small black and white orbiter in the store or take the kit home, free of charge.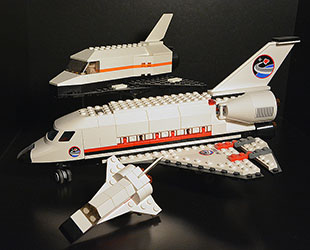 LEGO's mini space shuttle (foreground) resembles the larger toy launched on the real space shuttle Discovery (at top).
(cS)
The kit itself is the latest in a line of a dozen toy shuttles that LEGO has modeled after the NASA spaceplane since 1990. It was the first however, to be included in the mini monthly build (the free program, which began in 2008, has featured a few other space models, including a rocket on a launch pad last November).

Measuring 4-inches long (10 centimeters), the mini space shuttle is closest in size to the small orbiter included with LEGO's "International Space Station" kit released in 2003. Design-wise though, the monthly mini model more closely resembles the toy orbiter LEGO sent to space onboard the real space shuttle Discovery on its final mission.

Launched four years ago this month, the seven-inch-long (18 cm), 60-piece LEGO space shuttle flew into orbit with Discovery's STS-133 astronauts, kicking off a partnership between the Danish toy company and NASA. That same year, shuttle Endeavour delivered many more LEGO kits — including an even larger space shuttle model — to the space station for use by the crew in filming basic science demonstrations.

Tuesday's mini space shuttle giveaway may also be a nod to what LEGO has in store for later this year. Last month at a toy fair in Germany, the company previewed two new space shuttle kits, including one paired with twin boosters and a fuel tank.

Missed getting a LEGO mini space shuttle? Want to build your own? If you can find the bricks, here's the directions: