February 3, 2004
— Arlington National Cemetery and the area near Gusev Crater on Mars were the sites of NASA memorials revealed Monday (Feb. 2) to the final crew of the space shuttle Columbia. The two tributes came a year and a day after the loss of Rick Husband, William McCool, Michael Anderson, Kalpana Chawla, David Brown, Laurel Clark and Ilan Ramon during re-entry into the atmosphere.

The fallen astronauts' families and NASA's Administrator Sean O'Keefe unveiled a monument commemorating the crew and their mission at the national cemetery in Virginia.

Standing 66 inches tall and 48 inches wide (168 by 122 cm), the Vermont marble memorial displays two bronze plaques portraying the Columbia's crew and the shoulder patch worn by the astronauts on their mission. It is located near a similar marker for the space shuttle Challenger.

"This will remind us of the dedication and sacrifice made by those brave individuals willing to risk their own lives to further humanity's knowledge about space," said O'Keefe. "Our obligation is to ensure their loss was not in vain. We will return the space shuttle to flight as safe as humanly possible and continue to lead humanity into the unknown."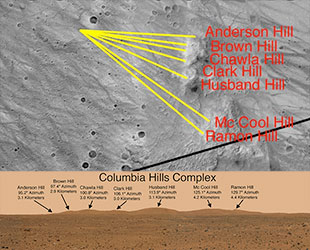 Images taken by the Mars rover Spirit and Mars Global Surveyor show the hills named for the space shuttle Columbia crew.
(NASA)
O'Keefe also announced on Tuesday that the Martian hills located east of the Spirit Mars Exploration Rover's landing site would be dedicated to the STS-107 crew.

"Seven hills on Mars are named for those seven brave souls, the final crew of the space shuttle Columbia," said the NASA chief in a separate release. "The Columbia crew faced the challenge and made the supreme sacrifice in the name of exploration."

Arranged alphabetically from left to right, "Anderson Hill" is the most northeast to Spirit's landing site and is 1.9 miles (3 km) away. Next are "Brown Hill" and "Chawla Hill", both 1.8 miles (2.9 km) distant, and then "Clark Hill" at 1.9 miles (3 km). "Husband" and "McCool" hills, which were named for Columbia's commander and pilot respectively, are 1.9 and 2.6 miles (3.1 and 4.2 km) away. "Ramon Hill," which is the furthest southeast of Spirit's landing site, is 2.7 miles (4.4 km) away.

NASA will submit the names of the Martian features to the International Astronomical Union for official designation. The IAU serves as the recognized authority for assigning names to celestial bodies and their surface features.

In January, NASA announced that the site where Spirit's lander settled down on Mars was also named in honor of the fallen crew as Columbia Memorial Station. The rover brought with it a small commemorative plaque bearing the names of the seven astronauts.