Feb. 2, 2017
– As football fans make their way to Houston for the Super Bowl on Sunday (Feb. 5), NASA is offering a quick way to reach the 50 yard line at the Big Game — by "dropping in" from Mars.

The space agency partnered with the Houston Super Bowl Host Committee to present Future Flight, a VR-enhanced, amusement park drop tower ride that launches guests on a journey to the Red Planet.

"You're about to blow past humanity's boundaries," a guide says through the VR headsets that riders wear as they are elevated skyward. "Your destination: Mars."


Riders are lifted up the 64-foot-tall (20 meter) tower as the simulated EM-51 mission begins.

"You are strapped into the Orion spacecraft, atop NASA's Space Launch System, the most powerful rocket ever built, accelerating to 24,000 mph on a journey that will take you farther than anyone has ever dared from our home world," says the narrator.

At the top of the tower, which resembles the lattice work of a launch pad gantry and mirrors the colors — orange and white — of the heavy-lift SLS rocket, riders "land" on Mars and, through the VR headset, can look around its surface.

Then, as quickly as they arrived, it is time to go home; free falling back to Earth to a touchdown on the 50 yard line of NRG Stadium.

"Your Mars training mission has been accomplished and it is game time!" a flight controller states. "EM-51, Houston, welcome home!"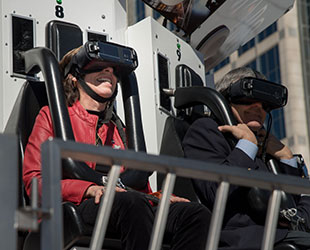 NASA center directors and former astronauts Ellen Ochoa and Bob Cabana ride Future Flight at Super Bowl LIVE.
(NASA/Bill Stafford)
Future Flight was developed by the Orlando-based media and experience design company IDEAS, and it is featured at Super Bowl LIVE, a free fan festival at Discovery Green in Houston. The virtual reality part of the ride can also be experienced separately, on the ground, for those who don't want to take the plunge.

The tower is the centerpiece of a NASA-themed pavilion, featuring space artifacts and interactive displays, including an Orion ocean recovery test capsule, a real RS-25 rocket engine, a planetary rover prototype and a full-scale model of the James Webb Space Telescope, which is scheduled to launch in 2018. Aerojet Rocketdyne, Boeing, Lockheed Martin, Northrop Grumman, Orbital ATK and Raytheon all provided exhibits, complementing the NASA displays.

"They hope to have one million or so folks come to Super Bowl LIVE over the nine days it's open," said Ellen Ochoa, director of Johnson Space Center and a former astronaut. "So we have got not only the ride that everybody is talking about, but lots of hands-on activities."

"When the Super Bowl comes to a city it's a big production — and it really gives that city an opportunity to showcase itself," she said. "Johnson Space Center is a unique part of Houston, so this is our opportunity to showcase what we are doing today in human spaceflight."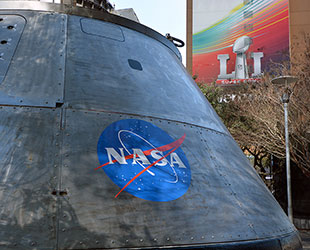 NASA's Post-landing Orion Recovery Tests (PORT) capsule is seen on display at the Super Bowl LIVE fan festival.
(collectSPACE)
That chance will continue on Sunday, as the New England Patriots and Atlanta Falcons take the field.

"We are expecting to do a downlink from the International Space Station during the pre-game show," Ochoa revealed in an interview with collectSPACE. "The NFL is working on some sort of NASA content at some point during the game but we don't have the details of that yet."

In addition to Future Flight and the surrounding displays at Discovery Green, Space Center Houston, the visitor center for the Johnson Space Center, is also inviting football fans to come see its attractions, including the new Mission Mars and Space For Art exhibits.

For more information about Future Flight, see the Houston Super Bowl Host Committee's website.