February 1, 2021
— Now, with the simple purchase of a souvenir space patch, you could be added to the crew of the same mission that that emblem represents — the first all-civilian crew to launch into Earth orbit.

SpaceX CEO Elon Musk and Jared Isaacman, the billionaire founder of the online credit card processing company Shift4 Payments, revealed their plans for the Inspiration4 mission on Monday (Feb. 1), which is targeted to take four people on a multi-day trip around the planet before the end of the year. Collecting the patch and other mission-branded memorabilia is one of ways that the public can enter to win a seat on the mission.

"I'm very excited to make this announcement with Jared about the first private crewed mission on Dragon," Musk said in a call with reporters on Monday. "This is an important milestone toward enabling access to space for everyone."

Now through the end of February, U.S. residents of 18 years of age or older can visit the Inspiration4 website to try to secure their place on the mission. One seat will be awarded for the best inspirational story behind a business idea launched using Shift4 Payments' Shift4Shop e-commerce platform. A second seat will be given away as the prize in an online raffle benefiting St. Jude Children's Research Hospital.

Donations to St. Jude's submitted through the Inspiration4 website earn raffle entries and are awarded perks, including patches, challenge coins, posters and other official mission memorabilia.

"The reason we named the mission Inspiration4 is to recognize the four-person crew that will journey into space together later this year, but also to send a message that inspiration can create a world of infinite possibilities up in the stars, but most importantly here on Earth," said Isaacman.

Isaacman has committed to donating $100 million to St. Jude and is encouraging everyone to join him in attempting to raise upwards of $200 million or more in support of St. Jude's efforts to save more children worldwide. He is also offering additional support to the fundraiser by supplying other prizes, including flights in a military jet and flight gear.

An experienced private pilot who holds several world records, Isaacman will lead the Inspiration4 crew as commander. The fourth seat aboard the Dragon, also underwritten by Isaacman, will be filled by a St. Jude ambassador who has been selected but not yet publicly identified.

"The three crew members we are selecting come from everyday walks of life, including a frontline healthcare worker who is committed to helping kids fight cancer, someone who visits our mission website and makes a donation and an aspiring entrepreneur building a business. What they don't know is that 30 days from now, they're going to get fitted for a spacesuit," said Isaacman.

Musk and Isaacman said that the parameters of the Inspiration4 mission are still being worked out, but will include launching on a SpaceX Crew Dragon spacecraft atop a Falcon 9 rocket from Pad 39A at NASA's Kennedy Space Center and then spending a number of days (still to be set) circling Earth before splashing down off the coast of Florida.

The mission will not visit or dock with the International Space Station, but is planned to be use the Crew Dragon "Resilience," which SpaceX will service after it returns from the orbiting laboratory in support of NASA's Crew-1 mission.

With medical requirements similar to being able to ride a roller coaster, Isaacman and his crewmates will undergo astronaut training provided by SpaceX, including stress testing tailored around Isaacman's pastimes, including mountain climbing.

"I intend to get the four [of us] in a tent — that I can attest is absolutely smaller than the Dragon spacecraft — on a mountain when it's snowing out and introduce everybody to a really stressful situation," said Isaacman. "We are all going to know each other incredibly well long before we ever strap into Dragon, I can promise you that."

Shift4 Payments is providing marketing support for the mission, including airing a 30-second commercial during the first quarter of the Super Bowl on Sunday (Feb. 7). The spot will invite all viewers to support and be part of the journey through the St. Jude and Shift4Shop programs.

No purchase is necessary to enter, though donations to St. Jude's increase the number of raffle entries per person. A pledge of $10 includes 100 entries, whereas $50 includes 500 entries and is rewarded with an Inspiration4 mission patch.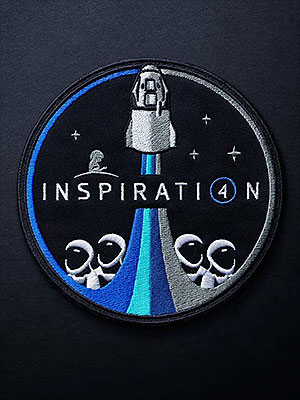 The Inspiration4 mission patch is one of the perks being offered for donations to St. Jude Children's Research Hospital as part of a raffle giving away a seat aboard the SpaceX mission. (Inspiration4)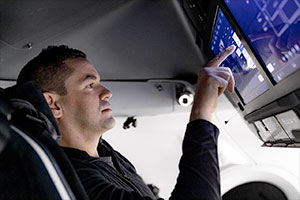 Jared Isaacman, billionaire founder and chief executive officer of Shift4 Payments and the commander of the Inspiration4 mission inside a Dragon spacecraft simulator at SpaceX's headquarters in Hawthorne, California. (SpaceX)
The Inspiration4 mission will benefit St. Jude Children's Research Hospital and the cancer patients it cares for, like Zahaan pictured here. (St. Jude Children's Research Hospital)