Columbia's Arlington: 'Final resting place' for fallen space shuttle's debris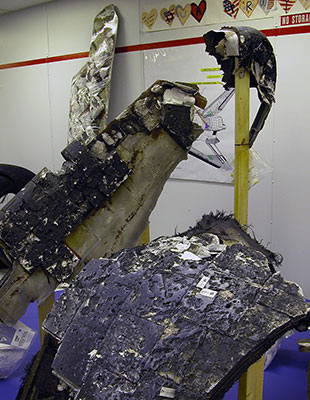 Remains of space shuttle Columbia's vertical stabilizer, or tail (in background) and left orbital maneuvering system pod. (cS)
February 1, 2004 — The nearly 84,000 pieces of Space Shuttle Columbia debris recovered after the orbiter was lost one year ago today, now reside on the 16th floor of the building where Columbia was readied for launch.

On Friday, NASA invited reporters to the Kennedy Space Center in Florida, to view the repository inside the Vehicle Assembly Building.

"We think of this as the Arlington National Cemetery for Columbia," said Space Shuttle Launch Director Michael Leinbach. "This is Columbia's final resting place."

The media tour was in advance of the room being closed to all but reseachers and a select group of employees.

"It's not a museum," said Scott Thurston, NASA's leader for the Columbia Preservation Team. "We kind of think of it as more of a library. It's a place of learning."

The 7,000 square foot room, converted from engineering office space, is divided into two major areas. At the front are the larger, more recognizable pieces, including frames to the cockpit windows, remnants of the crew hatch, and the support skeleton of the vertical stabilizer "tail".

Also on display are the reconstructed leading edge panels from Columbia's left wing and the orbiter's data recorder.

"I think it's fair to say that the pieces that are out are the ones that helped us most in the investigation," Leinbach said. "But it was not intended that way."

Further into the repository, behind a room-wide banner signed by Columbia's STS-107 launch team, are rows of large boxes, each filled with debris that comprises the majority of the 84,147 pounds recovered. Each piece is individually numbered and catalogued, with manifests attached to each box. The debris is also visually indexed within a computer database.

"We know exactly where each piece of Columbia is," Leinbach said. "We could probably retrieve any piece of Columbia we wanted to in a couple of hours."

Absent from the main repository are the contents of the crew compartment. The cabin's remains are in a separate access-restricted room located nearby, controlled by the Astronaut Office.

All of Columbia's debris, including the crew compartment is available by request for study. As of Friday, NASA had received approximately 20 research proposals, most from universities, though requests may be made by anyone.

"It's a fitting end for [Columbia]," said Leinbach. "She will be used forever in study. So while her mission in space is over, her mission to the betterment of spacecraft designers is just now beginning."
The frames of Columbia's crew cockpit windows.

The cabin hatch (left) and Spacehab tunnel (right).

The left and right sides of the vertical stablizer.

RCS thrusters (left) and the OEX data recorder (right).

Leading edge panels (left) and computer parts (right)

Main (left) and nose (right) landing gear.

Tiles (left) including one found farthest west (right)

Rows of storage boxes (left) and their contents (right)

Various fuel tanks (left) and Columbia's nose (right)

Debris found, from the large (left) to the small (right)