Full Coverage: NASA seeks public's help
Article index:
---

NASA provides examples of debris

February 19, 2003 — To assist in the search, NASA released the following examples of what people who live in the debris area might see. If you believe you have found a piece of Columbia, do not disturb or handle it. Instead, contact your local law enforcement authorities.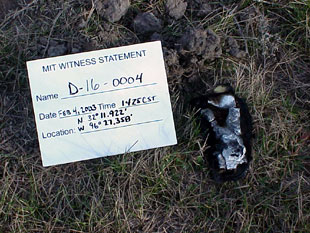 Piece of graphite epoxy structure with partial tiles bonded on (tiles have been damaged such that black ceramic coating is missing exposing white silica base material).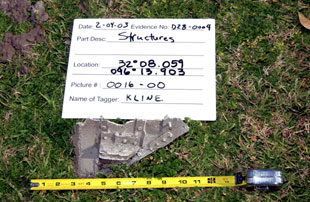 Piece of aluminum structure bracket (note green Koropon primer has been removed due to heating).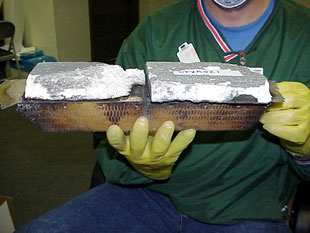 Piece of honeycomb aluminum structure with HRSI tile bonded to surface. The tile shows impact damage exposing silica base material.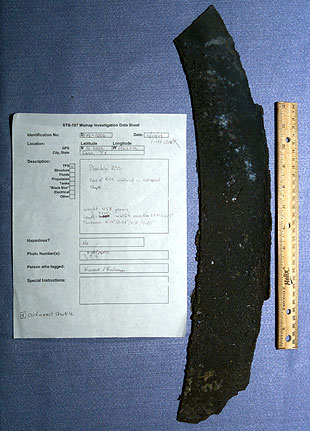 Piece of Wing Leading Edge Reinforced Carbon- Carbon (WLE RCC) material. The pictured piece of RCC is a portion of the edge of a WLE panel that butts up to the T-Seal between adjacent panels.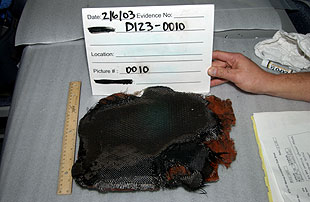 Piece of composite structure with thermal blanket still attached. The "A" picture shows the composite material. The "B" picture shows the scorched thermal blanket with the white batting material evident. Red color in pictures is Room Temperature Vulcanizing (RTV) silicone adhesive used to bond the thermal blanket to the structure.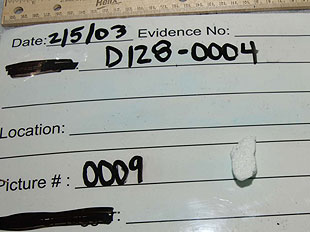 Shows a small piece of tile. Tile has been severely damaged with none of black ceramic coating remaining, only the base silica material is evident.
---

NASA seeks help with Columbia search

February 1, 2003 — NASA has established a hotline and e-mail address for the public to report information that may help investigators studying the loss of space shuttle Columbia.

Anyone who discovers debris from the accident or who has film or video evidence that may be of value to the investigation team is urged to use these contacts. Please avoid contact with any debris, as it may be hazardous due to the toxic propellants that were aboard the shuttle.

Telephone reports should be directed to:



1-866-446-6603


Text reports and images should be e-mailed to:



columbiaimages@nasa.gov


NASA has also established a location where Internet users may upload their media files to be reviewed:



http://www.jsc.nasa.gov/instructions.html


All debris is U.S. Government property and is critical to the investigation. All debris from the accident is to be left alone and reported to authorities. Unauthorized persons found in possession of accident debris will be prosecuted to the full extent of the law.

Authorities say pieces of the shuttle are scattered over a 311-square kilometer area centered over eastern Texas. Some parts are believed to have fallen in the neighboring states of Arkansas and Louisiana.

Most of the debris fell on the town of Nacogdoches, TX, about 230 kilometers northeast of Houston.

Communication and tracking of space shuttle Columbia was lost at 9:00 a.m. ET Saturday at an altitude of about 203,000 feet in the area above north central Texas. At the time communications were lost the shuttle was traveling approximately 12,500 miles per hour (Mach 18). No data was received in mission control after that time.

Flight controllers secured all information, notes and data pertinent to today's entry and landing by space shuttle Columbia and continue to methodically proceed through contingency plans.
back to News



© 2017 collectSPACE.com All rights reserved.
Questions? E-mail contact@collectspace.com