advertisements

Apollo astronaut Eugene Cernan, last man on the moon, mourned at funeral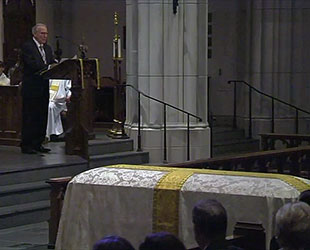 Apollo astronaut Jim Lovell speaks at the funeral for Gene Cernan, the last man on the moon, on Jan. 24, 2017, in Houston.
(NASA TV)
January 24, 2017
— Family, friends and fellow astronauts mourned the death of Eugene Cernan, the last man to step foot off the moon, at a funeral service Tuesday (Jan. 24).

Cernan, who died on Jan. 16 at age 82, was remembered as "perhaps the best representation of a patriotic American that this country had" during the ceremony, which was held at St. Martin's Episcopal Church in Houston and broadcast live by NASA on its television channel.

"An excellent aviator and outstanding astronaut," said Jim Lovell, the commander of Apollo 13, who was on the back-up crew for Cernan's first mission. "We will miss you Gene — an extraordinary individual, who added another chapter in the history of spaceflight."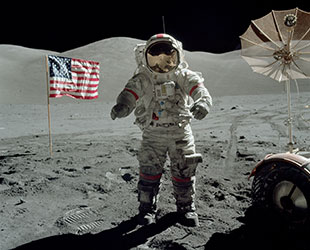 Apollo astronaut Gene Cernan, the last man to walk on the moon, seen during NASA's Apollo 17 mission in December 1972.
(NASA)
One of only three people to fly to the moon twice, Cernan launched on three space missions, including Gemini 9A in 1966, Apollo 10 in 1969 and Apollo 17 in 1972. He was the second American and third worldwide to exit his spacecraft to conduct a spacewalk, and commanded the final mission to land on the moon.

"That was Gene, a man who would always tell me he had no right to be where he was, when he was — but he was," said Fox News anchor Neil Cavuto. "Only he took us along for the ride."

"A great hero can't leave us like this," said Cavuto, "but he has."

Selected to be an astronaut among NASA's third group of trainees in 1963, Cernan first served as a Naval Aviator for 13 years. It was on board the USS Shangri-La that Cernan met and befriended Fred Baldwin.

"How do you say goodbye to your closest friend?" Baldwin asked. "A man you have shared so many moments with on land, at sea and [in the] air. There's no easy answer."

"But more than being my friend," he added, "Gene Cernan was an important part of American history."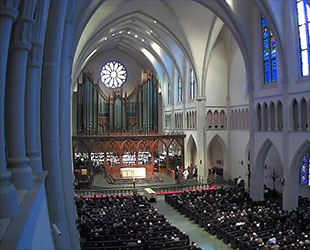 The view inside St. Martin's Episcopal Church in Houston, as seen during astronaut Gene Cernan's funeral, Jan. 24, 2017.
(NASA TV)
Closing out his remembrance, Baldwin cited the words that Cernan had delivered at the 2012 memorial service for the first man to walk on the moon, Neil Armstrong — a stanza adapted from the John Magee poem, "High Flight."

"And now Gene... you can put out your hand and touch the face of God," said Baldwin.

Rev. Russell Jones Levenson, Jr. presided over the funeral and delivered the homily.

"John's Gospel speaks of 'an abundant life.' Gene lived an abundant life," said Levenson. "He fired through life at full throttle. And he had every reason to have an ego the size of the moon itself, but every time you asked Gene how he felt about the adventure that was his life, he would say [he was] 'humbled.'"

"He loved his family," said the reverend. "He cared for his wife, Barbara, and he cared for his wife, Jan. And nothing could have said that more than to have them both with all of us who gathered for prayers with Gene as he was taking his last breaths."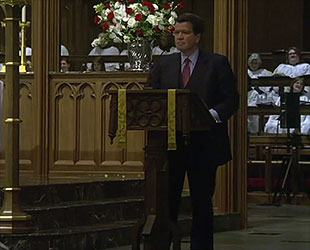 Fox News anchor Neil Cavuto speaks at the funeral for Gemini and Apollo astronaut Eugene Cernan, Jan. 24 in Houston.
(NASA TV)
Cernan was married to Barbara Jean Atchley from 1961 to 1981, with whom he had a daughter, Tracy. In 1987, he re-married and with Jan Cernan gained step-daughters, Kelly and Danielle.

"And then there's Gene's grandchildren, nine of them who very much loved their 'Poppie,'" added Levenson. "Gene's encouragement to his grandchildren, time and time again, was stay true to who you are."

Cernan's family will gather for a private interment at Texas State Cemetery in Austin at a later date, where full military honors will be rendered.

"Cernan secured a place in American history that, like the footprints he left on the moon, will never fade," said former President George H. W. Bush, in a statement printed in the funeral program. "He was a true hero who inspired us and made his fellow Americans proud."

"But more than that, Gene was a true friend, and Barbara and I join in extending our sincere condolences to Jan and Gene's beautiful family," stated Bush.

© 2023 collectSPACE.com All rights reserved.


Feedback: Messages





Celebrating Life, Legacy of Eugene Cernan
Video credit: NASA


Click here to enlarge and view video in a new, pop-up window.