January 24, 2014
— A commercial space plane designed to serve as a "space SUV," flying astronauts and cargo to and from Earth orbit, will launch Nov. 1, 2016 from Cape Canaveral, Fla., on its first spaceflight, officials behind the vehicle announced Thursday (Jan. 23).

The Dream Chaser winged spacecraft, built and operated by Colorado-based Sierra Nevada Corporation (SNC), will be lofted into space atop a United Launch Alliance (ULA) Atlas V rocket. The unmanned test flight of the mini space shuttle is the first to be scheduled among the U.S. private spacecraft vying to fly U.S. astronauts to the International Space Station (ISS) since NASA's space shuttle program ended in 2011.

"SNC is thrilled to be the first to confirm a launch date for our country's return to orbital human spaceflight," SNC's corporate vice president and head of Sierra Nevada Space Systems Mark Sirangelo said.

In 2012, NASA selected Sierra Nevada, together with The Boeing Company and Space Exploration Technologies (or SpaceX), to develop privately-operated spacecraft capable of taxiing astronauts to and from the space station under the agency's Commercial Crew Program (CCP). Later this year, NASA is planning to award contracts to one or more of the companies to lead to operational manned flights to the orbiting outpost.

Whatever NASA decides, it will not factor into SNC flying its first Dream Chaser.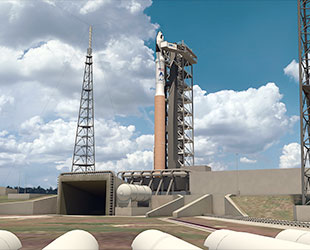 Sierra Nevada will launch its first Dream Chaser spacecraft atop an Atlas rocket on Nov. 1, 2016 from Launch Complex 41.
(SNC)
"We have committed to the launch," Sirangelo said. "This is a direct relationship between Sierra Nevada and ULA. [SNC] is paying for the efforts for this, it is unconnected to the NASA program."

"What happens after the contract award, we'll decide then, but we're moving forward on the program for this one," he added.

The Dream Chaser's maiden space mission will begin from Launch Complex 41 (LC-41) at Cape Canaveral Air Force Station and end with a landing at Edwards Air Force Base in California.

"We're going to launch out of LC-41 and we won't be going to the space station," Steve Lindsey, SNC senior director and Dream Chaser program manager, said. "It will be an uncrewed orbital flight of several orbits — probably a day-long mission or so — landing back on the west coast."

"The purpose of [the flight] will be to test out our launch, orbital operations, autonomous entry, descent and landing, which is something we need to certify for the eventual ISS missions as well," Lindsey, a former NASA space shuttle commander, said.

"The vehicle will be basically identical to the vehicle that we will fly a year later when we put crew on it. Our intent is to have all those systems onboard and checked out and use this on the path to certification for the orbital crewed vehicle," Lindsey explained.

The seven-seat Dream Chaser is 29.5 feet long (9m) and has a 22.9 feet (7m) wingspan. Its design is based on the HL-20, a 1980's NASA concept for a lifting body re-entry vehicle.

In addition to announcing the launch date, Sirangelo also revealed SNC's plans to expand the company's operations at the Kennedy Space Center.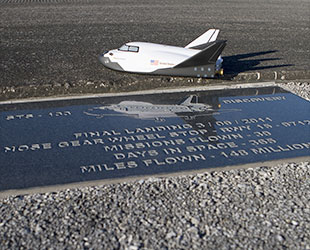 A model of Sierra Nevada's Dream Chaser spacecraft sits next to a plaque marking the last landing of space shuttle Discovery at the Kennedy Space Center's Shuttle Landing Facility.
(NASA)
SNC intends to eventually make use of Kennedy's Shuttle Landing Facility to return astronaut crews from the space station, as well as the center's Operations and Checkout (O&C) building for servicing Dream Chaser vehicles before and after flights.

The O&C, which was first used to process NASA's Gemini and Apollo capsules, is currently being used by Lockheed Martin Space Systems to assemble and test the agency's Orion spacecraft. SNC's shared use of the O&C building will extend its partnership with Lockheed Martin, which is building the composite structure for the first space-bound Dream Chaser space plane at NASA's Michoud Assembly Facility in New Orleans.

"O&C is a state-of-the-art facility that will greatly enhance Dream Chaser's future operations through an innovative co-use plan with Orion," James Crocker, Lockheed Martin vice president and general manager, said. "The result will maximize efficiency for both Dream Chaser and Orion and will provide continuity for our highly trained, motivated and certified workforce."

To date, SNC has built one Dream Chaser, an engineering test article, that the company used for captive-carry flights suspended under a helicopter before releasing it to fly free to an autonomous landing on the same California runway where the shuttle previously touched down. That first drop test in October 2013 was deemed a success, despite the vehicle suffering damage due to its landing gear failing to deploy properly.

Further approach and landing test (ALT) flights at NASA's newly-renamed Neil A. Armstrong Flight Research Center are planned before the 2016 launch.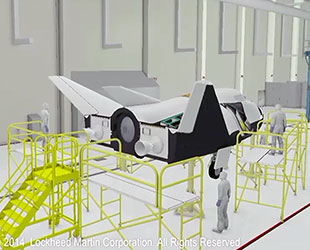 Animation still of a Sierra Nevada Dream Chaser being serviced inside Kennedy Space Center's O&C building.
(Lockheed Martin)
"We are going to go fly [the test article] out at Edwards Air Force Base again, do another autonomous flight or two," Lindsey described on Thursday in response to a question from collectSPACE. "Then we are going to outfit it with an ejection seat and we are going to do crewed atmospheric flight testing much like the [space shuttle] Enterprise ALT program about a year later."

"All those are flight test milestones along the way to this first orbital flight in 2016," he said.

Eventually, Sierra Nevada plans to have a fleet of Dream Chaser spacecraft, each with different purposes, Sirangelo said.

"Some will be all crew, some will crew and cargo, some will be cargo, some will be servicing and we also think that at some point there will be an independent science ability with the vehicles," he said. "It is a multi-use vehicle. We like to think of it as our space SUV."