Full Coverage: 2004 Astronaut Hall of Fame
Article index:
---
Five inducted into Astronaut Hall of Fame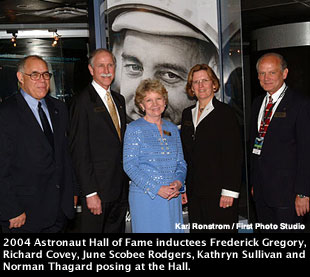 May 5, 2004 — Astronauts representing more than four decades of space exploration gathered May 1 to see five of their former Space Shuttle colleagues inducted into the Astronaut Hall of Fame.

The five inductees were all members of the eighth class of NASA astronauts, the "Thirty-Five New Guys" selected in January 1978. They are: Frederick D. Gregory, Norman E. Thagard, the late Francis R. "Dick" Scobee, Kathryn D. Sullivan, and Richard O. Covey.

"Believe me, the selection was not an easy task," said host James Lovell, Gemini and Apollo astronaut and chairman of the Astronaut Scholarship Foundation, which supervises the inductions. "So many exceptional people have flown on the Shuttle."

Author Andrew Chaikin served as Master of Ceremonies. Astronauts' family members, friends and other VIPs joined hundreds of space enthusiasts at the ceremony, which took place beneath a 363-foot Saturn V rocket at the Kennedy Space Center Visitor Complex in Florida.

Currently serving as NASA's Deputy Administrator, Gregory is an accomplished Air Force pilot and veteran of three Space Shuttle flights. As commander of STS-33 in 1989, he became the first African-American to lead a U.S. space mission.

Accepting his induction, Gregory turned his thoughts to the future. "NASA's vision to head back to the Moon, then Mars and beyond, is a motivation and inspiration to encourage us to look beyond the status quo."

Dr. Norman Thagard pursued a degree in medicine when he returned from Vietnam, where he served as a pilot with the U.S. Marine Corps Reserve. He went on to fly as a mission specialist on four shuttle missions. He spent 115 days in space as a crew member of Mir 18, making him the first American to launch aboard a Russian rocket and to occupy Russia's Mir space station.

"Norm plowed a lot of new ground to be the first from the U.S. to participate with Russia," said Bob Crippen, who introduced Thagard. "And like the professional he is, he pulled it off in style."

Dick Scobee piloted mission STS 41-C in 1984. On Jan. 28, 1986, he was serving as commander of mission STS-51L when Challenger and her crew were lost 73 seconds after launch. Scobee was honored by educator astronaut Barbara Morgan, who served as a backup crew member on the Challenger flight. Morgan warmly recalled Scobee's courage and friendliness.

June Scobee Rodgers accepted on behalf of her late husband. "So many times, he's been remembered for how he died. Thank you for remembering how he lived."

Dr. Kathryn Sullivan served as a mission specialist in 1984, successfully conducting an extravehicular activity (EVA), or spacewalk, to demonstrate that it was possible to refuel an orbiting satellite. The feat made her the first U.S. woman to walk in space.

Commenting on her current position as Chief Executive Officer of the Center of Science and Industry (COSI) in Columbus, Ohio, former Senator John Glenn said, "Kathy has maintained a lifelong commitment to education. She is truly a scientist, first-class."

Dick Covey piloted Shuttle Discovery on STS-26 in 1988, NASA's return to flight after the Challenger accident.

"It's with great pride that I find myself among the distinguished group who are members of the Astronaut Hall of Fame," Covey said. "It's humbling to be part of that group."

At the conclusion of each presentation, Lovell placed a medal around the neck of each new inductee.

"These men and women are not just heroes because of what they did," Chaikin said. "They are heroes because they move all of humanity forward. They are heroes because they represent the best of us, and inspire us to become more than we already are."

Anna Heiney with NASA's Kennedy Space Center contributed to this article. collectSPACE editor Robert Pearlman was a member of the committee that selected this year's inductees.


---
Astronaut Hall of Fame to honor five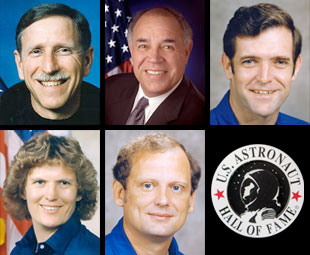 January 20, 2004 — The first American woman to walk in space, the commander of the Hubble Space Telescope repair mission, the first African-American to command a spacecraft, the first American to occupy the Russian Mir space station, and the commander of the 1986 ill-fated Challenger/STS-51L have been chosen for 2004 induction in the Astronaut Hall of Fame.

Joining such American icons as Neil Armstrong, John Glenn, Alan Shepard and Sally Ride as inductees will be: Kathryn Sullivan, Richard Covey, Frederick Gregory, Norman Thagard and the late Francis "Dick" Scobee, who will be represented by his widow June. The honorees will be enshrined in the Hall of Fame during a May 1, public ceremony at the Kennedy Space Center Visitor Complex.

Sullivan, as America's third female astronaut, made history as the United States' first woman to spacewalk during her 1984 inaugural Shuttle flight when she and David Leetsma floated into Challenger's open cargo bay to practice techniques for refueling out-of-gas orbiting satellites. On two later missions Sullivan helped deploy the Hubble Space Telescope and conducted an extensive study of Earth's resources.

A four-time Space Shuttle veteran, Covey distinguished himself as both commander of the first Hubble Space Telescope repair mission and as pilot of Discovery for the shuttle program's critical return-to-flight mission following the 1986 Challenger disaster. He currently co-chairs the Return to Flight task group appointed by NASA to assess the agency's implementation of the Columbia Accident Investigation Board's recommendations.

Gregory flew on three shuttle missions, the first as pilot of Challenger in 1985 with a menagerie of 24 rats and two squirrel monkeys who were along to test cages designed for future animal research in space. He became the first African-American to command a space mission when he guided Discovery in 1989 on a classified Department of Defense flight and then again commanded a military flight aboard Atlantis in 1991. Since retiring from the astronaut corps, Gregory has held various positions within NASA and is now the agency's Deputy Adminstrator.

After serving in various capacities on 1983, 1985, 1989 and 1993 shuttle flights, Thagard launched from Russia's Baikonur Cosmodrome aboard a Soyuz TM capsule. The craft docked at the Mir space station, where Thagard lived for 115 days, working on 28 different experiments before returning to Earth aboard Space Shuttle Atlantis.

Scobee was pilot aboard Challenger in 1984 on the first mission to repair a satellite in orbit. The shuttle was launched in pursuit of the Solar Max Sun-study satellite, which had been disabled in orbit for three years. The satellite was snared, refurbished and set back into orbit. Scobee was again aboard Challenger on a cold January day in 1986, this time as commander, when 58 seconds into flight a flame burst through a solid fuel booster, resulting in the destruction of the shuttle and the loss of its seven crew members.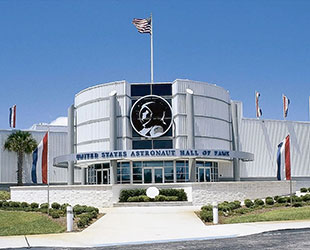 This year's inductees were selected by a blue-ribbon committee composed of former NASA officials and flight controllers, journalists, historians and other space authorities in a process administered by the Astronaut Scholarship Foundation.

To be eligible for induction, an individual must be a U.S. citizen and a NASA astronaut and must have been out of the active astronaut corps at least five years. Committee members considered not only accomplishments in space, but how the candidate contributed to the advancement of space exploration both before and after their mission(s).

This is the third group of shuttle astronauts selected for induction into the Hall of Fame. Once inducted, they will increase the number of space explorers enshrined there to 57. Earlier inductees came from the Mercury, Gemini, Apollo, Skylab and Apollo-Soyuz programs.

Induction ticket packages including brunch or lunch with Hall of Fame astronauts are available through the Visitor Complex's website at www.kennedyspacecenter.com.

collectSPACE editor Robert Pearlman was a member of the committee that selected this year's inductees.

© 2022 collectSPACE.com All rights reserved.
Questions? E-mail contact@collectspace.com