January 16, 2021
— The world's largest rocket stage roared to life for the first time on Saturday (Jan. 16), but then shut down too soon for NASA to immediately know if it could move forward with launching the stage on a mission to the moon.

The abbreviated hot fire test of NASA's first Space Launch System (SLS) core stage was still the largest display of thrust seen from Stennis Space Center's B-2 test stand since NASA tested Apollo Saturn V rocket stages there more than 50 years ago. But one of the four space shuttle engines modified for use with the rocket reported a "major component failure" and then seconds later, the engines shut down, cutting short the 8-minute "Green Run" test at just over a minute long.

Update (Jan. 19, 2021): After analyzing the initial data, NASA determined that the shutdown after firing the engines for 67.2 seconds was triggered by parameters that were intentionally conservative to ensure the safety of the core stage during the test. During gimballing, the hydraulic system associated with the core stage's power unit for Engine 2, also known as engine E2056, exceeded the pre-set test limits that had been established. The MCF that occurred about 1.5 seconds after engine start was not related to the hot fire shutdown.

"I think today was an important day," Jim Bridenstine, NASA Administrator, said at a post-test briefing at the Stennis Space Center in Mississippi on Saturday. "I know not everybody is feeling as happy as we otherwise could because we wanted to get eight minutes of a hot fire and we got over a minute. But I just want to remind people where we have been and where we are going and what an important milestone this is."

Had all proceeded to plan, the next time that the four Aerojet Rocketdyne RS-25 engines would — and may still — fire would have been later this year, when NASA is targeting the launch of an uncrewed Orion spacecraft on the Artemis I mission into deep space and around the moon. That flight, if successful, would then lead to the first launch of astronauts on Artemis II, possibly as soon as 2023, and then a crew landing at the lunar south pole on Artemis III sometime after that.

"Today we got lots of data," said Bridenstine. "Data that we're going to go through and be able to sort through and get to a point where we can make determinations about whether or not launching in 2021 is a possibility or not."

Saturday's hot fire was the eighth and final trial in the "Green Run" series, which was designed to validate the SLS core stage's design and performance. Pending analysis of this latest test and a decision about whether a second hot fire may be necessary, it will determine when the Boeing-built stage to be shipped by barge to the Kennedy Space Center in Florida, where it is to be mated with two Northrop Grumman solid rocket boosters and topped by a United Launch Alliance Interim Cryogenic Propulsion Stage and the Orion capsule built by Lockheed Martin for the Artemis I mission.

485 seconds (or bust?)

On Saturday morning, technicians began filling the 212-foot-tall (65-meter) by 27.6-foot-wide (8.4-meter) core stage with 196,000 gallons of liquid oxygen (LOX, cooled to -297 degrees Fahrenheit or -183 degrees Celsius) and 537,000 gallons of liquid hydrogen (LH2, at -423 F or -253 C).

Originally targeted for 4 p.m. CST (2200 GMT), NASA announced it was moving up the test an hour as preparations were running ahead of schedule. Issues with conditioning one of the engines (no. 3) and pressurizing the propellant tanks led to delays, though, holding up the start by more than an hour.


Finally, at 4:27 p.m. CST (2227 GMT), the four RS-25 engines ignited. Although each had been lit before — including launching on 21 space shuttle missions; two on the final space shuttle mission, STS-135 in 2011 — it was the first time that four were used at the same time (the shuttle orbiters used three).

Among the key objectives for the hot fire was to simulate the engines performing as they would during launch, throttling up to 109 percent of rated thrust and then down to 95 percent and being able to gimbal while doing so. The first of those programmed demonstrations was about to begin when one of the engines (no. 4) indicated a failure, despite still seeming to be firing normally alongside the three others.

"We did see a little bit of a flash come from around the interface between the thermal protection blanket on engine 4 at the time where we had initiated the gimbal or there about," said John Honeycutt, NASA's SLS program manager, but added it was too soon to know if that was related to the cause of the shutdown.

Prior to the test, Boeing's SLS manager John Shannon had said that the hot fire had to last at least 250 seconds to collect the data needed to move forward. But Bridenstine said that it was still too early to know.

"I don't think at this point that we have enough information to know," he said. "It depends on what the anomaly was and how challenging it's going to be to fix it."

One and done... or not

The sight of the hot fire, even as brief as it was, evoked comparisons to the tests of the Apollo-era Saturn V S-IC first stage, which was outfitted with five F-1 engines, the most powerful single-combustion chamber engines ever built and flown. Before NASA launched its Apollo missions to the moon, it conducted numerous hot fire tests with a test article and then with the first production (flight) S-IC stage.

"We have to remember the rocket that we just tested is the rocket that is going to launch Orion around the moon," said Bridenstine. "This is test hardware. It is also flight hardware at the same time and that's a very unique capability. In other words, when we do this test, there is risk that we cannot take, because this is the same vehicle that will fly."

The first full-duration, five-engine Apollo S-IC hot fire was conducted with a test article on Aug. 5, 1965, only after nine earlier tests were done using either one engine or with five engines but for a shorter duration. The first five-engine hot fire with an S-IC flight article (Apollo 4) was on Feb. 17, 1966.

The first hot fire using the B-2 test stand at Stennis (then known as the Mississippi Test Facility or MTF) was on March 3, 1967. (Tests prior to that were conducted at Marshall Space Flight Center in Alabama.)

For the Artemis program, the one Green Run hot fire on Saturday was all that had been planned. It is still be to seen if another hot fire will be added, but managers said the situation was different than it had been the first time we went to the moon.

"Our ability to understand the margins and sensitivities of the core stage, relative to all of the hardware that we deal with these days, has been greatly enhanced over the last 50-plus years," said Honeycutt during a pre-test press briefing. "The workforce has been trained and has had the ability to learn the lessons that we've encountered over the past 50 years."

"We have a lot of experience with some of this hardware and the engines being as mature as they are, gives us a high confidence we can do one hot fire and then be ready to go," said Shannon, speaking prior to Saturday's test.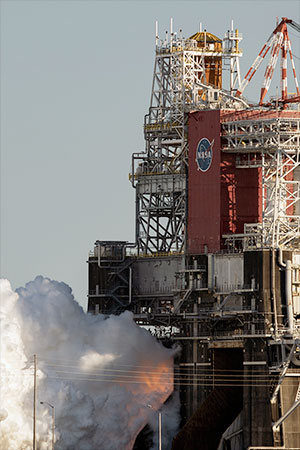 The core stage for NASA's first Space Launch System (SLS) rocket is seen during a scheduled eight-minute hot fire test, Saturday, Jan. 16, 2021, at NASA's Stennis Space Center in Mississippi. The four RS-25 engines fired for a little more than one minute before cutting off early. (NASA/Robert Markowitz)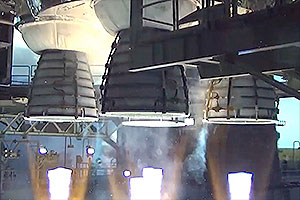 Four RS-25 engines fired together for the first time mounted to the first core stage of NASA's first Space Launch System (SLS) rocket on Saturday, Jan. 16, 2021 at Stennis Space Center. (NASA TV)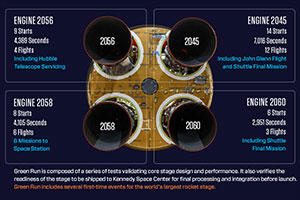 Infographic detailing the flight and fire history of the four Aerojet Rocketdyne RS-25 engines used for the Space Launch System (SLS) Green Run hot fire at Stennis Space Center in Mississippi on Saturday, Jan. 16, 2021. (Aerojet Rocketdyne)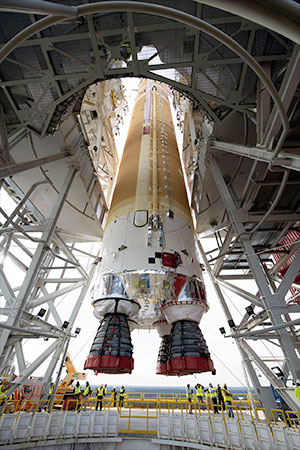 The core stage for NASA's first Space Launch System (SLS) rocket is loaded onto Stennis Space Center's B-2 test stand in Mississippi in January 2020 in preparation for the Green Run tests. (NASA)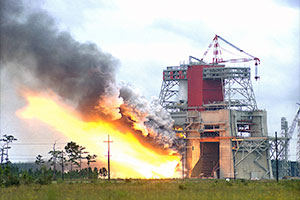 A test of the Apollo Saturn V first stage, S-1C-5, is conducted on the B-2 test stand at Stennis Space Center, Aug. 25, 1967. (NASA)